Is 3D space the next dimension for print services?
Personalising the print space is one way the channel could help businesses grappling with higher end-user expectations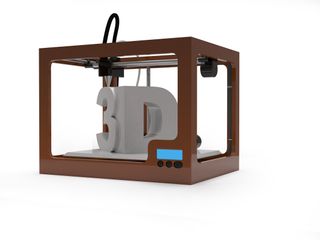 Additive manufacturing, also known as 3D printing, isn't the first technology that springs to mind when it comes to channel opportunities – yet speakers at this year's Print Show have hinted at a future value-add for clever partners battling ever-tighter margins.
Frazer Chesterman, marketing strategist and co-founder of consultancy FM Future, points out that the print industry has often been "too technical", typically relying on promoting the speeds and feeds to get customer buy-in. Yet the world is changing and print must move with it.
"People want personalisation," Chesterman tells Channel Pro. "Compared to the last 40 years, we're now in a world that's more about the experience, identity, feeling, the experiential. People's expectations are higher -- ethical and cultural concerns are more important."
And where consumers and individuals lead, businesses must follow if they want growth, even if this is "uncomfortable" for them, he suggests. "You need to think hard about diversification into areas that are more complex."
He notes that selling increased complexity also means that all that businesses need to learn how to tell their story and represent their mission in a relatable, human way that customers comprehend and accept.
"Today we're all much more critical – we're reviewing everything, all the time," Chesterman says.
The world's not flat
So how does 3D print fit into this high-level view? Part of the answer is that the business world itself isn't flat. There are multiple dimensions to customer needs and one size doesn't fit all. For long-term sustainability, partners must continue to diversify in directions that customers want.
Maryam Qureshi, applications engineer at HP, presented on the 3D print opportunity. She explains that although 3D printing represents a pathway to innovation that can meet higher customer expectations around personalisation or ethical considerations – like sustainability.
"It can be quite difficult to understand the opportunities for additive, because it goes all the way from prototyping and up, whether you do it yourself or you use bureaus and services to do it for you," she says. "And it's about more than just printing."
Opportunities already exist in healthcare, prosthetics and robotics, aerospace, digital production, warehousing, manufacturing and more. Manufacturing alone is a $2 trillion market, with just a tiny portion of 3D print's potential realised so far, Qureshi says, especially since it has now gone beyond prototyping to be used in mass production.
Because 3D print can be done on-site in small, efficient runs, it can slash the high cost of materials, prototyping, development, and just-in-time inventory. Customers will be able to personalise and customise their offerings with increasing agility and faster development cycles.
The environment can gain too: the technology reduces wastage and the need to transport volumes of finished products from factories and warehouses.
For example, medical appliances, such as orthotics and prosthetics, can be truly customised and quickly produced for the individual person's needs, which Qureshi says wasn't really possible before. Sometimes, advanced one-off designs can even be delivered within a day.
"You can now get complexity, and create really advanced geometries, for free," she says. "Previously, you would have had to produce seven or eight prototypes for a robotic arm; you can now do that in one step."
Time for channel investment?
Hardware prices have come down too – but there's still a down side.
Anne Sharp, marketing manager at HP, admits that 3D print may not yet be ready for prime time for the bulk of solution partners. However, if they are prepared to invest and skill up long term, it will be a game-changer across many industries.
"We do have a channel already – we have four specialist partners," she confirms. These are Matsuura Machinery (Leicester), Express Group (Ripon), Perfect Colour (London) and RP Support (Leighton Buzzard).
Sharp notes that partners could learn how to design for 3D print and perhaps even help customers learn to do so. Longer term, the opportunities will democratise, she says.
Phil McMullin, UK sales manager for pro graphics at Epson, says Epson that while the company isn't in 3D print yet, it is "looking at it". A panel discussion at the show revealed the importance of lowering costs to meet eco targets -- with materials like new inks or packaging and technologies like 3D print all with roles to play.
Panellists agreed that print partners should now all be introducing sustainability into sales conversations and highlighting the advantages of what is available, even if customers do not initially request a greener focus.
"With the amount of money that's being spent on the switch to environmentally friendly products, we should all be talking about it," McMullin says.
Stay up to date with the latest Channel industry news and analysis with our twice-weekly newsletter
Fleur Doidge is a journalist with more than twenty years of experience, mainly writing features and news for B2B technology or business magazines and websites. She writes on a shifting assortment of topics, including the IT reseller channel, manufacturing, datacentre, cloud computing and communications. You can follow Fleur on Twitter.