OKI brings back retro gift vouchers incentive for flatrate printing push
10 percent of contract value for sales people and up to 10 percent paid quarterly for reseller.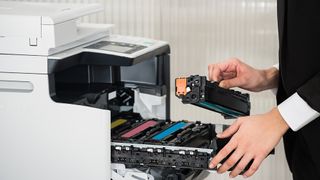 Printer vendor OKI has launched a new channel incentive offering individual channel sales people gift vouchers as a reward for selling its printers on a fixed rate per page plan.
As part of a its MIDAS programme, OKI also offers channel partners quarterly commission payment for the life of a three year contract, based on invoiced print volumes.
Concept
OKI is heavily pushing its flatrate programme in the hope of increasing its 13 percent market share. "The main issue for our partners is they often don't get benefits from consumables resale," claims Andrew Hall, marketing manager, OKI Printing Solutions. "With this concept, customers are tied into a three year relationship, OKI manages the relationship and the channel partner receives recurring revenue for the lifetime of the contract."
Sale people make an initial 10 percent of the value of entire flatrate contract as gift vouchers, or as OKI calls them, "Capital Bonds", while resellers make around 10 percent, paid quarterly, on that period's contract value.
Hall claims that flatrate is particularly attractive for SME with per page cost ranging from 1p to 6p per page depending on colour usage and print volumes.
Competition
OKI has began an outreach to its 168 channel partners and individual salespeople to sign up for the free scheme, and Hall is confident that incentivising sales people will help the firm catch up on HP, which he claims has been losing significant market share over the last year.
The new capital bonds scheme is initially available until the end of March 2010 and covers 12 OKI models including its top of the range C9850 A3 colour laser printer.
Stay up to date with the latest Channel industry news and analysis with our twice-weekly newsletter