iPad Pro offered in smaller 9.7-inch size
Apple unveils latest addition to iPad family, plus the latest news and updates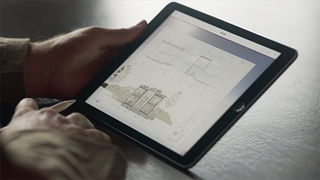 Latest 9.7-inch iPad Pro news
14/04/16
iPad Pro 9.7 reclaims best display crown
The new 9.7-inch iPad Pro's screen has been rated top of the class by a leading display expert.
Raymond Soneira of DisplayMate Technologies has claimed that - despite resembling the iPad Air 2 - the tablet boasts considerable improvements in screen performance from its predecessors.
"It is visually indistinguishable from perfect, and is very likely considerably better than any mobile display, monitor, TV or UHD TV that you have," he noted.
The 12.9-inch iPad Pro was previously overtaken by Microsoft's Surface Pro 4 in terms of screen performance - but Soneira believes the newest member of the iPad family has firmly retaken the crown.
"It is by far the best performing mobile LCD display that we have ever tested, and it breaks many display performance records," he concluded.
The new tablet supports two Colour Gamuts – the first iPad or iPhone to do so – featuring "the new DCI-P3 Wide Colour Gamut that is used in 4K UHD TVs and digital cinema and also the traditional smaller sRGB/Rec.709 Colour Gamut that is used for producing virtually all current consumer content."
Screen reflectance has also been improved, outperforming other iPads by 20 percent and enabling the tablet's screen to retain legibility when used in bright, ambient lighting.
Soneira explained: "The iPad Pro 9.7 has a very innovative low-reflectance screen that reflects just 1.7 percent of the ambient light by using a new anti-reflection AR coating.
"It has by far the lowest low screen reflectance of any mobile display, so its image colours and contrast in high ambient light will appear considerably better than any other mobile display."
23/03/16
9.7-inch iPad Pro slower than previous version?
The new 9.7-inch iPad Pro is slightly slower than its bigger sibling, according to new Geekbench scores.
The tests were run by TechCrunch and it found that the smaller iPad Pro has a system on a chip runs at 2.16 GHz, while the 12.9-inch iPad Pro A9X runs at 2.24GHz, giving the latter higher Geekbench scores.
The new iPad Pro also only comes with 2GB of RAM, compared with the 4GB of RAM that is in the bigger iPad Pro. Another shortcoming is that the smaller iPad Pro doesn't support USB 3 while the bigger one does. This means that transferring large videos to and from the new iPad Pro will take a lot longer that the bigger tablet.
However, according to Re/Code, the new iPad Pro does come with an embedded Apple SIM on all mobile-equipped device, this means that it should be easy to switch between carriers when on the move.
21/03/16
Apple launches 9.7-inch iPad Pro
Apple (NASDAQ:AAPL) has unveiled a smaller version of its professional iPad Pro, which succeeds the iPad Air 2.
The 9.7-inch iPad Pro has a number of technologies borrowed from its bigger sibling, such as True Tone, which uses new four-channel sensors to dynamically adjust the white balance of the display to match the light around. The Retina display is 25 percent brighter and 40 percent less reflective than previous iPad displays.
The 9.7-inch iPad Pro is just 6.1mm thin and weighs less than a pound. It features the 64-bit A9X chip and M9X motion co-processor.
Camera-wise, it has a 12-megapixel iSight camera sensor which shoots 4K video and an improved 5-megapixel front-facing FaceTime HD camera. It also has a four-speaker audio system, which provides stereo sound for more than twice the output of iPad Air 2.
As with the iPad Pro, the 9.7-inch iPad Pro supports the Apple Pencil and a smaller version of the Smart Keyboard, available for purchase separately. Other accessories include a new Lightning-powered SD card reader and USB camera adapter.
It will be priced at £499 in the UK, for 32GB of storage, £619 for 128GB and £749 for 256GB. It will come in white, gold, black, and for the first time, rose gold. All of those prices are for Wi-Fi-only models; LTE options cost more. Pre-orders start 24 March and going on full sale on 31 March.
The new 9.7-inch iPad Pro will run iOS 9.3 which was released today (Monday March 21).
The Apple Watch got a price cut, and will now start at $299, down from $349; it will also come a new wristband made of woven nylon.
See also:
Stone Group joins Academia, XMA and Insight on new Apple education framework
Stay up to date with the latest Channel industry news and analysis with our twice-weekly newsletter
ITPro is a global business technology website providing the latest news, analysis, and business insight for IT decision-makers. Whether it's cyber security, cloud computing, IT infrastructure, or business strategy, we aim to equip leaders with the data they need to make informed IT investments.
For regular updates delivered to your inbox and social feeds, be sure to sign up to our daily newsletter and follow on us LinkedIn and Twitter.