New Juniper CEO Shaygan Kheradpir talks SDN
Juniper Networks CEO Shaygan Kheradpir says channel must help customers build 'high IQ' networks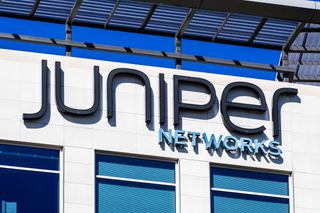 (Image credit: Shutterstock)
There is a growing demand for software defined networks (SDN) that the channel must fulfil, according to new Juniper Networks (NYSE:JNPR) CEO, Shaygan Kheradpir.
Juniper acquired California-based SDN start-up Contrail Systems in December 2012 for $176m, which former CEO Kevin Johnson described as "a natural evolution" for the vendor's networking portfolio.
However, some industry watchers have flagged concerns about a lack of interoperability still between SDN vendors or standards.
But speaking to Channel Pro at the vendor's Global Partner Summit in Las Vegas, Kheradpir (pictured) said there are "many use cases now in the enterprise that SDN would unlock".
A former CIO at Verizon and CTO of Barclays, the Juniper chief has only been in his new role for a matter of weeks. However, he was keen to use his experience in financial services to illustrate the opportunities around SDN.
"[There is the] separation of development, test and operations networks from each other. In financial services they need to be firewalled from each another by regulation and to make sure mistakes don't happen. You've got the PRA and the FSA demanding it, otherwise they'll penalise you.
"So if it was one virtual network where I can go to a console and drag a load of nodes to one side, and say 'this is for the developers', 'this is for the testers' and I don't have to do any physical, mechanical separation of these networks, which a lot of cost and a headache, it's be a beautiful. That's just use case of what a virtualised network would deliver you.
"I know that when I was in Barclays we issued our RFP in December for an SDN for these kinds of cases in our datacentres. So this need is real," he added.
Also referring to the glitch in 2012 that saw UK NatWest customers unable to access their accounts, and the subsequent fallout, Kheradpir commented: "Had they had a cloud system, the way we've been talking about it, their recovery would be enormously faster and more seamless.
"Now [NatWest] have to re-build [their system] anyway, and buttress it – do they really want to spackle it?"
He added: "In the UK it's exactly what Barclays is doing. It is one of chief executive Anthony Jenkins' top five tenants – to build a private cloud because of these reasons."
High IQ networks
According to the CEO, service providers, Web 2.0 companies and enterprises all want to build clouds and 'high IQ' networks. "It's a right-hand turn. They need to get to other side of the river – the private cloud. They need people who can build that bridge and get customers on it comfortably, and at their own pace.
"Partners that have value are incredibly important on this journey, because they know the customers and know whether getting on the bridge will be easy or hard," he added.
"Juniper partners need to prepare for this conversation with their customers," commented Juniper's worldwide channel chief, David Helfer. "You sit down with a customer and they're looking to secure their network. The conversation today is "yes, we have 500 firewalls we can put in 500 of your locations, and we can do branch security for you." The conversation we need to prepare for is "we can secure those 500 locations for you – would you like to do that as hardware or licences?"
Helfer confirmed Juniper does have partners today assisting in the professional services development of a number of projects.
"The conversation is going to happen no matter what, so this turns into a licensing model. That's changes something hat has been consistent for 20-25 years; it was never possible because you would never talk about licensing for remote locations like the conversations we're having today."
Customer focus
Kheradpir says his background at Verizon and Barclays brings a new perspective to the networking vendor. "I have been in this space for a long time, but…my perspective is that of the customer – I've been one all my life. I have a view of the market and where customers are taking it," he said.
"Kheradpir's background is "a big advantage for us," said Juniper's executive VP of worldwide sales, Vince Molinaro. "He can connect with customers because he was one himself. He understands the challenges and how to put Juniper's portfolio to work in powerful ways."
Stay up to date with the latest Channel industry news and analysis with our twice-weekly newsletter
Christine has been a tech journalist for over 20 years, 10 of which she spent exclusively covering the IT Channel. From 2006-2009 she worked as the editor of Channel Business, before moving on to ChannelPro where she was editor and, latterly, senior editor.
Since 2016, she has been a freelance writer, editor, and copywriter and continues to cover the channel in addition to broader IT themes. Additionally, she provides media training explaining what the channel is and why it's important to businesses.