Juniper restructures sales organisations
Juniper Networks merges commercial and channel sales; David Helfer leads new organisation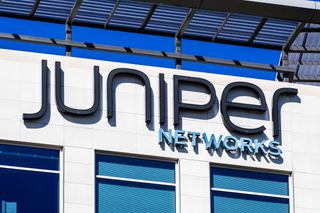 (Image credit: Shutterstock)
Juniper Networks (NYSE:JNPR) has revealed the details behind a major internal reorganisation that has seen the vendor merge its worldwide commercial sales and channels organisations.
The move was revealed this week by former VP of partners in EMEA, David Helfer (pictured), who has been appointed to lead the new organisation.
The exec, who has just moved back to the US West Coast to take up the new role, was en route to Paris for an EMEA Partner Advisory Council meeting when he stopped in London to brief Channel Pro on the changes.
"When you're a commercial account manager or a partner account manager, you are working so closely together to make sure you're working with the right partners, enabling the right partners; we want to see those synergies coming together from a strategy perspective," he explained.
"We're currently working through how David's role at the top of the organisation will break down into the dual theatres," added Anthony Webb, who now heads up the partner and commercial sales businesses in EMEA.
New deal reg system
Helfer also lifted the lid on a new deal registration system for partners this week that is fully integrated into Juniper's sales teams' own systems, making it easier to track opportunities. "It's a much easier tool to use and it's fully integrated into our sales teams' forecasting capabilities and tool set. Our teams now have the capability to work on opportunities together with partners," he said.
"This gives our partners the margin differential – additional discounting, whether from products or services, for opportunities they are registering. It also provides gapping between them and the next partner comes along and gives them that level of confidence that that level of time and investment they're putting in, they're going to feel comfortable about that. It's crystal clear to our teams when partner B, C or D comes along, there's gapping between them and anyone else."
Helfer said the new system is part of Juniper's efforts to make it easier for partners to do business with the vendor. "Sometimes on the vendor side things can become a little complex, whereas our partners need to recognise in a simple way how our value statements, how we go to market and keeping simple for them."
Security and datacentre recruitment
In 2014 Helfer added that Juniper will look to recruit more security partners following investment this year in its portfolio, and particularly the vendor's acquisition of DDoS technology Webscreen from Accumuli in February of this year.
As a sign of the importance of building a security channel, he said, Juniper has assigned former head of security product strategy, Kareem Toubba, to the role of VP of security channels.
The other area of focus for recruitment will be in the datacentre, he added. "When you come from a high-end portfolio like we did, our portfolio lends itself to [the datacentre]. Because we have the high-end, the security and the switching it's a unique position."
Elsewhere the firm will be hosting both channel partners and its internal sales teams "in the room at same time" at Juniper's Global Partner Conference (GPC) in Las Vegas in January. "It shows our sales team how deliberately dependent we are on partners…It helps develop that relationship that relationship as well," added Helfer.
Meanhwile today Juniper announced Shaygan Kheradpir will succeed Kevin Johnson as CEO who is retiring. Kheradpir will take up the role from January 1, 2014. Johnson will remain as a member of the board.
Stay up to date with the latest Channel industry news and analysis with our twice-weekly newsletter
Christine has been a tech journalist for over 20 years, 10 of which she spent exclusively covering the IT Channel. From 2006-2009 she worked as the editor of Channel Business, before moving on to ChannelPro where she was editor and, latterly, senior editor.
Since 2016, she has been a freelance writer, editor, and copywriter and continues to cover the channel in addition to broader IT themes. Additionally, she provides media training explaining what the channel is and why it's important to businesses.