John Chambers leaves networking giant Cisco
Steps down to move onto "the next chapter of his life"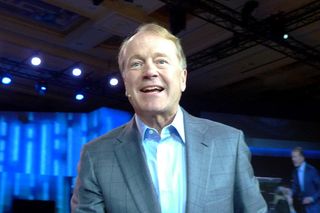 Ex-Cisco boss John Chambers has announced he will be stepping down as executive chairman of the firm after 26 years at the company. He explained he has decided to move onto "the next chapter" of his life, although has not yet revealed what that might be.
Chambers wrote a letter to the board, which explained his decision not to stand for re-election in December, although he was thankful for everything the company has offered him and its staff for providing so much support during his time at the tech giant.
"It has been a tremendous honor to serve in multiple leadership roles at Cisco," Chambers wrote in his departing letter to board director Carol Bartz.
"To build one of the most successful and admired companies in the world. One that in many ways changed the way the world truly works, lives, plays, and learns. Every transition we have gone through at Cisco has been a world-class example of transparency and execution."
Cisco said in a statement CEO Chuck Robbins would take over the role of executive director as well as continuing to serve as CEO. Chambers would continue with the honorary title of chairman emeritus.
Robbins thanked Chambers for his contribution to the company, helping to shape its past and future and for having such a big impact on the industry as a whole.
"Cisco will always be in my heart and mind and I will always challenge us to lead, to disrupt or be disrupted, catch the key market transitions, and to move aggressively and fearlessly into this new digital world," Chambers finished.
"I want to thank the board, Chuck and the Cisco leadership team, our employees, our partners, our customers, and our shareholders for the honor to have led and to have served Cisco."
Stay up to date with the latest Channel industry news and analysis with our twice-weekly newsletter
Stay up to date with the latest Channel industry news and analysis with our twice-weekly newsletter
Thank you for signing up to Channel Pro. You will receive a verification email shortly.
There was a problem. Please refresh the page and try again.