NetApp and Lenovo to link channel programmes in new alliance
Partnership will make it easier for resellers to expand their portfolios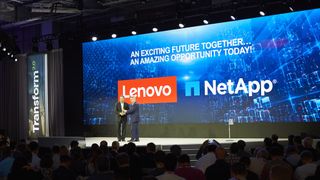 NetApp and Lenovo are aligning their channel partner programmes as part of a wider strategic alliance, the companies have told Channel Pro.
Announced at Lenovo Transform 2.0 in New York, the news comes as part of a broader partnership agreement which will see Lenovo offering ten new storage platforms using NetApp's flash data management technology.
Both companies stated that channel partners are a priority, and the companies have worked together to ensure that each others' partners both benefit from the new deal.
"Channel partners are also top of mind for both our two companies. We are committed to the success of our existing and our future channel partners," said Brad Anderson, NetApp's senior vice president and general manager of cloud infrastructure.
"For NetApp channel partners, it is new pathways to new segments and to new customers. For Lenovo's channel partners, it is the competitive weapons that now allows you to compete, and more importantly win, against Dell EMC and HPE."
Arrangements have already been made to allow NetApp partners to seamlessly become Lenovo partners as well, Anderson told Channel Pro, giving them access to a broader product range. The president of Lenovo's data centre group, Kirk Skauger, also confirmed that it will require no extra training or certification.
"If you have been technically certified as a NetApp solutions specialist or channel partner, you're automatically going to be grandfathered over to the Lenovo channel programme with no incremental training," he said. "We're not making people go through an extensive amount of new training because we're in the market aggressively now, so it's very simple for a NetApp partner and a certified engineer to become a Lenovo certified engineer."
According to Skauger, Lenovo's presence in the high-performance computing (HPC) market presents a wealth of potential for channel providers, which the NetApp partnership will enable them to capitalise on.
"One of every five boxes sold through our distribution channel is also AI or HPC-related, and needs storage," he said, "so that's where I think we see strong growth in this alliance through our channel partners as well with this NetApp alliance."
"I think the NetApp channel partners are going to see this as a good thing," Anderson said. "In general, the NetApp and Lenovo channel ecosystems are largely complementary. There are minimal overlaps across there, and so we don't foresee any issue. In fact, we see this as a huge positive for the NetApp partner to participate in full-stack opportunities."
Skauger agreed, adding: "Candidly, I've never seen so much channel interest as we're getting, as we've briefed our channel partners over the last several months."
Stay up to date with the latest Channel industry news and analysis with our twice-weekly newsletter
Adam Shepherd has been a technology journalist since 2015, covering everything from cloud storage and security, to smartphones and servers. Over the course of his career, he's seen the spread of 5G, the growing ubiquity of wireless devices, and the start of the connected revolution. He's also been to more trade shows and technology conferences than he cares to count.
Adam is an avid follower of the latest hardware innovations, and he is never happier than when tinkering with complex network configurations, or exploring a new Linux distro. He was also previously a co-host on the ITPro Podcast, where he was often found ranting about his love of strange gadgets, his disdain for Windows Mobile, and everything in between.
You can find Adam tweeting about enterprise technology (or more often bad jokes) @AdamShepherUK.
Stay up to date with the latest Channel industry news and analysis with our twice-weekly newsletter
Thank you for signing up to Channel Pro. You will receive a verification email shortly.
There was a problem. Please refresh the page and try again.