Microsoft may be about to launch last ever Lumia smartphone
Redmond will kill off Nokia branding in preparation for Surface Phone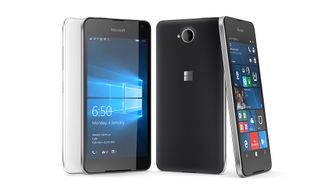 Microsoft (NASDAQ:MSFT) is about to release the last ever smartphone carrying the Lumia branding, according to reports.
The Lumia 650 will be released on 1 February, with Redmond supposedly unveiling the device on its official blog rather than at a dedicated press event, Windows Central claimed, citing "multiple sources".
Microsoft is also not expected to have a particularly strong presence at Mobile World Congress 2016 in Barcelona, where many new devices get their debut.
Leaked specs currently suggest the new device will be a budget offering, with a 5in, 720p display, 1GB of RAM and just 8GB of storage.
It is also said to be more business-focused than the company's other smartphones, but what that actually entails is yet to be seen.
Microsoft has been cutting down on its yearly releases, and is expected to significantly streamline its device portfolio following brutal job cuts in its smartphone division.
As part of these efforts, the company is also expected to ditch the largely unsuccessful Lumia brand, which it purchased from Nokia in 2014.
Instead, new devices will be incorporated into the Surface range, which currently includes the Surface Pro hybrids and Surface Book.
The move has been anticipated by fans for a while, and matches the current trend among big tech manufacturers for producing cohesive device portfolios.
Information about any future Surface Phone remains thin on the ground, but expect a similar design aesthetic to existing Surface devices, as well as a possible Intel CPU.
The first Surface Phone is rumoured to be arriving in the second half of 2016, to coincide with Windows 10 Redstone, the latest major update to Microsoft's OS.
Stay up to date with the latest Channel industry news and analysis with our twice-weekly newsletter
Adam Shepherd has been a technology journalist since 2015, covering everything from cloud storage and security, to smartphones and servers. Over the course of his career, he's seen the spread of 5G, the growing ubiquity of wireless devices, and the start of the connected revolution. He's also been to more trade shows and technology conferences than he cares to count.
As reviews and community editor, he's responsible for leading IT Pro's wide-ranging product coverage, and is an avid follower of the latest hardware innovations. He's never happier than when tinkering with complex network configurations, or exploring a new Linux distro.
In addition to managing the IT Pro Panel and working with the community of IT leaders that make it up, he co-hosts the IT Pro Podcast, where you can hear him ranting about his love of strange gadgets, his disdain for Windows Mobile, and everything in between.
You can find Adam tweeting about enterprise technology (or more often bad jokes) @AdamShepherUK, or you can email him at adam.shepherd@futurenet.com.
Stay up to date with the latest Channel industry news and analysis with our twice-weekly newsletter
Thank you for signing up to Channel Pro. You will receive a verification email shortly.
There was a problem. Please refresh the page and try again.