Internet of Things: A quick guide
Everything you need to know about the Internet of Things in 2017 and beyond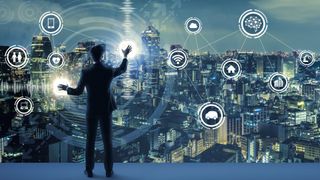 The top 10 IoT technologies for 2017 and 2018
IoT Security
One of the biggest concerns about the IoT is that of security. How can businesses ensure their devices and objects connected to the internet are safe from hacks and more importantly, how can they ensure they protect their customers' privacy?
The answer is sufficiently protecting the entire system, end-to-end, ensuring hackers are unable to hack into the passing of the data to the device, from the device and while that information is in storage.
But the big challenge is that the IoT is still relatively new and so although security tools exist to protect the data during transit, they're not as advanced as other security solutions.
Vendors must develop solutions that can be used to combat threats, whether device hijacking or denial-of-sleep attacks that drain batteries while the user thinks they're switched off, while MSPs and VARs should come up with ways of knitting their partners' tools together to provide an all-in-one protection ecosystem.
But like anything related to security, it's a continuously-changing environment and businesses need to adapt, just like the channel does, to make sure devices are always upgraded, installing the most recent security patches to ensure they can't be so readily attacked. Devices that are regularly subject to attack should be scrapped and new solutions sought.
"Experienced IoT security specialists are scarce, and security solutions are currently fragmented and involve multiple vendors," says Jones.
"New threats will emerge through 2021 as hackers find new ways to attack IoT devices and protocols, so long-lived 'things' may need updateable hardware and software to adapt during their lifespan."
IoT Analytics
With analytics now being such an important consideration for many businesses, IoT devices can play an important role in gathering key information. These connected devices are able to collect and relay data regarding customer behaviour, service delivery and product improvement – which, ultimately, aids businesses in making key decisions and forming future strategies.
Collecting this data is all well and good; however, the level of benefit it provides to a business all depends on the quality of analysis. For example, choosing the appropriate hardware and software from the plethora available will go a long way to helping transform this raw information and data into meaningful insights.
IoT Device (Thing) Management
Devices – or "things" – that will be used over extended periods of time and serve more complex purposes will need to be managed and maintained. Much like PCs and smartphones, this management includes device monitoring, firmware and software updates, diagnostics, crash reports and analysis, physical upkeep, as well as ensuring that devices are protected and secure.
With the scale and complexity of the IoT, comes a new set of problems to task of managing devices. Tools – in terms of both software and hardware – need to be able to manage and monitor thousands, if not millions, of connected devices.
Low-Power, Short-Range IoT Networks
Selecting a wireless network for an IoT device involves balancing many conflicting requirements, such as range, battery life, bandwidth, density, endpoint cost and operational cost. Low-power, short-range networks will dominate wireless IoT connectivity through 2025, far outnumbering connections using wide-area IoT networks. However, commercial and technical trade-offs mean that many solutions will coexist, with no single dominant winner and clusters emerging around certain technologies, applications and vendor ecosystems.
Low-Power, Wide-Area Networks
Traditional cellular networks don't deliver a good combination of technical features and operational cost for those IoT applications that need wide-area coverage combined with relatively low bandwidth, good battery life, low hardware and operating cost, and high connection density. The long-term goal of a wide-area IoT network is to deliver data rates from hundreds of bits per second (bps) to tens of kilobits per second (kbps) with nationwide coverage, a battery life of up to 10 years, an endpoint hardware cost of around $5, and support for hundreds of thousands of devices connected to a base station or its equivalent. The first low-power wide-area networks (LPWANs) were based on proprietary technologies, but in the long term emerging standards such as Narrowband IoT (NB-IoT) will likely dominate this space.
IoT Processors
The processors and architectures used by IoT devices define many of their capabilities, such as whether they are capable of strong security and encryption, power consumption, whether they are sophisticated enough to support an operating system, updatable firmware, and embedded device management agents. As with all hardware design, there are complex trade-offs between features, hardware cost, software cost, software upgradability and so on. As a result, understanding the implications of processor choices will demand deep technical skills.
IoT Operating Systems
Traditional operating systems (OSs) such as Windows and iOS were not designed for IoT applications. They consume too much power, need fast processors, and in some cases, lack features such as guaranteed real-time response. They also have too large a memory footprint for small devices and may not support the chips that IoT developers use. Consequently, a wide range of IoT-specific operating systems has been developed to suit many different hardware footprints and feature needs.
Event Stream Processing
Some IoT applications will generate extremely high data rates that must be analysed in real time. Systems creating tens of thousands of events per second are common, and millions of events per second can occur in some telecom and telemetry situations. To address such requirements, distributed stream computing platforms (DSCPs) have emerged. They typically use parallel architectures to process very high-rate data streams to perform tasks such as real-time analytics and pattern identification.
IoT Platforms
IoT platforms bundle many of the infrastructure components of an IoT system into a single product. The services provided by such platforms fall into three main categories: (1) low-level device control and operations such as communications, device monitoring and management, security, and firmware updates; (2) IoT data acquisition, transformation and management; and (3) IoT application development, including event-driven logic, application programming, visualisation, analytics and adapters to connect to enterprise systems.
IoT Standards and Ecosystems
Although ecosystems and standards aren't precisely technologies, most eventually materialize as application programming interfaces (APIs). Standards and their associated APIs will be essential because IoT devices will need to interoperate and communicate, and many IoT business models will rely on sharing data between multiple devices and organizations.
Many IoT ecosystems will emerge, and commercial and technical battles between these ecosystems will dominate areas such as the smart home, the smart city and healthcare. Organisations creating products may have to develop variants to support multiple standards or ecosystems and be prepared to update products during their life span as the standards evolve and new standards and related APIs emerge.
17/01/16
Gartner: Internet of Things to become prevalent by 2020
More than half of major new business processes and systems will incorporate some element of the Internet of Things (IoT) by 2020, according to Gartner.
"Uses of the IoT that were previously impractical will increasingly become practical," explains W. Roy Schulte, VP and distinguished analyst at Gartner. "The IoT is relevant in virtually every industry, although not in every application. There will be no purely 'IoT applications.' Rather, there will be many applications that leverage the IoT in some small or large aspect of their work. As a result, business analysts and developers of information-centric processes need to have the expertise and the tools to implement IoT aspects that play a role in their systems."
However Gartner also says that through 2018, 75 percent of IoT projects will take up to twice as long as planned.
Also, by 2020, a black market exceeding $5bn will exist to sell fake sensor and video data for enabling criminal activity and protecting personal privacy.
In addition, by 2020, addressing compromises in IoT security will have increased security costs to 20 percent of annual security budgets, from less than one percent in 2015.
As use of IoT devices grows, however, the unique requirements of IoT architecture, design and implementation over multiple industry segments and scenarios will also grow. As a result, Gartner believes that the average security budget for IT, operational technology (OT) and IoT security requirements will respond to the growth of IoT devices across all business segments and scenarios, rising from less than one percent of annual security budgets in 2015 to 20 percent in 2020.
06/01/16
Government announces Internet of Things Research Hub
The Government is to launch a new interdisciplinary Research Hub to drive forward UK research in the Internet of Things (IoT).
Funding for the Hub includes a £9.8m grant from the Engineering and Physical Sciences Research Council (EPSRC) which will be boosted by partner contributions to approximately £23m in total.
The PETRAS consortium of nine leading UK universities will work together over the next three years to explore critical issues in privacy, ethics, trust, reliability, acceptability, and security.
The project is part of IoTUK, an integrated £40m, three-year, Government programme that seeks to advance the UK's global leadership in IoT and increase the adoption of high quality IoT technologies and services throughout businesses and the public sector.
The Hub is a consortium of nine leading universities led by UCL with Imperial College London, University of Oxford, University of Warwick, Lancaster University, University of Southampton, University of Surrey, University of Edinburgh and Cardiff University. The Hub will draw in substantial support and leverage from over 47 partners from industry and the public sector.
"UK universities are renowned for their creativity, and pioneering research and development. We want the UK to be a world leader in the adoption of Internet of Things technologies, and I know that bringing these universities together with partners from the UK's thriving tech industry will be instrumental in making this a reality, comments digital economy minister, Ed Vaizey.
The PETRAS IoT Hub will focus on five themes:
Privacy and trust (Lead Universities: Warwick, Oxford)
Safety and security (Lead Universities: Imperial, Lancaster)
Harnessing economic value (Lead Universities: Imperial, Oxford)
Standards, governance and policy (Lead University: UCL)
Adoption and acceptability (Lead Universities: Warwick, Lancaster)
Across these themes, projects sharing core technologies will be linked in cross-cutting "constellations":
Infrastructure (Lead Universities: UCL, Cardiff, Warwick, Oxford)
Health and care (Lead Universities: Imperial, Oxford)
Control systems and supply chains (Lead Universities: Warwick, Lancaster, UCL)
Ambient environments (Lead Universities: Lancaster, Surrey, Imperial, UCL, Edinburgh)
Identification (Lead Universities: Warwick, Oxford)
Transport and mobility (Lead Universities: Surrey, Lancaster, Imperial)
Design and behaviour (Lead Universities: Warwick, UCL, Oxford)
The initial 17 projects include large scale experiments at the Queen Elizabeth Olympic Park; the cybersecurity of low power body sensors and implants; understanding how individuals and companies can increase IoT security through better day-to-day practices; and ensuring that connected smart meters are not a threat to home security.
Future projects will adapt and respond to new issues, trends and innovations, as and when they emerge.
What is the Internet of Everything?
To understand the Internet of Everything (IoE), you must first understand the Internet of Things (IoT).
The Internet of Things is a network of physical objects or 'things' enhanced through embedded sensors, software, electronics and connectivity allowing them to exchange data with manufacturers, operators and other connected devices via the internet. In 2015 Gartner claims there will be more than 4.9bn connected 'things' in use. These 'things' can range from biochip transponders in farm animals, to sensors in car parks and right on through to remote control thermostat systems.
The Internet of Everything, a concept developed by Cisco, builds on the Internet of Things to combine people, processes and data to further enhance the power of the internet. Cisco's vision for the Internet of Everything, according to former Cisco chief technologist Dave Evans, is to improve business and industry outcomes and ultimately make people's lives better by adding to the progress of IoT.
As the 'things' connected to the internet are joined by people and more intelligent data (as Cisco's definition describes), IoE could potentially connect 50bn people, data, and things by 2020.
(In June 2015 IDC predicted the worldwide IoT market will grow from $655.8bn in 2014 to $1.7 trillion in 2020 with a compound annual growth rate (CAGR) of 16.9 percent.)
Who is it aimed at?
In short, everyone. The Internet of Everything has virtually limitless applications that can affect most aspects of modern life. The impact will be greater in developed countries where widespread adoption of technology, advanced internet infrastructure and 4G provide an ideal platform for IoE.
Take the City of Hamburg as an example: Through a partnership with Cisco it has become a Smart City improving the lives of its citizens using the IoE. Here are just a few practical applications from the IoE planned or already in action:
- Smart Parking – sensors are being installed across Hamburg to alert truck drives to available parking in real time. This speeds traffic flow and reduces pollution throughout the city.
- Improved traffic management – a unified traffic management system aims to improve traffic flow through the city and reduce traffic jam incidents by 30 percent. Sensors and cameras across major roadways feed traffic data to a central management hub. Resulting intelligence is transmitted to message boards on the highways to redirect or inform road users in real time.
- Street lights that switch themselves off – by attaching sensors to street lights, the can turn on as traffic approaches and off as it passes. Empty roads are not illuminated with improved energy efficiency that could reduce annual carbon emissions by 12,000 tons
Outside of Smart Cities are the everyday household objects and devices that through the IoE can affect daily life:
- Home Thermostats – take Nest as an example, where you can connect your home thermostat to the cloud. It learns how to heat your home efficiently, has a schedule you can change on the go from your mobile device and has an auto-away feature, which switches off the heating when you leave the house. All these applications result in reduced carbon emissions, reduced energy bills and the convenience of a perfectly heated home.
- Connected cars – some way off yet, a network of cars connected to the internet and loaded with sensors that will eventually lead the way to self-driving cars.
- Smart Fridges – a fridge connected to the internet with a sensor. You can scan your food in and out of the fridge, get updates of food expiration dates and automate ordering of new products or a shopping list when you run out of certain items.
How does it impact the market?
By 2020, Cisco predicts that more than 50bn devices will connect through the Internet of Things. Through the Internet of Everything they are predicting that by 2023, the total savings and sales recognised will amount to $14.4 trillion.
How you ask? New processes, automation and innovations through machine learning will deliver huge efficiencies in energy usage, time spent working and removing human intervention from existing activities.
In addition to cost savings are new and emerging revenue streams. Everyday objects are being reinvented with sensors, computing and communications capabilities, whilst new and novel devices are emerging. New and previously passive things now have a 'digital voice', which create, and deliver information in real time. This radically enhances their value proposition and creates new services, advertising and usage scenarios that drive new business models and previously unrecognised revenue streams.
Perfect examples of this are the previously mentioned smart thermostats, which have seen a huge boost in sales and the emergence of the vastly lucrative wearables market.
Points of interest
One of the biggest talking points surrounding the Internet of Everything is one of security. Channel Pro caught up with Sian John, chief security strategist at Symantec for EMEA and here is what she had to say:
"As the Internet of Things takes off, companies are building gadgets that connect to the Internet without considering the potential security threats. Unfortunately it's pretty much a history of the human race that whenever we do something, we do it first and then we think about the risk and security afterwards. When building pacemakers, for example, manufacturers are thinking about how best to put connectivity into them. But if they're putting connectivity into them, they need to understand the risks of that from a security perspective.
"Baking in security to new wearable devices will be crucial going forward. This may well relate to authentication, with techniques such as encryption and biometrics being chosen in favour of traditional passwords."
Channel Pro opinion
While the Internet of Everything has huge a potential to transform our daily lives, it is still very much in its infancy.
(Apple co-founder Steve Wozniak recently expressed concerns that IoT could end up being a tech bubble that bursts. While he maintained he was excited about the potential of the sector, he compared it with the dotcom crash of the late 1990s, when he said excitement and vision got ahead of the technology, which wasn't commercially-ready.)
Existing technology and internet infrastructure have a long way to before we can truly begin to realise the true capabilities of IoE and it achieves mainstream adoption.
Lynn Collier, COO at HDS UK gives her input:
"While the development of IoT solutions is still in its infancy, the challenge for both vendors and channel partners is to clearly demonstrate the underlying business benefits. Most importantly, how will the promise of IoT help to deliver a better customer experience?
"Bringing together people, process, data and connected devices will undoubtedly have a significant impact on a number of industries. With Gartner predicting it will take five to ten years before IoT reaches mainstream adoption, vendors and partners need to prioritise educating customers now on the what the promise holds to increase awareness and adoption, but also on solutions available today which will deliver value and that all important stepping stone to the future. Through developing business-driven use cases, vendors and partners will help to demonstrate how IoT solutions can improve the bottom line whilst also benefitting customers."
The Internet of Things – the opportunity for the Channel
Stay up to date with the latest Channel industry news and analysis with our twice-weekly newsletter