Sorgen talks up IoT opportunity for Microsoft partners
Windows 10 and Microsoft Azure lined up to help partners tap into Internet of Things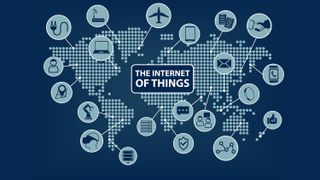 Microsoft (NASDAQ:MSFT) channel chief Phil Sorgen has been talking up the Internet of Things (IoT) opportunity for the firm's partners.
In his blog, Sorgen cites a McKinsey report that says business-to-business applications have the potential to generate nearly 70 percent of the total potential value of IoT.
He says that Microsoft's partners are in "a prime position to tap into this growing market right now" – with Windows 10 and Microsoft Azure core to the company's IoT plans.
"Windows 10, introduced in July, now powers secure, connected devices collecting massive amounts of data. Then the power of Azure analytics unlocks business insights, helping our shared customers," he says.
Microsoft introduced the Microsoft Azure IoT Suite in September 2015, which it says was developed to address common IoT scenarios like remote monitoring and asset management. Updates to the suite, released in December, now include a preconfigured solution for predictive maintenance, "turning vast amounts of data into actionable business insights."
At the same time the vendor launched Microsoft Azure Certified for IoT. "By offering trusted solutions with verified partners, Azure Certified for IoT also works to speed up IoT deployments," says Sorgen.
"We're already working with Arduino, Beagleboard, Freescale, Intel, Raspberry Pi, Samsung, and Texas Instruments, among others, to test and certify combinations of device, platform and operating system to work on Azure."
He continues: "Along with investments into the technology and the ecosystem, we're also investing directly in your business development. We built the Azure IoT Practice Building Portal to provide MPN partners with guidance and resources specifically designed to support successful IoT practices."
Sorgen adds that for device manufacturers, Windows 10 IoT offerings are also continuing to grow with new SKUs, platform improvements, and continued evolution "on the way".
Gartner forecasts 20.8 billion cumulative connected consumer and enterprise "things." IDC says global IoT spending will grow to $1.3 trillion by 2019. And in the longer term, McKinsey estimates a total potential economic impact of as much as $11.1 trillion by 2025.
Stay up to date with the latest Channel industry news and analysis with our twice-weekly newsletter
Stay up to date with the latest Channel industry news and analysis with our twice-weekly newsletter
Thank you for signing up to Channel Pro. You will receive a verification email shortly.
There was a problem. Please refresh the page and try again.