Epicor's stronger Azure partnership to preface IoT and AI tools
IoT and digital assistant upgrades will be introduced with the latest releases for Epicor ERP and Prophet 21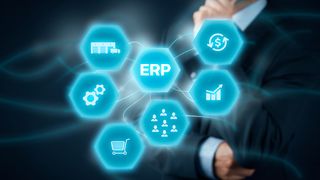 Epicor has built on its partnership with Microsoft Azure to roll out major artificial intelligence (AI) and Internet of Things (IoT) enhancements to its suite of enterprise resource planning (ERP) tools.
Manufacturers and distributors will benefit from upgrades to the company's Epicor ERP and Prophet 21 platforms respectively, powered by closer integration with Microsoft's Azure cloud platform almost a year after this partnership was first announced.
Details of both releases were outlined by Epicor's chief product and technology officer Himanshu Palsule at the company's annual Insights customer conference, hosted this year at Mandalay Bay, Las Vegas.
In particular, this Azure base layer will power the company's digital assistant Epicor Virtual Agent (EVA), as well as render better connectivity between people and smart machines in the firm's Epicor ERP platform for manufacturers.
"We've made great progress in moving many of you onto the Azure platform," Palsule said during his keynote address. "And as you saw with EVA and the connected enterprise, we have now started using the platform elements of Azure.
"We've started using the service levels, service fabric and the IoT Hub and other parts of that. And that's always been our strategy."
Improvements to the manufacturer-centric Epicor ERP platform sees a host of tools such as AI and analytics integrate with the system to enhance the company's vision for a 'connected enterprise'.
The Epicor IoT module, in particular, will connect smart machines across the manufacturing floor to Microsoft's Azure IoT Hub, with data pulled directly from sensors and visualised on the ERP home page.
Meanwhile, the Prophet 21 web-based app, targeted at distributors, is encouraging its customers to embrace the public cloud to transform their business processes.
This app was recently ported onto the public cloud in its entirety, with software engineers telling Channel Pro the most exciting part of the shift is customers' newfound ability to use the product on any device, from tablets to iMacs.
The latest releases of Epicor's ERP tools for manufacturers and distributors make steps towards realising ambitions set out last year, when the strategic partnership was first outlined last year.
As to where the company aims to take this in the future, Palsule told the press at a Q&A following the keynote that customers whose own platforms are tied to Azure will in future be able to draw additional benefits.
He also outlined how the partnership would work in practice, and address concerns around security, saying the firm resisted any temptation of trying to solve it themselves.
"The way it works is you get the machines communicate with the IoT Hub, the IoT Hub has a certain restriction on security protocols. Then that data then goes into ERP and communicates back," said Palsule.
"Everything that we're doing follows the standard Microsoft protocols so we are relying heavily on this partnership to give us security."
Meanwhile, for Microsoft, the company sees this partnership as the perfect marriage between the underlying cloud infrastructure and the niche expertise that a partner in the mould of Epicor can offer.
"We got our engineering teams together we sat down, and ultimately worked out all the architectural designs," Microsoft's partner director for global ISV alliances and business development Don Woods told Channel Pro.
"We put the ERP into Azure, and then started going to customers and said 'look, you want to get into the cloud? Epicor's moving into the cloud. It's going to SaaS. You want to benefit from all this? Join us in that movement'.
"And Epicor wanted to make sure that the customers had that capability, because that's where it's going."
Stay up to date with the latest Channel industry news and analysis with our twice-weekly newsletter
Keumars Afifi-Sabet is the Features Editor for ITPro, CloudPro and ChannelPro. He oversees the commissioning and publication of in-depth and long-form features across all three sites, including opinion articles and case studies. He also occasionally contributes his thoughts to the IT Pro Podcast, and writes content for the Business Briefing. Keumars joined IT Pro as a staff writer in April 2018. He specialises in the public sector but writes across a breadth of core topics including cyber security and cloud computing.
Stay up to date with the latest Channel industry news and analysis with our twice-weekly newsletter
Thank you for signing up to Channel Pro. You will receive a verification email shortly.
There was a problem. Please refresh the page and try again.