How to fix the blue screen of death error in Windows 11
The blue screen of death in Windows 11 can be frustrating but it's relatively easy to fix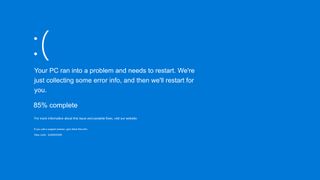 It's all too likely that you have experienced a blue screen of death (BSOD) on Windows 11 at some point. This is a common sight to any Windows user who has seen their PC crash and is not something to cause immediate panic or concern.
There are any number of causes for a BSOD to happen, so this is not necessarily cause for concern. Sometimes it can be enough to simply restart your system, but there are more thorough ways to fix the problem.
The blue screen of death on Windows 11 helpfully provides an error code to give users an idea of what caused the crash. These codes also provide users with an idea of when they can expect to get back to working on their devices uninterrupted
What is the blue screen of death?
The BSOD is also called a 'STOP error,' and it is an indicator of a fatal system error. IT professionals have come to refer to it by its foreboding name over many years due to its irritating nature and iconic bright blue background.
Prior to Windows 8, the BSOD was a little less user-friendly than it is today and Microsoft's latest operating system Windows 11 brought in a few new changes too. One significant difference was to replace the iconic blue background to match the operating system's color palette, meaning the BSOD on Windows 11 was originally black rather than blue.
The classic blue background was reinstated in a later build of Windows 11, which means that if you're facing a black screen of death you are running an older build of Windows 11. If this is the case, you should install the latest Windows 11 update to benefit from up-to-date security protections and all the latest features.
Steps to fix the blue screen of death in Windows 11
The BSOD in Windows 11 is much easier to understand than its predecessors. But as it often occurs without warning and requires immediate attention to be resolved, it can still be intimidating for the uninitiated user.
To ensure that you don't lose any unsaved work, it's best to wait for the system to back itself up before doing anything; the error screen should give you a percentage and display the progress of the backup.
Some of the best steps to take are:
Check error and QR codes
Query BSOD error codes
Check the Windows 11 Memory Dump
Boot Windows in Safe Mode
Use System Restore
Reset Your PC
---
Check the error and QR Codes
When the BSOD appears, users will be shown error code. This will be a mixture of numbers and letters, usually starting with "0x".
This number corresponds with the exact error that your machine is having, so it's important to keep a record of it.
It's normal for the error code to be shown alongside its Stop Code, which is the part that tells the user the cause of the problem. The stop code is always a series of words in block capitals, shown in square brackets.
For example, the error code 0x00000001 may show as 'APC_INDEX_MISMATCH' which tells the user that there is a mismatch in the APC state index.
In contrast, [CRITCAL_PROCESS_DIED] informs the user that something is wrong with an aspect of the operating system that your device runs. Don't worry if it is just the Error Code that comes up, because that will still be useful to any technicians you might have to call in for help.
Windows 8 included the useful introduction of QR codes to the BSOD. Scan this code with your smartphone's camera and you will be taken to the support page in your web browser.
Query BSOD Error Codes
Identifying the error codes is just the first part of the process. Next, you must figure out what they mean. In most cases, the code will relate to an issue, or simply point you in the right direction, rather than give you the precise cause.
Some errors are harder to diagnose, however. The error code IRQL_not_less_or_equal, for example, usually relates to a hardware fault, such as a corrupted RAM module
It can also be triggered by faulty drivers, or even faulty antivirus software
Aside from using the QR code, the quickest way to check the error is to type the code into a search engine. It's best to find the Microsoft Support page for that code first and foremost, before looking at third-party sites that will either try and sell you a quick fix, or get you to try every fix possible
The Microsoft support page will be able to explain the error, the circumstances that triggered it, and if there is a fix or workaround to resolve it. The support page should give you step-by-step instructions to follow and guide you on your way to resolving the issue
If there are no fixes, or if the page only offers vague information like 'driver issue', it's time to think back to any recent installations or changes you made to your machine, and if need be, uninstall them.
Check the Windows 11 Memory Dump
If the Support Page doesn't answer your question, you can find a lot more information by looking through the Memory Dump, an error log that's automatically created whenever Windows encounters an error from which it's unable to recover.
You'll find it on the same drive that holds your Windows 11 installation, in a folder called %SystemRoot%\MEMORY. DMP or %SystemRoot%\Minidump.
To open the file, you'll need an app called WinDbg from the Microsoft Store. We won't go into detail on how to decipher a memory dump in this article, but if you need to, call in a technical support person or system administrator.
Unfortunately, Windows can only diagnose so far and if it's still not clear at this stage what the issue is, you might need to ask for outside help. Microsoft has forums for this sort of issue, staffed by the community and Microsoft engineers.
To get the best support, you should try to be as detailed as possible when describing what you were doing when the error occurred and don't forget to include both the Error Code and Stop Code.
We have a guide on how to access help in Windows, which will give you plenty of pointers.
While it is recommended you follow support options outlined by Microsoft or technicians, options may help you resolve the situation.
Boot Windows in Safe Mode
If the blue screen error appears before login, and is therefore preventing you from accessing your desktop, you will need to boot into Safe Mode and try again.
You can follow our handy guide on how to boot Windows 11 in Safe Mode.
There are a number of different ways to boot your device into Safe Mode. If you're a Windows 11 user, the process is fairly straightforward and similar to booting Windows 10 in safe mode.
Use System Restore
Alternatively, you could use System Restore, but this option does come with some significant drawbacks.
By using System Restore, your device will roll back to a prior point before you encountered the error, meaning you will also lose any recent changes made to files and folders on your PC.
To use system restore:
Open the Settings app and click on the System tab
Select Recovery and click Go back (if this option is greyed out, it means you do not have a previous point saved)
Then, click Next in the Restore system files and settings box
From here, you will be able to select the restore point that you want to use
Reset Your PC
If you've tried all the above steps and are still unable to fix the error, you may want to consider factory resetting your Windows 11 PC.
To do this, go to:
Start Menu
Settings
System
Recovery
Once you've reached this menu, you can select the 'Reset PC' option
Choosing to reset your PC will delete the C: drive, as well as all files and folders saved to Desktop, Documents, and Downloads.
What is the green screen of death in Windows 11?
If you're a Windows Insider, the BSOD becomes the green screen of death (GSOD). Not only is the error screen green, but it also features additional information for identifying bugs in the operating system.
When shown the GSOD, it could be that there isn't an available fix for the specific issue you have due to the build still undergoing beta testing. In this situation, we would suggest heading to the Windows Insider Program hub to find support.
Get the ITPro. daily newsletter
Receive our latest news, industry updates, featured resources and more. Sign up today to receive our FREE report on AI cyber crime & security - newly updated for 2023.
Chris Merriman has been writing about technology since the 1990s for a variety of titles including Computer Shopper, MSN, TechRadar, Tom's Guide and The Inquirer, where he broke a number of major tech news stories that were picked up globally. He has appeared on BBC, Sky News and Al Jazeera and was the resident tech expert at TalkRadio for a number of years. In between times, he has also been a consultant for several major tech firms.
Chris is fascinated by automation and the internet of things, as well as the evolution of the ways we communicate in the digital era. He's also a frequent contributor to ITPro's software guides, including Windows operating systems. Other specialisms include storage, peripherals, and web apps, and any gadget he's allowed to take apart and fiddle with, preferably after throwing away the box, manual and receipt.