BYOD: Unlocking the potential for VARs
Chris Russell outlines how tokenless authentication solutions can be integrated as part of a BYOD strategy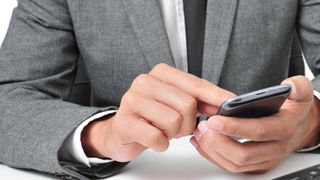 The rising trend of employees using their own personal devices in the workplace to access the corporate network continues to disrupt IT departments and has left businesses wondering how they can come to terms with this cultural shift. Allowing the use of personal devices, whether they be smart phones, laptops or tablets, obviously brings with it major security concerns for businesses and is currently one of the biggest challenges being faced by IT directors. What many resellers are yet to realise is that today's bring your own device (BYOD) culture provides a unique opportunity, as the heightened risk to network security drives greater demand for stronger authentication.
Any employee using a personal wireless device to access business critical applications is essentially a security risk predominantly because, like remote workers, they are operating outside the control and protection of the fixed network perimeter. BYOD enables resellers to save their customers money as the employee's personal device can also be used as a virtual authentication token, via a dedicated and secure mobile app. This enables them to meet the security requirements of their corporate network without incurring the costs associated with traditional token-based solutions.
The need for additional security
Employees that use a personal device for corporate activities are able to access the corporate network anywhere, anytime. While allowing employees the flexibility of this kind of remote working does have its benefits – increased productivity, less wasted time in travel, saving on overheads – it also increases security risks. When this is combined with the fact that most people will be using the same device to access personal and corporate applications and will most likely be using the same username and password for social media and personal banking as they do for their business applications, the need for additional security on the device becomes painfully apparent. Recent large scale security breaches at global organisations like Sony, Sega and Google confirm beyond doubt that usernames and passwords are little more than an inconvenience to today's hackers. It is therefore essential that strong authentication is in place to manage user access to a corporate network.
Why haven't businesses done this sooner?
Establishing a new IT infrastructure that incorporates a BYOD strategy can be costly. Many strong authentication solutions require a large initial investment to provide all employees with an authentication token needed to log in to the device. There is then the ongoing management of the tokens to consider, as they are frequently lost or stolen over time. Resellers that recommend employees' personal devices be deployed as the de facto authentication solution, are not only saving their customers money, they are also removing the need for ongoing management of tokens and corporate devices – saving time and in turn increasing productivity.
Chris Russell is VP engineering at Swivel Secure, a provider of strong factor tokenless authentication solutions
Stay up to date with the latest Channel industry news and analysis with our twice-weekly newsletter
Stay up to date with the latest Channel industry news and analysis with our twice-weekly newsletter
Thank you for signing up to Channel Pro. You will receive a verification email shortly.
There was a problem. Please refresh the page and try again.