CEO Simon Church quits NTT Com Security
Church and CFO Heiner Luntz replaced in C-level shake-up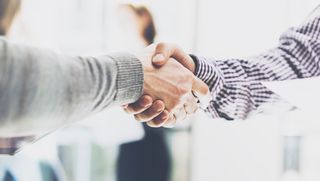 NTT Com Security CEO Simon Church has resigned the post amid a management reshuffle that also sees CFO Heiner Luntz leave the company.
Church is to join data and security investor C5 Capital as its executive in residence, with effect from September 1, 2015.
Current SVP, Central Europe Frank Brandenburg (pictured) will replace Church as CEO, and Martin J. Naughalty, SVP of global finance and operations will become CFO.
The firm says both will continue to expand its security capabilities to service global customers, which will mean ongoing investment into products, platforms, services as well as improved career opportunities for its employees.
In a statement, Luc Loos, chairman of NTT Com Security AG's Supervisory Board thanked both execs for their achievements in driving NTT Com Security's growth. "Their commitment to the company, their teams, their partners and their customers, plus their understanding of an increasingly attractive market opportunity has enabled us to increase revenue from €166m in CY2009 to an expected approximate revenue of €300m plus in FY2015/16 and establish ourselves as a trusted advisor. We wish both Simon and Heiner well as they leave to pursue other activities."
Church says the company is "in an excellent position to continue to develop and launch its portfolio of global security, governance, risk and compliance solutions, offering consulting, managed services and the most appropriate technologies."
He adds: "Both Heiner and I would like to commend our team, our customers and our partners on bringing innovation, development and opportunity to the table, helping us to get to where we are today. We both feel that we have achieved what we set out to do."
While Luntz has yet to reveal where he's off to next, Church says of his new role: "C5 launched last year with the objective of exclusively focusing on the fast growth data and security sector and is the only fund of its nature in Europe. I look forward to working with C5's partners and identifying other European businesses in this sector with the potential and ambition to take advantage of a strong growing market."
"Simon is one of the most experienced information security executives in Europe, having grown Verisign, NetIQ and most recently NTT Com Security globally," says Nazo Moosa, managing partner of C5 Capital. "We look forward to working with Simon to create value for C5's existing portfolio of companies and exploring new investment opportunities together."
C5 makes growth capital investments of $10 - $25m in fast growing, profitable European companies that operate in the security and data sectors. In return, C5 Capital offers a high level of operational and board support, as well as access to a network of senior advisers and business partners.
Stay up to date with the latest Channel industry news and analysis with our twice-weekly newsletter
Stay up to date with the latest Channel industry news and analysis with our twice-weekly newsletter
Thank you for signing up to Channel Pro. You will receive a verification email shortly.
There was a problem. Please refresh the page and try again.