Nimble Storage offers channel partners All-Flash opportunity
Nimble Storage throws hat into the ring with All-Flash line-up, says channel will no longer lose deals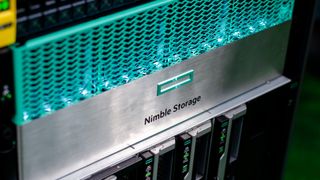 Nimble Storage (NYSE: NMBL) has joined the ranks of storage vendors offering All Flash Arrays (AFAs), claiming the launch of its AF-Series will open up new opportunities for its channel partners.
The San Jose-based vendor officially unveiled the long-anticipated addition to its existing Adaptive Flash product set last week, which will be available exclusively through its sales channel.
IDC says it "expects AFAs to dominate primary storage market spend by 2019," and that sales of All-Flash systems grew 75.4 percent EMEA in 2015, with hybrid Flash arrays growing at only seven percent year-on-year.
As such, the space is a competitive one, with established vendors like EMC, NetApp and HP going head-to-head with next generation players like Pure Storage.
Nimble admits that it was not only losing valuable business because it was missing an AFA from its kitbag, but its channel partners were missing out on deals, or opting to go with a competitor to fulfil their customers' wishes for All-Flash.
"The customer would request All-Flash and [partners] would have to try to convince them to buy something they didn't want to buy, or they had to walk away from the opportunity. They risked losing customers," Leonard Iventosch, Nimble's VP of worldwide channel sales, told Channel Pro at the AF-Series launch in San Francisco.
"Up to now we have put partners in a position where…you have to tell the customer they're wrong, which you never want to do – or walk away from the deal."
However, Iventosch says that now the AF-Series "puts partners in deals they would never have been in, and they have an opportunity to go after customers they wouldn't have gone after before."
Moreover, it will inevitably mean larger deployments as partners can now address a broader set of customer pain points, leading to an increased deal sizes.
The firm actively traded with 80 partners in the UK last year. The vendor also believes the launch might encourage "opportunistic" partners to form a more strategic alliance with the vendor.
Dan Leary, the vendor's VP of products, solutions and alliance concedes that while there some IT suppliers that "don't want to risk their established vendor relationships for an upstart" he points to the current disruption in the storage industry, such as Dell's acquisition of EMC and "the massive swing in multimillion dollar product lines that are going away."
Leary says that putting skin in the game with this latest launch, Nimble will "challenge their existing relationships with folks like NetApp and EMC. We think there's a set of large partners who will think they need to have a relationship with us."
Industry disruption
"The storage industry is in a strange place right now with EMC in the process of being bought by Dell and NetApp buying SolidFire. Plus, IBM and Oracle are looking increasingly specialised in terms of their storage line-ups, and focusing on their core customers," observes storage industry expert and blogger, Stephen Foskett. "This leaves customers looking at Dell/EMC with uncertainty, and HP, HDS, and NetApp as the remaining big players for storage.
"The industry needs more sources for storage, and Pure and Nimble have emerged as contenders. Now that Pure has an All-Flash offering, they're much more able to compete. In fact, since Pure lacks a disk/hybrid storage solution, Nimble might be alone with the big guys in some comparisons. That's why this offering is so good for them – it makes them more competitive."
Leary admits it wasn't the world's best kept secret that Nimble has had an All-Flash array, but "it was appreciated how much innovation was brought to bear."
Foskett agrees that Nimble could have done a simple SSD-for-disk swap "ages ago". However he believes the vendor "waited to add some new special features here – deduplication/compression in particular – and that's understandable. This is much more of a mature product than it might seem since it's using so much existing code; always a good thing in storage."
The AF-Series arrays will be offered in four models: AF3000, AF5000, AF7000 and AF9000. One of the key features being touted as important for partners is its built-in InfoSight Predictive Analytics.
InfoSight can predict when a customer is due to run out of capacity, and needs to expand their footprint. With customer permission, Nimble can make that data directly available to the partner, who can step back in with the upgrade.
"InfoSight lets the partner be that really smart consultant that can say, 'by the way you need additional performance or additional capacity'; they see it well in advance and can predict what can happen," says Iventosch.
This is confirmed by Mike Batters, technical director of Bury-based Nimble partner, NETprotocol: "We have the visibility to predict when the customer will need more storage, more rack space, more performance certain workloads," he explains. "We can say 'you probably want to budget in, in 18 months to invest in expansion in Adaptive or All-Flash. That is hugely valuable, to predict spend that far out."
"AFA has given us an opportunity to start a conversation we historically haven't had, simply because many customers were bamboozled by All-Flash," adds Simon Birney, managing director of one of Nimble's top UK partners, NG-IT.
Birney says that while the firm was able to successfully argue against All-Flash installations to some extent in the past, "Now we can have a conversation with a customer, and say 'here are your options under one, unified umbrella.' The customer is empowered to decide."
The price is right
It's thought the AF-Series will compete most closely with NetApp's AFF series on price, on mature integrated features and because both have All-Flash and hybrid/disk arrays in the same cluster.
"Nimble does it better but NetApp is competitive with this," says Foskett. "It'll also compete with HP 3PAR and Dell Compellent on price. Pure and XtremIO are what Nimble is talking about but XtremIO is usually sold without any competitive products considered and Pure is at the same time a smaller-scale and more expensive product."
While Nimble won't reveal exact pricing, NETprotocol's Batters also believes a lower price point of the AF-Series than that of its rivals "is going to make All-Flash a lot more accessible through smaller businesses that want that level of performance but doesn't have the budget to go to a 3PAR All-Flash array, because it does get disproportionally expensive."
So what of those other storage upstarts jostling for position in front of customers? Iventosch dismisses many of them as not being as established enough to provide any real challenge in the channel, claiming "there's only a few of us with critical mass."
"There are at least 40, probably more, storage start-ups that have attracted multiple rounds of venture capital funding. But if I'm a partner, I'm going to look at them and say, 'you've got 20 customers, you've got 40, you've got a couple of hundred…I'm not going to risk my customer relationships with that.' But if you look at Nimble with close to 8000 customers, there's a proven market demand for our technology."
The channel exec says Nimble caught its first win even before officially announcing the product, explaining that the AF-Series has been tested by 50 beta customers, "we believe many of them, through their channel partners, will issue purchase orders in the next month or two."
The AF-Series is available now through Nimble's UK distributors Avnet, Arrow and Ingram Micro.
See also:
Nimble Storage CEO sticks it to rivals
Stay up to date with the latest Channel industry news and analysis with our twice-weekly newsletter
Christine has been a tech journalist for over 20 years, 10 of which she spent exclusively covering the IT Channel. From 2006-2009 she worked as the editor of Channel Business, before moving on to ChannelPro where she was editor and, latterly, senior editor.
Since 2016, she has been a freelance writer, editor, and copywriter and continues to cover the channel in addition to broader IT themes. Additionally, she provides media training explaining what the channel is and why it's important to businesses.