Best presentation software 2023
The top tools for bringing your most vivid and artsy presentation ideas to life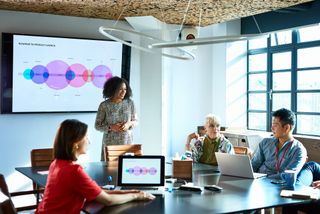 (Image credit: Getty Images)
The fear of speaking in public is cited as one of the most common phobias, which might be why delivering a presentation at work can be a fairly unnerving experience for some. There are a variety of different ways you can combat the pre-presentation nerves, but one foolproof method is preparation. The more you prepare, the less likely it is you'll be distracted by an unexpected question and, after all, practice makes perfect.
With preparation, you'll also benefit from appearing more confident, which has the added side effect of encouraging your audience to pay attention. This is normally a challenging task since the human attention span is thought to last for around eight seconds and is constantly decreasing.
You won't get very far without some visual support, although a drop of confidence will definitely help you initially. To illustrate your point and help you deliver a convincing presentation, consider enlisting infographics, charts, graphs, and quotes as your new best friends. These will only work, however, if delivered with a compelling design.
No one wants to stare at walls of text or bleak columns, which is why in order to create the perfect, attention-grabbing slides, you'll need to use presentation software. There's an abundance of choices online and offline, luckily, but if you're feeling overwhelmed by the various options, we've summarised them in the five best offerings from Microsoft, Visme, Google, Prezi, and Slidebean.
Whether you plan to present remotely via a video call or in-person, pay $180 per year or nothing at all – you're likely to find the perfect software for your presentation in one of the five options detailed below. Once you've decided which one suits you best, you'll just have to work on your public speaking skills.
1. Microsoft PowerPoint
Supported operating systems: Windows, macOS, iOS, and Android
Free tier: Yes
Launched in the 1990s, PowerPoint is a legacy presentation software that enjoys a 95% share of the worldwide presentation software market.
PowerPoint is backed by Microsoft Office Suite, making it a popular choice for users looking to share information from Word, Excel, Outlook, and Access. PowerPoint also features a rehearsal tool that monitors your presentation length.
A Microsoft 365 Personal subscription ($69.99 per year) gives you access to PowerPoint and several other Microsoft Office tools, including Word, Excel, Onedrive, OneNote, and more. Businesses can get a Microsoft 365 subscription that includes PowerPoint from $6.00-$12.50 per user per month, depending on options and add-ons. Alternatively, you can purchase PowerPoint as a standalone app for a one-time fee of $139.99.
A limited online version is available for free with support for real-time collaboration, 3D objects, and embedded animations.
2. Google Slides
Supported operating systems: Windows, macOS, iOS, and Android
Free tier: Yes
Built with collaboration in mind, Google Slides hosts a Q&A tool to make presentations more interactive, maximizing that eight-second attention span. When enabled, this tool adds a banner in the Slide's top-right corner so viewers can submit real-time questions. Users can also upvote questions and submit anonymous queries.
Furthermore, as part of the Google Workspace (formerly G Suite) set of applications, Google Slides works seamlessly with Google Drive and Google Sheets. Use this capability to share or instantaneously edit Google Drive documents on the go. It's also compatible with Microsoft PowerPoint, so you can save Slide presentations as PowerPoint files. Tables and charts are also part of Google Slides' offering. Suited for the hybrid working era, users can deliver presentations on Google Meet video calls directly from Slides.
As for pricing, Google Slides includes a free tier that requires no additional setup. However, upgrading your account can make way for more cloud storage, faster tech support, advanced security, and other useful features.
Subscriptions start at $6 per user per month for the Business Starter plan. For more cloud storage, video meeting options and recording, and other useful upgrades, there's also the Business Standard plan at $12 per user per month and the Business Plus plan for $18 per user per month.
Topping the offerings is a customizable Enterprise offering, but you have to call the Google Workspace sales team for a quote.
3. Prezi
Supported operating systems: Windows, macOS, iOS, and Android
Free tier: Yes
Reminiscent of an animated short film, Prezi offers a digital canvas to organize and view your full-length presentation. What's more, Prezi lets you zoom in or turn the canvas at unique angles while presenting. The cinematic transitions seamlessly redirect your audience's attention to a specific topic, boosting engagement.
Additionally, Prezi makes it easy to import and embed a PDF file into your presentation. You may also choose to incorporate live or recorded videos into your presentations via video in video. Convenient and secure, Prezi's "Go Live" feature lets you share your recordings with popular video conferencing tools, including Zoom, Webex, and others.
Prezi offers flexible tiers: Basic, Standard, Plus, and Premium. The Basic plan is free and lets you create and share up to five projects.
The middle-tier offerings start with the $5-per-month Standard package, which adds features like unlimited visual content, privacy control, revocable share links, image editing, a PowerPoint converter, and more. Bumping up to Plus plan runs $15 and build upon the Standard plan with corporate branding, offline access, downloadable presentations, voiceover capability, PDF export, and more.
Topping the price list is the Premium plan, which starts at $19 per month and includes phone support, presentation analytics, and advanced online training on top of the Plus features.
Keep in mind, Prezi bills those monthly fees annually, but you can take advantage of a 14-day free trial.
4. Visme
Supported operating systems: Windows, Linux, macOS, iOS, and Android
Free tier: Yes
With Visme, you can run your presentation online or offline, collaborate with teams, connect charts to live data, and more. Visme's intuitive drag-and-drop interface provides granular content control, making customization quick and easy. You can also add animated assets, forms, and surveys to a Visme presentation.
What's more, Visme's analytics feature lets you track traffic on public Visme projects. When someone views a public Visme project, the software detects and compiles the source address, number of unique visitors, and each visit's duration. Visme then visualizes the metrics into an easy-to-understand analytical graph, accessible through the dashboard. You can also download the metrics as Excel reports.
Visme offers a free plan that allows up to five projects and includes limited templates, charts and widgets, 100 MB of storage, the ability to download JPG files, and more.
RELATED RESOURCE
Three-step guide to modern customer experience
Support the critical role CX plays in your business
Paid Visme plans come in three variants: Personal ($29 per month or $147 per year), Business ($59 per month or $297 per year), and Enterprise (Contact sales for pricing).
The Personal plan adds onto the free plan with up to 250 MB of storage, premium assets and templates, no Visme branding, PDF download, 24/7 phone and chat support, and more. The Business plan offers 3 GB of storage, multiple file download types, a branding kit, privacy controls, and more.
For large corporations, the Enterprise plan has custom pricing. This builds upon the Business plan with 25 GB of storage, single-sign-on ability, two-factor authentication, a custom subdomain, deep analytics, training and onboarding, and more.
5. Slidebean
Supported operating systems: Windows, macOS, iOS, and Android
Free tier: Yes
Standing out from the conventional, Slidebean is an AI-powered, web-based multimedia presentation tool. It can design and format your slides automatically as you type. Furthermore, this tool lets you combine a wide range of media, including videos, PDF files, web pages, and Prezi and PowerPoint presentations, to name a few.
From sales decks to business proposals, Slidebean's ready-to-use templates offer smart content suggestions to keep presentations informative yet creative. You may even choose to remotely control your SlideDog presentations from a desktop or your smartphone.
Slidebean's free plan includes unlimited access to its AI-powered editor, pre-built templates, and media galleries. It offers one paid plan, All-Access, which allows users to share and export presentation to PDF and PPT, track views and activity on slides, browse over 30,000 investor contacts, and access over $15,000 in discounts on startup tools.
Get the ITPro. daily newsletter
Receive our latest news, industry updates, featured resources and more. Sign up today to receive our FREE report on AI cyber crime & security - newly updated for 2023.