SAP targets SMEs
SAP hands direct business over to channel in a bid to get a bigger slice of SME business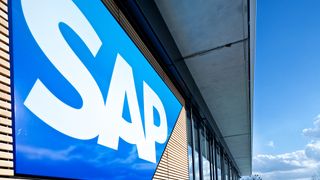 (Image credit: SAP)
Business software giant SAP (NYSE:SAP) is stepping up its campaign in the SME sector in a bid to grow its presence in the lucrative market.
"We're putting more resource and focus into SME than we've ever done," explained John Antunes, director of SME & channels for SAP UK and Ireland, speaking at the vendor's SAPPHIRE event last week in Madrid. "As we bring more technology to market there'll be additional opportunities for our existing partners to sell into their customers, but we will also continue to recruit aggressively additional partners into the channel."
In January this year the firm declared it wanted to go 100 percent direct with its SME business. Today "just about all" of SAP's SME business goes through the channel, according to Antunes (pictured).
He explained: "While we continue to deliver on the strategy to do everything direct, if we have a customer that says 'we absolutely want to deal with you direct', we have to respect that choice."
The channel exec went on to outline an aggressive recruitment campaign for 2012, which he says will see the expansion of its current partner numbers by a third. SAP wants to sign up another 10 – 20 firms to its existing figure of 50 - 60 predominantly SME partners.
He also estimated SAP's UK channel business would "probably going to grow 60 – 70 percent this year, which in the current climate is very positive."
Transferring the business
The company this year set out to identify partners which were offering services to their customers – however the licensing was still being handled by SAP. Then, said Antunes, the company worked to transfer the software licensing business over to those partners as well.
"We've said to partners, 'let us know what customers you're already doing services with', then we communicate to the customer that we will be handing over any future licences business completely to the partner."
Antunes added this process is on track to be "100 percent complete by the end of this year."
The vendor has made a number of internal changes at the organisation too, including beefing up its partner recruitment and enablement teams, adding more partner account managers and getting its entire direct sales organisation to focus on selling alongside its channel partners.
"If you look at some of our competitors, they typically have the partner account management piece, but they don't have the 'sell-with piece', and some are still competing with the channel," said Antunes. "Taking our message out to market means channel partners can now invest without worrying we're going to take business away from them."
Solution set
The vendor now boasts a stronger solution set for SMEs, said Antunes. "Mobility, business intelligence, Business ByDesign – it's a far more comprehensive product portfolio than we've ever had in SAP's history. It really fits into the SME space. It's been a real game-changer for us, because if we had tried to do this three or four years ago, it would have been much more of challenge."
One of the hot topics at SAPPHIRE was mobility, leveraging last year's acquisition of the Sybase mobile platform. Here, Antunes believed, is where SAP has one-up on its competitors: "Mobility allows us to recruit some competitors' partners where the competition don't have a mobile solution. We will continue on a very aggressive recruitment drive."
Battling perceptions
Nevertheless, SAP still struggles with its image as a large enterprise player, and is going all out to change perceptions among partners and SME customers. In fact, co-CEO Jim Snabe in his keynote, commented: "Is SAP only for big companies? No it's not. It has the right solutions for all sizes – Business One [SAP's ERP system for SMEs] is an example of that."
"It's starting to change," reckoned Antunes. "We've gone out to the SME press and done a lot of work with the Chartered Institute of Accountants, and [also] lot of work with branding and marketing for the SME sector.
"The combination of all that is starting to change perception, but to reach 800,000 SMEs is not something we are going to do in three or four months. It's two-year project."
Stay up to date with the latest Channel industry news and analysis with our twice-weekly newsletter
Christine has been a tech journalist for over 20 years, 10 of which she spent exclusively covering the IT Channel. From 2006-2009 she worked as the editor of Channel Business, before moving on to ChannelPro where she was editor and, latterly, senior editor.
Since 2016, she has been a freelance writer, editor, and copywriter and continues to cover the channel in addition to broader IT themes. Additionally, she provides media training explaining what the channel is and why it's important to businesses.
Stay up to date with the latest Channel industry news and analysis with our twice-weekly newsletter
Thank you for signing up to Channel Pro. You will receive a verification email shortly.
There was a problem. Please refresh the page and try again.