SimpliVity: Channel must jump on hyperconverged train now
Channel exec urges partners to get in early to get most traction with customers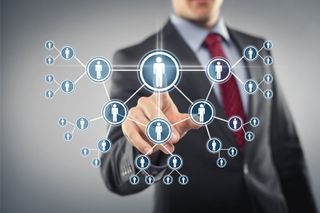 The channel needs to buy into hyperconvergence while the market is still in its early stages, according to SimpliVity's VP of global channel sales.
Speaking to Channel Pro, George Hope says that VARs and service providers should be educating their customers on the burgeoning technology.
"You can always get a meeting to educate someone on hyperconvergence because it is a hot topic," he says. "If you're not educating your customers on it, somebody else is. Leverage it to break into accounts you haven't been able to get into, and also, be the first to recommend it to your existing customers."
Research conducted indicates that VDI is a significant driver for the adoption of hyperconverged infrastructure. Also, companies are looking for ways to simplify their IT and reduce costs. Despite an increase in IT spending this year, many organisations still strive to reduce spending both in capital and operational expenditures.
Paul Cronin, SVP and co-founder of SimpliVity partner, Atrion, says the firm – which is US-based but supports global clients – has seen increased interest from customers over the past six months. "They're all asking questions," he says. "There's a desire to know. Whenever we open the door they're saying, 'tell me more', they do all want to learn about it. We're out front driving awareness of that right now."
"We're seeing a tipping point. The days of customers buying best of breed technologies and stringing them together, custom-build architecture with a lot of services wrapped around it are starting to wind down," agrees Ron Dupler, CEO of another SimpliVity partner, GreenPages Technology Solutions.
"We see hyperconverged as a lot like virtualisation was in its early days – it's a logically better way to build infrastructure and support applications. We're not there yet but it's becoming apparent to most customers that they're looking hard sat this."
However, Dupler believes there is "a lot of inertia" among traditional technology providers and solution providers when it comes to selling the benefits of the technology. "They're trying to hang on to the past because it's a big part their revenue streams and how they make money," he comments.
Cronin agrees: "I see some [partners] still holding back because they want to sell the big hardware, they want to sell the traditional product line. They say hyperconvergence isn't as profitable, it's not the size of the opportunity – but we need to find mystery in other ways."
Cronin believes Cisco's recent entrance into the market with its HyperFlex solution is a positive step for the market. "I think competition is good; it forces innovation, it forces competitive pricing and strategy. I do think Cisco will be a leader in the market over time, probably top three," he says.
SimpliVity was established six years ago and has been shipping its products since 2013. It now has around 50 partners in the UK, including CDW (Kelway), Proact IT UK Ltd., Cosnadh, TGC Computers Ltd, Computacenter UK Ltd, Q Associates Ltd, SNS Limited, and Focus Integration.
Of the firm's hundred percent channel sales policy, Hope says: "We don't do any business direct, so our partners need to understand that they just need to better than other SimpliVity partners, rather than being at the whim of the manufacturer."
While Hope says that partner recruitment is a focus, the firm is looking for quality, not quantity. "If there are specific opportunities to recruit the right partners, we are absolutely all for it," he comments.
"With hyperconverged, people will just sign up because they don't want to miss they wave, and they want to have us on their line-card if somebody ask them for it, but they don't necessarily invest. So we're trying to place our bets on the partners we think are the most committed. We're directing the bulk of our resources towards working with host partners."
The vendor launched its PartnerAdvantage programme in July 2014, and most recently rolled a Cloud Service Provider Programme to enable partners to deliver on-demand cloud services based on SimpliVity. Its consumption-based pricing model allows service providers to pay based on the resources they consume using SimpliVity on a per VM basis. The pricing covers all hardware, software, and support.
See also:
Stay up to date with the latest Channel industry news and analysis with our twice-weekly newsletter
Stay up to date with the latest Channel industry news and analysis with our twice-weekly newsletter
Thank you for signing up to Channel Pro. You will receive a verification email shortly.
There was a problem. Please refresh the page and try again.