Red Hat Summit 2023: 'No need to choose between innovation and maintenance'
Red Hat CEO Matt Hicks kicked off the Summit with an acknowledgment that doing more with less can be hard, plus some big announcements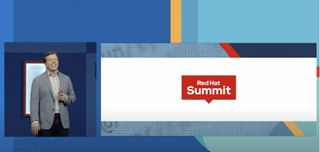 (Image credit: Red Hat)
Red Hat CEO and president Matt Hicks has said enterprises operating in the current business environment shouldn't have to adopt an either-or approach toward keeping the lights on and driving innovation.
The message was delivered during the opening keynote of the open source leader's annual conference in Boston on Tuesday.
Hicks used his introductory session to re-energize conference delegates, acknowledging their key challenges and pain points, while talking about how Red Hat has responded and continues to work for its customers.
"AI has moved from the obscurity of academia to the ubiquity of ChatGPT. But it's also moved from the power of a few to the power of many," he said.
"We are watching the impact and potential of open source that played out all those years ago - with operating systems and programming languages - now playing out with AI.
We're watching creativity on a global scale make its way through AI to an open source revolution. It's the time to dream about the potential for your business, your industry and to be the driver of change for the better."
Many times in history, people have seen the potential of different technologies and acted on them, helping them become what they are today, according to Hicks.
AI, in particular, he said has "moved from the obscurity of academia to the ubiquity of ChatGPT. It's also moved from the power of a few to the power of many."
RELATED RESOURCE
Analyzing the economic benefits of Dell Technologies with VMware Tanzu & Intel
ESG economic validation
While Hicks clearly sees much potential for enterprise in AI, he was also keen to communicate how the technology is still in its infancy and highlight the barriers businesses continue to face.
"As excited as I am to be here on this stage in this moment, I also deeply appreciate the realities that can get in the way of realizing that journey," he said.
"The realities that jolt us awake and hold us back is what we are going to focus this year's summit on - how to manage those realities. Because if we can manage the realities that we're living in today, the potential of AI gives us the license to dream."
Hicks promised a slew of announcements from Red Hat over the next few days as the company continued to marry methodology and technology to help turn company visions into realities.
Some of the big unveils from today include:
The launch of the Red Hat Developer Hub, designed to turbocharge developer productivity.
New and enhanced management capabilities for Red Hat Enterprise Linux (RHEL) offered as part of Insights.
Ansible Lightspeed, which focuses on AI-driven automation to ensure organization-wide accessibility across myriad skill levels.
Event-driven Ansible to put automation front and center to derive the most from existing resources and investments.
Catapulting Kubernetes-native security features into a Red Hat-managed offering in the form of Red Hat Advanced Cluster Security Cloud Service.
A focus on supply chain vulnerability detection and management in the form of the Red Hat Trusted Software Supply Chain solution.
"Today we're going to focus on the reality of needing to do more with less. These challenges won't be a surprise to you because you all are living them every day," Hicks added.
"We'll help you manage the pressure of making the most of what you have while at the same time cultivating the skills you need, and the pressure of finding new ways to deliver more, faster.
"If there's one thread to remember from today it's that doing more with less doesn't have to be a constraint. It's a reality to manage today to unlock your innovation in this unique moment. Today, you manage your realities, tomorrow you'll thrive with them."
A daily dose of IT news, reviews, features and insights, straight to your inbox!
Maggie has been a journalist since 1999. She started her career as an editorial assistant on then-weekly magazine Computing, before working her way up to senior reporter level. After several years on the magazine, she moved to 'the other side of the fence' to work as a copywriter for a marketing agency, writing case studies and working on ad and website copy for companies such as eBay, Dell, Microsoft and more. In 2006, just weeks before IT Pro was launched, Maggie joined Dennis Publishing as a reporter. Having worked her way up to editor of IT Pro, she was appointed group editor of Cloud Pro and IT Pro in April 2012. She became the editorial director and took responsibility for Channel Pro, in 2016. Her areas of particular interest, aside from cloud, include management and C-level issues, the business value of technology, green and environmental issues and careers to name but a few.
A daily dose of IT news, reviews, features and insights, straight to your inbox!
Thank you for signing up to ITPro. You will receive a verification email shortly.
There was a problem. Please refresh the page and try again.