Best video conferencing services
We round up the best free and paid-for cloud-based videoconferencing apps for mobile and desktop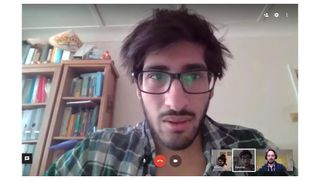 Video conferencing is an essential service for any organisation with multiple offices or customers, partners or employees scattered around the country or even the world.
Although there are lots of free apps out there that serve companies well, such as Skype and Google Hangouts, there are also more advanced services that will integrate with your traditional video conferencing infrastructure to bring those you're talking to into your conference room, even if they're hundreds of miles away.
We round up the best desktop and mobile apps hosted in the cloud for video conferencing.
AvayaLive Video
Publisher: AvayaLive Video
Format: Android, Browser, iOS
Price: $19 month/user (free trial available)
AvayaLive is available on both Android, iPhone and desktop, offering a flexible solution for companies that don't want to sign up to an expensive service. The videoconferencing service is hosted in a virtual video conference in the cloud, so the surrounding feel exactly like a face-to-face meeting. The interface is super-simple to use and it supports multiple 'video rooms' so you can run multiple videoconferences concurrently, but without the hassle of having to wait for the room to become available. It's a comfortable real-life videoconferencing environment for top-class collaboration with colleagues, partners and customers.
Cisco WebEx Meetings
Publisher: Cisco
Format: Android, Browser, iOS, Windows Phone
Price: Free (premium plans from £15 a month)
WebEx offers some handy features that help it standout from other conferencing apps. It includes a number of preparation tools, including the ability to send users private messages before a meeting starts, or set the software to automatically record. It also supports the creation of private meetings inside a larger gathering, and some post-meeting tools that allow presenters to send out follow-up messages users. WebEX is also compatible with Microsoft Office tools like PowerPoint, and is able to integrate with email and instant messenger applications.
Prices then vary from £15 per month per user, with a maximum of 8 users, all the way up to £30 per month per user with a cap of 200 participants. All packages include the exact same functionality, so choosing a plan simply depends on your user requirement.
GoToMeeting
Publisher: Citrix
Format: Android, Browser, iOS, Windows 8/10
Price: From £19/month/organiser
GoToMeeting supports integrations with Outlook, Gmail, Salesforce and Napier, allowing organisations to share much more than just conversation with colleagues and collaborators. In addition to standard screen-sharing, you can also share key insights while on a conference call. Conferences can be recorded for viewing later down the line and although the free version only supports up to 25 users at a time, the corporate version allows up to 100 people to join a call at any time. GoToMeeting features some of the best integrations of all video conferencing services.
Google Hangouts
Publisher: Google Inc
Format: Android, Browser, iOS
Price: Free
Google Hangouts comes bundled with Android on smartphones and is also available for download on iOS. The tool allows you call anyone with an email address, as well as share your screen and communicate either through instant messenger or by Google Mail. The software allows for up to 100 participants in call, although maxing this out will likely hit your latency. It is an excellent option for those who don't want or need to invest in a business-tier videoconferencing service - it is free, easy to use, and highly reliable.
Join.me
Publisher: Logmein
Format: Android, Browser, iOS
Price: Free
Join.me is one of the most popular free videconferencing tools on the web, allowing you to host a video conference without having to sign up for an account. It supports screen sharing, presenting and you can even add annotations or point to things using a virtual pointer on-screen making it a perfect solution for collaboration as well as communication.
You can invite people to join your conference using either a one-time PIN or use your own personalised URL that you can use whenever you want to start a new conference, making it super-simple to host regular calls too.
The free version allows up to 10 participants, with five video feeds, screen sharing and internet calling, while the pro version allows up to 10 people joining by video and the business version allows up to 250 participants.
Skype
Publisher: Skype/Microsoft Corp
Format: Android, Browser, iOS, Linux, Mac, Windows Phone, Windows 8/10
Price: Free
Perhaps the best-known video conferencing service across device, Skype is free and although works best when you're calling other Skype users, it can be used to phone a number too. Using Skype Out, you won't be able to see the person on the other line, but it offers low-cost calls to anyone around the world. Additionally, you can set up your own Skype phone number too, so those who don't want to use video can call you via phone too. Share screen, video and voice call only are supported, alongside IM with other Skype users.
StarLeaf Breeze
Publisher: StarLeaf
Format: Browser, iOS, Linux, Mac, Windows
Price: Free
StarLeaf Breeze is a videoconferencing endpoint for iOS, Mac, Windows, Linux and browsers, offering unlimited users in a video conference video atmosphere. The free app allows guests to join a video conference, alongside employees for a fully collaborative solution. It can be used with existing videoconferencing software including Cisco, Skype for Business/Lync, Polycom, Lifesize, H.323/SIP and phones, so whatever your company is using or partners/customers have access to, they can join in too. Because StarLeaf works with such a range of videoconferencing software and devices, it suits every type of company.
Zoom
Publisher: Zoom
Format: Browser, iOS, Linux, Mac, Windows
Price: Free
Zoom is available for Mac, Windows, Linux, iOS and Android, allowing workers and partners to communicate via video or voice wherever they are. Supporting both HD voice and HD video, Zoom ensures everyone can be seen and heard,provided you have the internet connection to support it. You can record conversations straight from the apps, message collaborators while on a call or screen share. It's perfect for webinars as well as conferences with the ability to add users as view only rather than participatory and has been specifically developed for those running hybrid systems as well as cloud-only environments. HD voice and video really do make a difference, plus the ability to collaborate and record conferences are some highlights.
Stay up to date with the latest news and analysis from the world of cloud computing with our twice-weekly newsletter
Thank you for signing up to Cloud Pro. You will receive a verification email shortly.
There was a problem. Please refresh the page and try again.