FUD around new tech costs UK £30bn a year
Report by Cebr and O2 suggests British businesses are losing out by not fully embracing certain technologies.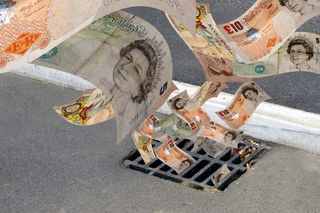 The UK's economic and business growth is being held back by a continued failure to embrace and adopt productivity-boosting technologies.
So claims a joint report published by the Centre for Economic and Business Research (Cebr) and O2, which has put a figure on such luddite behaviour of 30 billion per year.
Average worker output per hour is down by five per cent when comparing statistics from the fourth quarter of 2013 and those pre-2007. This is because not all staff - in fact, 80 per cent don't - have the right levels of access to the right systems and tools they need, according to the report.
If technologies to facilitate remote working were more widely adopted, and earlier, the average worker would save 127 hours per year.
The report goes on to highlight other productivity benefits and suggests employees would be able to make better use of nine per cent of their working time if they were better connected through technology.
Larger firms need to get into the same, agile mindset as start-ups when it comes to the way they work and the technologies used to support that, according to Ben Dowd, O2's business director. However, some of the UK's largest organisations remain risk averse when it comes to early adoption of new technologies.
Dowd added the billion pounds of lost opportunities as a result of not thinking in this way should serve as a "wake up call" to UK employers.
"Too many pay lip service to technology. But the reality is that our businesses and public sector organisations are yet to get the best that technology has to bring," he said.
"Every employer should try to understand their own connectivity deficit. Even small improvements will help businesses grow and in turn provide more jobs and increased wages, as well as improve the lives for their hard-working employees."
The 30 billion figure can be broken down as follows:
Enhanced external meeting efficiency - 9.3 billion
Enhanced general working practices and on-the-spot data entry - 5.9 billion
Working from home - 4.1 billion
Remote working - 1.9 billion
Better in-the-field access to apps and systems - 8.8 billion
Furthermore, by being better connected, organisations can increase customer satisfaction levels and boost sales by around 43 per cent, the report suggests.
The findings have been backed by Ed Vaizey, the UK's Minister for Culture, Communications and Creative Industries, who reiterated what the Government is doing to boost superfast broadband coverage between now and 2017.
"This investment in connectivity across the country is providing opportunities for a more flexible and efficient business environment which this report highlights," he said.
"A better connected Britain is essential for driving growth and boosting local economies, ultimately helping us to win in the global race."
A daily dose of IT news, reviews, features and insights, straight to your inbox!
Maggie has been a journalist since 1999. She started her career as an editorial assistant on then-weekly magazine Computing, before working her way up to senior reporter level. After several years on the magazine, she moved to 'the other side of the fence' to work as a copywriter for a marketing agency, writing case studies and working on ad and website copy for companies such as eBay, Dell, Microsoft and more. In 2006, just weeks before IT Pro was launched, Maggie joined Dennis Publishing as a reporter. Having worked her way up to editor of IT Pro, she was appointed group editor of Cloud Pro and IT Pro in April 2012. She became the editorial director and took responsibility for Channel Pro, in 2016. Her areas of particular interest, aside from cloud, include management and C-level issues, the business value of technology, green and environmental issues and careers to name but a few.
A daily dose of IT news, reviews, features and insights, straight to your inbox!
Thank you for signing up to ITPro. You will receive a verification email shortly.
There was a problem. Please refresh the page and try again.