UK firms are making the most of productivity managing tech
Kronos and Aberdeen Group have found that using automated systems is also helping companies cut costs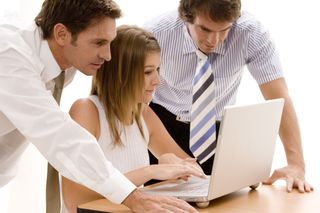 The UK is ahead of the curve when it comes to using technology to improve productivity in the workplace, according research.
A study carried out by Kronos and Aberdeen Group found nearly three quarters of UK businesses are using automated absence systems, while 71 per cent have tools in place to help them predict when they will need more or less staff.
Companies that have implemented an automated schedule management or time and attendance workflow reported an increase in sales over the 12 month period studied, while a third of respondents agreed that automating such processes cut costs.
In addition, almost one third (31 per cent) of businesses surveyed said automating time and attendance processes allowed managers to analyse where labour is being consumed in real time, improving profits and Service Level Agreement (SLA) levels.
However, the UK lags behind the rest of the world when it comes to automating time and attendance of their workforce. Kronos said by using tech here, companies can better control labour costs, ensure great compliance and operate more efficiently with heightened visibility of who is doing what, when.
Brenda Morris, UK general manager at Kronos, said: "Organisations face the threat of increased global competition, rising costs, and compliance risks. Although the survey highlights how organisations have already gleaned benefits from automating some core workforce management processes, this is often done in silos and greater benefits can be achieved by implementing a more integrated solution."
Morris outlined how all businesses can realise the benefits of a unified approach and, in turn, become more competitive in their respective sectors.
She continued: "By using technology to automate core processes, organisations will free up employee time to focus on more meaningful activities, which creates a more engaging, motivating work environment and in turn delivers increased productivity."
A daily dose of IT news, reviews, features and insights, straight to your inbox!
A daily dose of IT news, reviews, features and insights, straight to your inbox!
Thank you for signing up to ITPro. You will receive a verification email shortly.
There was a problem. Please refresh the page and try again.