IBM plans hiring freeze for roles that are replaceable by AI
The move follows long-running concerns over AI-related job losses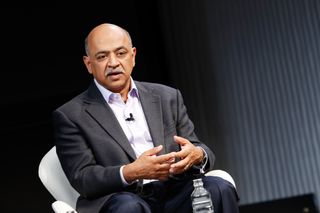 (Image credit: Getty Images)
IBM looks set to pause hiring for non-customer-facing roles that could eventually be replaced by artificial intelligence (AI), according to CEO Arvind Krishna.
In an interview with Bloomberg, Krishna said that hiring for back-office roles such as human resources will be paused and that the firm expects thousands of jobs to be replaced due to automation in the coming years.
Roughly 7,800 non-customer-facing roles could be replaced due to AI, Krishna suggested, equivalent to around 30% of the 26,000-strong workforce currently occupying these positions.
"I could easily see 30% of that getting replaced by AI and automation over a five-year period," Krishna told the publication.
IBM added that workers currently occupying these positions won't be made redundant, however, vacant roles won't be filled moving forward.
Krishna's comments come amid a period of rising concerns over the potential impact of AI on the global workforce.
RELATED RESOURCE
AI and Cybersecurity
The promise and the truth of the AI security revolution
The IBM chief executive has been bullish on AI in recent months, highlighting the transformative potential of AI in streamlining and optimizing organizational processes.
In an op-ed for Fortune last month, he revealed that the tech giant has already begun integrating AI within back-office functions - specifically in the human resources department.
Leveraging its own AI, IBM was able to drastically reduce workforce strain by automating traditionally manual processes in HR-related work.
"With the help of IBM's own AI, we're beginning to automate key steps of what was a very manual process," he wrote. "Piloting this technology within IBM itself, we have been able to shift from 700 professionals doing a relatively manual type of HR-related work, to less than 50."
"That's freed up a very significant number of people to spend more time providing important talent-related services, such as career guidance and support for managers, which requires thought and creativity, rather than doing routine paperwork."
AI-driven job losses
While Krishna has been vocal about the potential of AI in supporting human workers and augmenting their capabilities, experts have warned that AI could have a significant negative impact long term and result in millions of jobs being lost.
Research from Goldman Sachs earlier this year warned that up to 300 million jobs could be lost worldwide due to the integration of generative AI platforms.
The study predicted that roughly 18% of work could become computerized in the coming years.
Similarly, it warned that workers in 'advanced economies' would bore the brunt of AI-related job losses.
"A new wave of AI systems may have a major impact on employment markets around the world," the company said. "Shifts in workflows triggered by these advances could expose the equivalent of 300 million full-time jobs to automation."
AI-induced job cuts have remained somewhat of an abstract concept for several years now based largely on speculation and warnings from industry experts.
However, recent announcements from the global tech industry appear to confirm what many have warned.
Last week, Dropbox confirmed it plans to cut around 16% of its workforce - roughly 500 staff - as the company focuses on AI to support future operations.
Drew Houston, chief executive at the California-based tech company, told staff that recent developments in the generative AI space played a key role in determining layoffs.
Houston noted that the company will sharpen its long-term focus on attracting staff with specialized AI-related skills.
"In an ideal world, we'd simply shift people from one team to another. And we've done that wherever possible," he said. "However, our next stage of growth requires a different mix of skill sets, particularly in AI and early-stage product development."
RELATED RESOURCE
Employees behaving badly?
Why awareness training matters
Kevin Poulter, employment partner at national law firm Freeths told IT Pro last week that the Dropbox move "feels different" from typical job cut announcements across the tech industry in recent years.
"Many of the cuts already announced across Silicon Valley and further afield have been a general reduction in staff - some as a result of over-employing at the height of pandemic lockdowns, others to 'right size' the business in response to the black economic outlook," he said.
"The announcement made by Dropbox feels different. Rather than a cost-cutting cull, the business plans to pivot towards AI, suggesting that the reduction in numbers is temporary and simply to correct a skills gap in this burgeoning sector."
A daily dose of IT news, reviews, features and insights, straight to your inbox!
Ross Kelly is a staff writer at ITPro, ChannelPro, and CloudPro, with a keen interest in cyber security, business leadership and emerging technologies.
He graduated from Edinburgh Napier University in 2016 with a BA (Hons) in Journalism, and joined ITPro in 2022 after four years working in technology conference research.
In his spare time, Ross enjoys cycling, walking and is an avid reader of history and non-fiction.
You can contact Ross at ross.kelly@futurenet.com or on Twitter and LinkedIn.
A daily dose of IT news, reviews, features and insights, straight to your inbox!
Thank you for signing up to ITPro. You will receive a verification email shortly.
There was a problem. Please refresh the page and try again.