How Liverpool FC signed Wasabi's cloud storage to revolutionize its media operations
The iconic soccer club has massively improved the efficiency of its content creation and data management workflows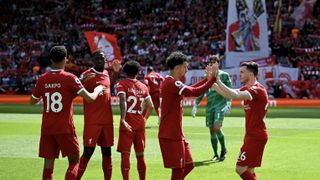 (Image credit: Liverpool FC)
Liverpool Football Club (Liverpool FC) is one of the world's most renowned soccer institutions, with a massive global fan base and a rich history of success. As a prominent brand in the sports industry, the club has recognized the importance of digital transformation and embarked on a journey to improve its operations and fan experiences.
One of the key challenges Liverpool FC faced was managing its large digital media workflows and handling vast volumes of content. The club generates and distributes a substantial amount of digital content across various platforms. This includes live match broadcasts, highlights, interviews, behind-the-scenes footage, and promotional materials. The sheer magnitude of Liverpool FC's digital media workflows posed significant challenges in terms of content creation, distribution, storage, and accessibility.
Understanding the need for change
Traditional on-premise infrastructure Liverpool FC has traditionally relied on proved to be inadequate for efficiently managing the club's digital media workflows, says Drew Crisp, its senior vice president of digital.
"Initially, we would have done this anyway because all of our media archives are on-premise and were on traditional 24 spinning disks, and actually accessible [only] when you're in the office," he tells ITPro. It was always the plan to get data into the cloud, Crisp adds, as it would be "faster, quicker, easier to access".
Crisp is senior vice president of Digital at Liverpool FC. Part of the executive team, he is responsible for media, marketing, and digital products, which include managing all the content created for Liverpool FC's TV channel, over-the-top (OTT) platform, international distribution partners, and social media channels.
Liverpool FC faced numerous challenges with its infrastructure, including slow data access, limited remote access capabilities, performance bottlenecks, and the physical limitations of storing and processing large volumes of content. He adds COVID-19 accelerated plans. "It brought forward a bunch of stuff because hybrid working doesn't lend itself particularly well to accessing archive when it's on a bunch of hardware that's in the office."
READ MORE
From Anfield to Apple: Liverpool FC is kickstarting a revolution in cyber security recruitment
Recognizing the importance of data as a critical asset, Liverpool FC crafted a robust data management strategy to support its operations. Crisp stresses how important this was, adding: "We needed a capability that is remotely accessible, really quick and really easy to use, but also which could enable us to do future things – not just with archived content, but post-production content we could share with partners."
This would also improve the decision-making processes. By harnessing the power of data analytics, Liverpool FC could gain valuable insights into fan behavior, preferences, and engagement patterns. These insights would guide its marketing efforts, fan engagement initiatives, and overall business strategies. A data-driven approach would help Liverpool FC understand its fans better, tailor its content offerings and deliver personalized experiences to its global fan base.
Scoping out a cloud partner
To overcome these challenges and unlock new opportunities for growth, efficiency, and fan engagement, Liverpool FC embraced the cloud by partnering with Wasabi as its storage provider. The club revolutionized its digital workflows through this agreement and maximized the potential of its vast media library.
"I mean, the biggest advantage, as we see with wasabi cloud is we don't have to pay for egress. From a commercial model perspective, as well as speed and efficiency, actually, it does an awful lot for us. Because you don't pay commercially, you can ingest really quickly and then you can get into operation," says Crisp.
Neither the club nor Wasabi encountered major challenges, and the migration's success means the club is exploring how else it can use the cloud in the future. Ultimately, Liverpool FC's decision to move to the cloud has provided a solid foundation for future improvements to its end-to-end content workflow.
Wasabi's cloud storage has allowed Liverpool FC to store and access its media content with ease and speed, eliminating the performance issues and physical limitations of its previous on-premise infrastructure. It's also provided Liverpool FC with scalability and flexibility, allowing it to adjust its storage capacity according to changing needs and demands.
This has translated into measured improvements. Liverpool FC can now share and access data across various teams and departments within the club, which facilitates better collaboration and communication. It's also streamlined workflows, reducing the time and resources required for content creation, distribution and management.
RELATED RESOURCE
Building for success with off-premises private cloud
Learn how co-location facilities can fit into your cloud strategy - to strengthen cyber resilience and facilitate business growth
Crisp says the organization's editors are "probably three times more efficient in its eight-hour day than they would have been previously waiting for all sorts of things to upload, download and edit on the fly".
"From an efficiency and time point of view, that means that they can get through more content and create more content significantly faster," he continues. "I'd say probably, we probably do 20-30% more content now than we did previously."
Stay up to date with the latest news and analysis from the world of cloud computing with our twice-weekly newsletter
Rene Millman is a freelance writer and broadcaster who covers cybersecurity, AI, IoT, and the cloud. He also works as a contributing analyst at GigaOm and has previously worked as an analyst for Gartner covering the infrastructure market. He has made numerous television appearances to give his views and expertise on technology trends and companies that affect and shape our lives. You can follow Rene Millman on Twitter.
Thank you for signing up to Cloud Pro. You will receive a verification email shortly.
There was a problem. Please refresh the page and try again.