8x8 and IWG partner up on UC services
8x8's tech will be implemented in Regus-operated buildings in 13 new countries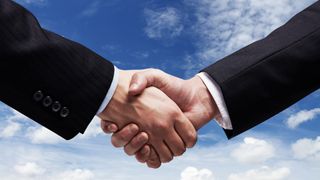 Unified Communications provider 8x8 has announced its tech will be implemented in 13 of IWG (previously Regus) territories, helping both on-site customers, employees and remote workers communicate better.
The deal, which will run until 2020, includes new services added to existing Regus owned and managed properties in the UK, US, Ireland and Germany. In addition, the partnership will focus on a whole suite of services in the additional 13 countries, introducing an improved framework to speed up the deployment of new communications, collaboration and contact centre service offerings.
Regus explained it chose 8x8 because of the service it has received so far in its existing territories, helping to boost its global communications and contact centre communication platform.
"We want to provide our hundreds of thousands of business customers that currently utilise our traditional on-premises voice services with access to the most reliable and advanced cloud-based communications services available, including mobile apps, messaging, web and video conferencing, collaboration and contact centre," said Andre Sharpe, CIO and head of global business development for Regus.
The move to UC powered by 8x8 has had a positive impact on Regus' workplace flexibility efforts, enabling staff to work remotely and improving productivity for both Regus employees and their customers using serviced workspaces.
"The combination of our open cloud platform with Regus' information services and systems will enable automated, on-demand services to Regus clients worldwide," added Bryan Martin, chairman and CTO of 8x8.
"We look forward to our continued partnership and shared vision with Regus to enable their clients to truly realise the benefits of flexible work and to ensure they have access to the most advanced communications, collaboration, mobility, contact centre and analytics services."
8x8 already provides Virtual Contact Centre services to Regus contact centre agents in 100 countries around the world.
Stay up to date with the latest Channel industry news and analysis with our twice-weekly newsletter
Stay up to date with the latest Channel industry news and analysis with our twice-weekly newsletter
Thank you for signing up to Channel Pro. You will receive a verification email shortly.
There was a problem. Please refresh the page and try again.