VADition acquired by Exclusive Networks Group
"Business as usual" as founders become major Exclusive UK shareholders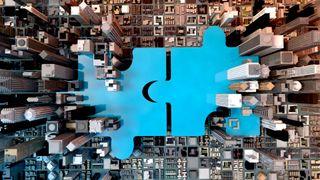 (Image credit: Shutterstock)
High flying value added distributor VADition has been acquired in by Exclusive Networks Group for an undisclosed sum.
The terms of the deal include a significant share position in Exclusive UK for VADition co-founders Neil Ledger and Ian Morris who will become joint CEOs of the merged UK business operations. VADition joins Arc Technology as the second acquisition by the European-focused group.
"The way Exclusive works is as a very decentralised organisation," explains Olivier Breittmayer, CEO of Exclusive Networks Group. "It is much more a partnership and they [Neil and Ian] are a big shareholder now of Exclusive UK; it is really them that will continue to develop the business."
"What it gives us is the opportunity for pan European expansion," explains Ledger. "It gives us a far bigger reach and gives us an opportunity to cross sell…When [vendors] come in from the US, they are looking for pan-European. We have been trading well, but this is the opportunity to go on the next journey with Exclusive."
VADition has experienced tremendous growth over the last four years, achieving annual revenues in excess of £30m, expanding into continental Europe with the launch of its Benelux operations and being acclaimed as the third fastest growing private UK company in The Sunday Times Fast Track 100 league table for 2010.
Even with rapid growth, Ledger admits that the deal, "… enables us to realise some value now and build value for the future; obviously we put some shares into Exclusive UK so it enables us another throw of the dice by moving forward with them. It gives us a much bigger reach as you can only do so much in the UK."
VADition's Hampshire-based operations will now become the Group's 24/7 service and support centre for Europe, and when combined with Exclusive's existing Chesterfield business, will significantly increase the Company's national footprint and reach across the UK. Breittmayer feels that there are some competitive vendor issues across the combined portfolio, and that it will be at least a year before any rationalisation of the UK business might take place. The CEO also ruled out any further UK acquisitions any time soon.
IT Channel expert Keith Humphreys, from analyst firm euroLAN views it as a good deal for both sides, but adds: "Pan European is a good pitch for vendors but the reality is unless you have a centralised logistics operation, it doesn't add that much to the table."
Humphreys looks at the deal as recognition that consolidation is coming both on the vendor and disti side: "Neil and Ian have been in this game long enough to see the signs." Humphreys also highlights the fact that the Group's NOC will now be in the UK, making VADition a critical element of the long term Exclusive trajectory. "It will be interesting to see how the group moves into cloud and managed services and I suspect that...VADition will be driving much of this area." He adds.
Channel Pro comment
If you ask selection of channel partners about VADition many might tell you it's a "good company that understands distribution!" Some might even share the odd tale of slightly risqué antics. However, there is only so far a specialist distributor can go and in the scheme of things. For all its innovation, VADition is still a relative minnow compared to the top table.
A few VADition channel partners might worry they are about to be swamped by a horde of new rivals from the existing Exclusive UK and Arc Technology community. That is unlikely. Even though the flag might have changed, the reality is that this is still VADition in all but name and reach – maybe a 2.0 version with a European bus pass and aspiration toward the cloud.
In the UK, VADition has built a good business in just four years. More impressive if you consider the economic climate. Some might suggest that the "European expansion" rationale for selling up is a bit of a smokescreen. VADition is now effectively Exclusive's UK outpost, it can't go out and directly compete against other Exclusive regional structures to generate European profits. But maybe that expansion will come from cloud services delivered from the UK. A betting man might guess that the terms of the deal would see Exclusive UK getting a fair chunk of any pan-European cloud deals that are served up from its datacentre. Although that theory is pure conjecture it makes a lot of sense.
Either way, Exclusive UK just became one of the 'the ones to watch' in the speciality value added IT distribution space.
Stay up to date with the latest Channel industry news and analysis with our twice-weekly newsletter