Microsoft's Apprenticeship Connector will help SMBs find digital apprentices
The partnership with GetMyFirstJob aims to stem a widening crisis, with new apprenticeship starts collapsing between 2019 and 2020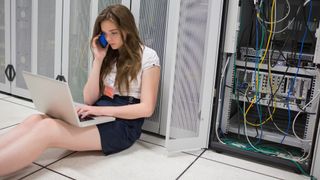 Microsoft has partnered with the job-seeking platform GetMyFirstJob to launch an online hub that will connect UK organisations seeking to recruit digital apprentices with a wide pool of prospective applicants.
Apprenticeship Connector will simplify the recruitment process by listing vacancies across Microsoft's network of partners and customers, which young jobseekers can access to seek new opportunities. The firm said its partners and customers will also be able to promote their vacancies to a larger and more diverse range of candidates.
GetMyFirstJob was chosen as the ideal partner platform in light of its recognition that traditional recruitment processes were exacerbating existing batteries to social mobility. Its own platform has sought to channel skills into the right areas, reaching more than 4.1 million users in 2020.
The partnership aims to solve the specific problem of small and medium-sized businesses (SMBs) struggling to recruit the right candidates while also aiming to raise the diversity of new recruits generally.
"Digital apprenticeships are one of the best routes to well-paid careers in businesses of all types, not just in tech," said Microsoft's UK CEO, Clare Barclay. "It's why we have worked hard over the past 10 years to help provide thousands of people with the skills and training needed for the in-demand jobs of today and tomorrow.
"Yet even in the current jobs market, the reality is there are many vacancies going unfilled. I encourage anyone thinking about getting started in digital to visit The Microsoft Apprenticeship Connector and take the next step."
Microsoft also shared some statistics highlighting the tech recruitment problem in the UK, also referred to as the digital skills crisis. For example, the UK needs more than three million skilled people in technology roles by 2025, while almost half of UK businesses are also looking to recruit workers with the same technical skills, ranging from data analytics to cyber security, regardless of sector.
Last February, experts urged the government to reform its apprenticeship scheme after it fell short of its own targets. Figures at the time showed that the number of people starting an apprenticeship between August and October 2019 fell to 125,800 - down from 132,000 the previous year.
This represented a 4.7% drop, although the situation is even bleaker today. The latest ONS figures show that new starts between August and October 2020 fell by a staggering 27.6% to 91,100. The effects of COVID-19 would have certainly played a role, although it nevertheless feeds into a long-term downward trend.
RELATED RESOURCE
The people factor: A critical ingredient for intelligent communications
How to engage employees in digital transformation
The UK chancellor, Rishi Sunak, also last week stressed the importance of apprenticeships as he was outlining the latest Budget. He doubled the cash incentive for employers to hire apprentices and introduced a new flexi-job programme that would allow apprentices to work with a number of different employers within one sector.
"It's great to see Microsoft using its technology expertise to make it easier for people to engage with these fantastic opportunities," Sunak said. "As the world becomes increasingly more digital, these skills will play a crucial role in helping us build back better from the pandemic."
A daily dose of IT news, reviews, features and insights, straight to your inbox!
Keumars Afifi-Sabet is the Features Editor for ITPro, CloudPro and ChannelPro. He oversees the commissioning and publication of in-depth and long-form features across all three sites, including opinion articles and case studies. He also occasionally contributes his thoughts to the IT Pro Podcast, and writes content for the Business Briefing. Keumars joined IT Pro as a staff writer in April 2018. He specialises in the public sector but writes across a breadth of core topics including cyber security and cloud computing.
A daily dose of IT news, reviews, features and insights, straight to your inbox!
Thank you for signing up to ITPro. You will receive a verification email shortly.
There was a problem. Please refresh the page and try again.