How to upskill your existing workforce to beat the talent drought
For many UK SMBs, recruiting new workers with the right skills is proving tough – leading many to reinvent their methods for training employees from within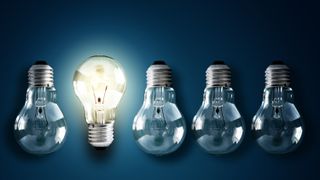 (Image credit: Shutterstock)
When it comes to growing the economy – and surviving the predicted recession – all companies must have access to the right skills and knowledge. Recruiting talent, though, is currently one of the biggest hurdles facing small and medium-sized businesses (SMBs).
From cloud computing to the edge, and from cyber security to DevOps, smaller organisations are regularly outmanoeuvred by larger enterprises offering better pay and benefits. It's a critical challenge, and it's now focusing SMBs' minds on how they can upskill existing workforces, rather than being bound to external hiring and competing with industry giants.
"The clock is ticking for organisations to recession-proof their business," says Kevin O'Regan, SVP international at software firm Seismic. "There's never been a greater urgency to address skills at both a team and individual level."
He believes companies should refocus internal learning and training to ensure it begins at the onboarding stage, all the way through to on-the-job learning and continuous coaching. This should also include filtering down knowledge from above.
Granting workers access to apprenticeships
"Businesses can't afford to waste resources upskilling new team members inefficiently," he adds. "This puts the focus on incremental development through dynamic, agile, and engaging learning, rather than traditional 'static' passive training programmes. With the right enablement platform in place, businesses can clone their A-players by feeding employees with the necessary tools, content, training, and insights needed to be effective, based on tried-and-proven experiences."
At British engineering company Fundamentals, for example, granting existing workers access to apprenticeships has been one route towards ensuring the right people have the right skills. Sarah Balchin, head of people and community, explains how these deliver practical skills and commercial acumen "really quickly".
The firm structures its apprenticeships with secondments in different departments before the apprentice decides on their preferred area. The academic element is completed around their day job, and it can extend to achieving a full degree in engineering and technology.
Balchin adds: "Crucially, for a technical industry, which remains in the grips of a skills shortage, combining practical qualifications with a range of experience excites people about technical careers and helps them see the variety of opportunities available for future career development."
Promoting a diverse range of talent and skills
Lauryn Bailey, one of Fundamentals' apprentice engineers, explains how the best aspect of the programme was realising how many different jobs were open. "I've gained valuable experience and knowledge from rotating through various engineering departments including operations, design, automated voltage control site installs, the workshop and product engineering," she says.
"It's given me an opportunity to learn what each department does, supported my personal development, and evolved my skill set to help further my career now and in the future."
Elsewhere, with the UK cyber security job market being very competitive, global cyber security company CyberCX has launched its own apprenticeship scheme after being faced with a limited talent pool. It aims to help young people from diverse backgrounds to break into the space.
"The apprenticeship scheme not only offers a unique opportunity for candidates but further complements our ability to secure the future," explains the firm's UK chief executive officer (CEO) Charlie O'Connell.
Other companies take a different path. Business management software specialists Total Enterprise Solutions (TES) has invested £200,000 into creating TES Certified. This provides every member of its 60-strong workforce with a dedicated progression pathway. A minimum of ten days internal and external training is offered per year, along with mentoring from senior staff and online learning.
This decision stemmed from the need to "differentiate" the business as an employer of choice, according to Paul Faulkner, chief executive of TES. "We're in the middle of one of the biggest recruitment challenges the IT sector has ever faced and we need to come up with creative solutions that give us the skills we need to grow," he explains. "Growing our own people is the best way for us to have the skills, talent, and appreciation of the TES culture we need. It's a long-term investment, but one that is already starting to pay off."
Founders, execs and the c-suite need upskilling too
It's not just frontline and back office employees who need upskilling – their leaders do too. Research by Oracle Netsuite, focused on 502 UK SMB founders, discovered nine in ten have had to develop new skills since starting their businesses.
Half (49%) upskilled in marketing and communication while 45% chose professional development in finance and accounting processes.
There's also a clear desire among workforces for their bosses to invest in training and upskilling for employees. CV Library found 42% of people questioned for its research recommended their employers focus on this to prevent losing staff in 2022.
RELATED RESOURCE
Autonomous data management
Requirements, use cases and guidelines
Such programmes are becoming especially crucial given the demand for workers with the right technology skills continues to outpace supply.
According to the latest KPMG and Recruitment and Employment Confederation's Report on Jobs, covering July 2022, the long list of in-demand IT and computing roles includes analysts, business intelligence (BI), computer-aided design (CAD), cloud engineers, data professionals, software engineers, and technical sales.
Lisa Heneghan, chief digital officer at KPMG UK, says: "For SMBs, building skills from within is not only a cost-effective way to acquire talent, but also creates a culture of agility and growth, which in itself will help with attraction and retention."
However, sometimes it also pays for companies to think outside of the norm. Wayne Palmer, chief experience officer (CXO) at digital consultancy Tecknuovo, has taken learning and professional growth out of the traditional human resources (HR) function.
The company now "supports and empowers" professional development at every level of the business, while offering employees the chance to re-establish their relationship with what learning means.
"The challenge is that people can forget about the joy that comes from learning, and the process you need to go through to acquire new skills; the adoption of a growth mindset," Palmer says.
Tecknuovo provides an annual learning budget of £1,000 and actively encourages and funds employees to learn a new skill, which could be anything from a new language to glass-blowing, according to Palmer.
"We then come together and discuss what and how they learned, all designed to encourage that spark of curiosity and creativity," he adds. "When a company truly values curiosity and acquiring knowledge, it becomes a powerful and resilient entity set up for success."
Get the ITPro. daily newsletter
Receive our latest news, industry updates, featured resources and more. Sign up today to receive our FREE report on AI cyber crime & security - newly updated for 2023.
Jonathan Weinberg is a freelance journalist and writer who specialises in technology and business, with a particular interest in the social and economic impact on the future of work and wider society. His passion is for telling stories that show how technology and digital improves our lives for the better, while keeping one eye on the emerging security and privacy dangers. A former national newspaper technology, gadgets and gaming editor for a decade, Jonathan has been bylined in national, consumer and trade publications across print and online, in the UK and the US.
Get the ITPro. daily newsletter
Receive our latest news, industry updates, featured resources and more. Sign up today to receive our FREE report on AI cyber crime & security - newly updated for 2023.
Thank you for signing up to ITPro.. You will receive a verification email shortly.
There was a problem. Please refresh the page and try again.