CES 2020: What happens in Vegas is coming to your workplace
The annual tech expo is now as much for CIOs as it is consumers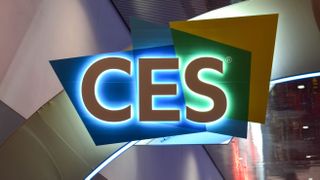 CES – the Consumer Electronics Show to give it its full, somewhat dated name – is no longer just about ridiculous TVs, smart home gadgets and ball-shaped robots. The Las Vegas tech expo, which boasts more than 175,000 attendees annually, is now as much as showcase for business technology as it is consumer electronics.
Just a few years ago CES was little more than a platform for the biggest names in tech to trot out their latest gadgetry, but in 2020, the show is targeting CIOs as much as it is gadget-loving tech enthusiasts. This is reflected in this year's bumper schedule, which featured talks on 'how artificial intelligence is significantly changing business operations', 'how XR is reshaping enterprise's approach to workplace training' and 'how robotics, edge computing and other technologies can transform the enterprise.'
Blurred lines
Beyond the CIO-attracting talks on offer at CES, this year's product announcements are also just as important for IT admins as they are consumers. Thanks to the breakneck acceleration in the consumerisation of IT, OEMs are now rolling out do-it-all devices that aim to impress business decision-makers as much as everyday users.
While there were many business-first announcements at 2020's conference - from Dell's 86-inch 4K Interactive Touch Monitor that's aimed squarely at workplace collaboration to Lenovo's security-driven ThinkCentre M90a All-in-One desktop PC - the majority of devices on show demonstrate a blurring of lines between consumer and business IT hardware.
HP, for example, showed off the Spectre x360 15, a powerful laptop that features all the bells and whistles of a high-spec consumer PC, while also appealing to business users with its 17-hours of battery life, built-in fingerprint scanner and webcam cover, and support for WiFi 6.
Lenovo's ThinkPad line, a brand synonymous with business laptops, was also given a CES makeover as the firm prepares its IT-first lineup for the next-generation. The firm unveiled the ThinkPad Plus, a dual-screen laptop with integrated E-Ink display and the ThinkPad X1 Fold, a unique 'foldable' PC that boasts a unique flexible 13.3-inch 4:3 OLED panel.
This gradual fusion of consumer and business tech is just as evident in other areas of this year's show. VR demos are focused on how to train employees for a range of real-world scenarios, new wearables target roles that require always-on glanceable information, and 5G companies are showcasing how they can enable the next-generation mobile workforce through real-time collaboration and smarter artificial intelligence.
Nick McQuire, SVP and Head of Enterprise Research at CCS Insights, says: "There is a real convergence happening at once between several big ticket technologies that are impacting both consumers and businesses.
"These technologies are helping to create new classes of products at the show, which are breaking down the traditional silos between consumer and business technology being relevant to both audiences. Foldable displays, robotics, wearables and a new generation of 5G connected laptops are standing out this year as attention grabbers to consumers but also IT departments as well."
The transformation generation
This shift has been undoubtedly been fuelled by digital transformation (DX) and the growing number of mobile workers, as companies move to support their employees' need to be able to work from anywhere at any time.
"The first thing to consider is the proliferation of mobile workers, supported by DX," says Liam Hall, senior research analyst at IDC. "As a result, the same ultraportable, thin and light form factors that attract the consumers eye are ideal for a range of commercial use cases.
"From a form factor perspective, the consumer and commercial brands are becoming increasingly aesthetically similar."
Dave Crew, commercial director EMEA at Targus, adds: "Having technology with all the important bells and whistles helps remedy the productivity problem. For instance, many on-the-go business travellers use the latest wireless headphones from Apple or Jabra to complete a business call. So many of the smart consumer devices we see at CES are in fact office-ready.
"Devices that appeal to consumers and IT buyers alike are a real incentive for brands to market inclusively."
Millennial bug
Another trend fuelling CES' newfound IT focus is the changing face of the modern workforce, with the so-called 'millennial' and 'Gen Z' generations starting to account for more leadership and decision-making positions. With this comes a fresh perspective on business IT, and an expectation of technology that's performance as the devices they use at home.
What's more, during their careers, this younger generation of workers have likely experienced how bad, ageing technology can negatively affect productivity and be keen to fuel change within their organisation.
"Gen Z, being the new working generation, will make decisions based on what technology their employers provide and what policies they implement," says Crew.
"Being connected and agile will be key for employers looking to attract the right talent. Setting up a workspace with connected functionality will be a must. Businesses need hardware that has cloud capabilities, matching the pace of the evolving work ecosystem."
Hall adds: "As a more technologically literate generation, the option for CYOD is a strong driver for end-user satisfaction and enhanced employee experience."
The circle of lifecycles
The emergence of shorter lifecycles due to the rapid pace of innovation in the technology industry is another growing trend that's exacerbating workers' thirst for new, up-to-date hardware. While this puts pressure on businesses that have to contend with the fact that equipment will become outdated faster, many are also starting to realise it is far more beneficial to stay ahead of the curve.
Not only does equipping workers with the latest kit increase their job satisfaction, but it also means that productivity will improve and ensures that employees are working with secure devices that can enable new types of working across their company.
Hall comments: "Shorter lifecycles mean that employees will consistently be working with more up to date hardware, with more up to date security patches, that can take advantage of innovative hardware designs and newer form factors and ultimately allow the employees to experiment with new use cases for the devices."
This shift, Hall adds, is also seeing the DaaS (device as a service) leasing model, which supports shorter lifecycles of devices and, in many cases, device agnosticism, gain traction, though he notes it's still "early days".
The CIO Electronics Show
Though it has "consumer" in its name, this year's CES has proven itself as worthy of IT professionals' attention and showed that the consumerisation of IT is accelerating rapidly, be it through do-it-all devices that enable more productive on-the-go working, or through growing trends such as foldable displays and artificial intelligence that are relevant to both consumers and business audiences.
It's now more important than ever that decision-makers take heed of the latest innovations that will soon begin to infiltrate the workplace – whether they are ready or not.
Get the ITPro. daily newsletter
Receive our latest news, industry updates, featured resources and more. Sign up today to receive our FREE report on AI cyber crime & security - newly updated for 2023.
Carly Page is a freelance technology journalist, editor and copywriter specialising in cyber security, B2B, and consumer technology. She has more than a decade of experience in the industry and has written for a range of publications including Forbes, IT Pro, the Metro, TechRadar, TechCrunch, TES, and WIRED, as well as offering copywriting and consultancy services.
Prior to entering the weird and wonderful world of freelance journalism, Carly served as editor of tech tabloid The INQUIRER from 2012 and 2019. She is also a graduate of the University of Lincoln, where she earned a degree in journalism.
You can check out Carly's ramblings (and her dog) on Twitter, or email her at hello@carlypagewrites.co.uk.