How tech startups can present their best selves to investors
Businesses need funding and, in the beginning, that means impressing investors. Here are some tips on how to do that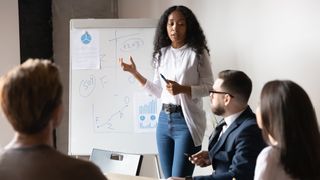 (Image credit: Shutterstock)
Starting a business is not for the faint of heart; you need lots of resolve and faith because not all great ideas necessarily make great companies. Many budding entrepreneurs have failed to get to market or simply get off the ground, because running a business is full of obstacles. One of the first challenges they face - and often fail - is securing funding.
The trouble is getting their idea across; venture capitalists are not mind readers and they won't know how good your idea is unless you can bring it to light. What's more, if you can't fully explain the quality of your product or service, how will they?
It's vital for tech startups to present their best selves to investors and fully sell their ideas and products. We've compiled some advice from the other side of the table, on how that can be done.
Be specific and be accurate
No detail is too small when it comes to startups; with many things that can potentially go wrong or hold you back, investors will want to know the ins and outs. You need to be specific about what you do/offer and how you do it. There's no point in trying to gloss over certain things, or over-elaborate on others, either, as VCs have seen it all before and you can't pull the wool over their eyes.
Among the things you need to be specific about are the market you are in and your potential to grow. Iskender Dirik, managing director at Samsung NEXT (Samsung's corporate VC) gave a number of very specific questions he expects to have answered: "What problem does your solution solve? And how big is that problem in reality? How big can your startup become? Does it have unicorn potential? Does it address a market that is already huge or has the potential to be huge in the future? Does it have the potential to generate significant revenues?"
RELATED RESOURCE
Medium business IT survey highlights
An online study to understand the state of medium businesses in Europe and South Africa
Oliver Holle, co-founder and managing partner at Speedinvest, a pan-European VC for early-stage startups, says founders should "explain in simple terms why the world needs you. What is the problem that you solve and why is your solution much, much better than what is available today? Plus, have a clear plan for the next twelve to eighteen months. Lay out what you will achieve by then, in terms of traction, product and team.
"And, please, don't argue that you don't have any competitors."
You and your people are your greatest asset
It doesn't matter how great your ideas are or how much you think you can scale them at speed, as without a great personal approach and the right people in your team it's all pie in the sky. Your potential investors need to know that you've got the right smarts.
Alexia Arts, investment manager at MMC Ventures says: "This is critical at the pre-seed and seed stage so do not undersell yourself. It's worth going beyond listing your experiences and explaining why you and your team are best placed to build this particular startup."
As for your own skills as the owner and founder, Oliver Holle gave us a vibrant pen-portrait of a great founder., saying: "Great founders exhibit a talent to combine seemingly opposite character traits into one cohesive appearance. They are bullish and very clear about their long term vision, exuding inner confidence that they will inevitably succeed. At the same time, they are highly pragmatic about their tactical path, eager to listen and learn and adapt, showing humility about all the things they don't know and cannot know."
Practice makes perfect – but be yourself
While all this might sound like a tech startup has to be pretty formulaic in its approach, getting investment isn't about behaving like a clone. Alexia Arts explains: "I wouldn't follow a 'one size fits all template'. This results in founders fitting their story to a mould, rather than thinking about their own narrative and the key points you want to get across."
It is also important to practice, and Arts says you can practice with practically anyone you know. Doing this, she says, "will ensure that you are getting your points across clearly, help to refine your message and improve your confidence when pitching".
RELATED RESOURCE
The IT Pro Podcast: Coding our way out of recession
How the COVID crisis could lead to a startup boom
"As a CEO you will need to pitch your company time and time again over the next 5-10 years so you might as well start practicing," she adds.
Practicing might also help you get prepared for negative responses. Iskender Dirik says: "Because the default answer of an investor will most often be 'no', founders need to create a sense of 'FOMO' – fear of missing out. They have to convince the investor that saying 'no' will mean losing out on a huge opportunity to invest in 'the next big thing.'" People you try your pitch out on will be able to give you some experience of handling negative reactions, which will help you in the real pitch.
It's unlikely to be easy to get funding for your tech startup, and there is no magic formula that will put you ahead of all the rest. But there are some basics that it's vital to get right, and presenting your best self to potential investors can really help your cause
Get the ITPro. daily newsletter
Receive our latest news, industry updates, featured resources and more. Sign up today to receive our FREE report on AI cyber crime & security - newly updated for 2023.
Get the ITPro. daily newsletter
Receive our latest news, industry updates, featured resources and more. Sign up today to receive our FREE report on AI cyber crime & security - newly updated for 2023.
Thank you for signing up to ITPro.. You will receive a verification email shortly.
There was a problem. Please refresh the page and try again.