Is sustainability the next big channel play?
Once seen as little more than a rubber stamping exercise, more companies are now demanding their IT supplier ticks sustainability boxes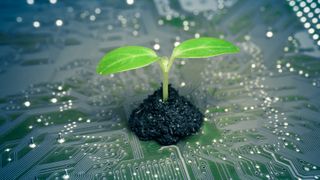 (Image credit: Shutterstock)
In 2020, climate change dominates discussion on a world stage.
As consumers we are more aware of the everyday choices we make, and their potential effect on the environment. In business too, organisations are starting to change their behaviour to take issues like sustainability into account, with many investing in the idea of the 'circular economy' – one that looks to eliminate waste and re-use resources.
For the IT channel, a growing number of customers now say the environmental impact of their purchasing decisions is as important as traditional considerations such as pricing.
Alastair Borissow, VP of circular technology solutions at distributor Westcon-Comstor, says while sustainable efforts were traditionally seen as little more than a rubber stamping exercise, it's now viewed a "must have" – with the appointment of more chief sustainability officers (CSOs) reflecting its growing importance.
"Sustainability credentials are beginning to lead decisions. It is getting more teeth within the organisation," he tells Channel Pro. "Sustainability used to be an afterthought, but now you could have two potential partners and one might be slightly cheaper than the other, but if it doesn't have a sustainability play in it, it doesn't get chosen."
Mateo Dugand, technologist for Circular Economy, IT Efficiency and Sustainability at HPE agrees.
"While corporate sustainability isn't a new concept, it did traditionally focus within the walls of a company – with efforts focused on operational impacts like saving energy. Today, businesses need to look across their value chain and work directly with their suppliers to improve standards and product sustainability," he says.
What's driving change?
Organisations in many cases will be looking to get ahead of legislation introduced to try to stem the effects of climate change. For example, in 2019 the UK set a net zero carbon emissions target by 2050, in line with its commitment under the Paris Agreement. For others, it is a case of reputational risk management and pressures from customers, investors, and employees.
HPE last year received more than 1,300 information requests from customers regarding its environmental and social practices. "As the level of interest in sustainability from private and public sectors continues to increase, we estimate that customer briefings on sustainability matters contributed approximately $585 million in net revenue, an increase of 88% over the previous year," Dugand tells Channel Pro.
Hitting targets
As issues like sustainability become more important, vendors may place more pressure on partners to hit green targets. This includes writing these targets into partner agreements, says Mark Garner, VP of Secure Power at Schneider Electric, who says the firm wants a carbon-neutral supply chain by 2050.
"Some of the channel partners are huge companies; they've got huge influence in their own supply chain, so it's incumbent on us to drive our suppliers to be energy efficient, carbon-neutral [and] drive a more digitalised world.
"We've been doing it for a number of years now, but I think that's going to step up significantly and sustainability is going to be top of the qualifications for vendors to supply into us. It will be less of a tick box, and more of 'if you don't do it, you can't supply to us'," says Garner, who adds that the firm will be also looking at how to invest in its partners so they can reach the required level.
Sustainability versus costs
However, sustainability still ranks a long way behind price or mission-criticality in certain environments, says Nick Ewing, managing director of data centre and IT consultancy at Efficiency IT.
"There are so many things that can be done in traditional healthcare environments that aren't done from an operational efficiency or electrical efficiency perspective, but it costs money" he tells Channel Pro.
Ewing notes the initial expense of replacing systems with more efficient IT still puts off budget-holders. "You go back to this argument of Opex versus Capex. Somebody weighing up a purchasing decision between technology that costs £1 million or one that costs £1.2 million but is going to generate 50% less electricity, because it's more efficient, over the life of that datacentre – which could be £1 million worth of savings – the person will go for the first.
"Until it is mandated to be carbon neutral or energy efficient, until it becomes regulatory, people are not going to do that."
Similarly, Rob Tomlin, VP UK & Ireland channel at Dell Technologies, points out that while the EU Public Procurement Directive of 2014 has strengthened possibilities for public procurers to award tenders based on criteria beyond pricing, including sustainability, research suggests that more than half of public contracts in the EU are still using lowest price as the only award criterion.
"In our Sustainable Public Procurement call to action, we defined a three-prong strategy to overcome the barriers to adoption of sustainable public procurement, including: the development of sector specific guidelines for social and environmental sustainability; member state governments adopting a 'sustainability by default' principle, and the sharing of best practice and innovations between the IT industry and the European Commission," he explains.
What can the channel do?
While sustainability and the environment may not yet be the leading consideration for IT purchasers, there are several steps that the channel can take to help their customers achieve their goals, while tapping into a potential new revenue stream.
Borissow says as a first step you should know how important the circular economy is going to become from a decision making perspective and what your capability to deliver it is.
"If there are gaps in your organisation to deliver that, find a partner that can help – a specialist in the area – and engage with them. Understand what's happening in the market, understand customer requirements and understand what your capabilities are."
HPE's Dugand says shifting customers to an 'as a Service' model is a good start. "The first step is to understand the customer's IT estate and evaluate opportunities to increase its efficiency by assessing factors such as overprovisioning, lifecycle management, and end-of-use management.
"The next step is to determine what role technology can play in the customer's sustainability journey, from employee engagement and wellbeing to data security to meeting their greenhouse gas targets. In building a datacentre strategy, you should gain insights not only on business objectives but also sustainability opportunities that can be achieved concurrently. We have found that this shifts the conversation with customers and often heightens engagement at the CxO level, which is a key opportunity for channel sales to build long-standing relationships focused on business outcomes."
He points out that to hit the zero carbon target by 2050, every company in the UK will need to transition to a circular economy, using resources most effectively and minimising their carbon footprint. "This new reality will put added pressures on businesses to make sustainability core to their decision-making," he says.
Elsewhere, Dell's Tomlin says customers are already looking for partners who can positively impact their own sustainability credentials and want to work with businesses that see sustainability as core business imperative.
"Businesses that are leading in this area can also advise and guide their customers on their own sustainability practices, creating huge potential for improved relationships and even increased revenue."
Stay up to date with the latest Channel industry news and analysis with our twice-weekly newsletter
Christine has been a tech journalist for over 20 years, 10 of which she spent exclusively covering the IT Channel. From 2006-2009 she worked as the editor of Channel Business, before moving on to ChannelPro where she was editor and, latterly, senior editor.
Since 2016, she has been a freelance writer, editor, and copywriter and continues to cover the channel in addition to broader IT themes. Additionally, she provides media training explaining what the channel is and why it's important to businesses.