MobileIron: "Our channel programme needs a lot of work"
Security firm admits that its partner programme doesn't reflect its attitudes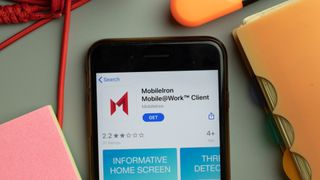 (Image credit: Shutterstock)
MobileIron has admitted that its channel programme needs to be improved, telling Channel Pro that it needs to be more reflective of the value that MobileIron's partners bring to customers.
The security firm is almost entirely channel-driven, with channel partners driving "somewhere north of 90%" of the company's business, according to MobileIron strategic technologist James Plouffe. Its European channel is particularly crucial and makes up just over half of the company's overall business.
Despite this, however, the company's UK channel leader, regional sales director David Critchley, has admitted that MobileIron's channel programme "needs a lot of work" in order to best serve its partners.
"That's something that I'm very keen that we do fix. I would say, candidly, that our channel program needs a lot of work," he told Channel Pro in an interview. "It's particularly around that discerning of real value and capability. So it shouldn't just be a volume play, the more you sell, the deeper the discount - it needs to be balanced against the capability and the investment that you've made as a partner."
"I think that, like most effective channel programs, we need to protect the incumbency, where the partner is doing a great job and the customer sees value in that," Critchley said. "Secondly, clearly, partners that bring new opportunity to us; we want to reward them for good hunting behaviour, but also good depth of capability and support of our existing clients. And, you know, we want to encourage people that the more that they invest in us, the more there's a reciprocal relationship - so that we feed those that feed us."
MobileIron's is not planning to significantly increase the number of partners that it works in the near future, Critchley explained; instead, the company is taking a more targeted approach to its channel, focusing on which partners it can work with to develop their business.
"The partners that got us here, might not be the same partners that get us there," Critchley said. "We also do wrestling with the 'V' and the value of 'value added distribution'. And are we a big enough brand to be worthy, or sustain the interest of a distributor? And candidly, do they actually extend our reach and help us open the door to new resellers, rather than maybe going after the big volume guys, where that quality might just not be there?"
Stay up to date with the latest Channel industry news and analysis with our twice-weekly newsletter
Adam Shepherd has been a technology journalist since 2015, covering everything from cloud storage and security, to smartphones and servers. Over the course of his career, he's seen the spread of 5G, the growing ubiquity of wireless devices, and the start of the connected revolution. He's also been to more trade shows and technology conferences than he cares to count.
As reviews and community editor, he's responsible for leading IT Pro's wide-ranging product coverage, and is an avid follower of the latest hardware innovations. He's never happier than when tinkering with complex network configurations, or exploring a new Linux distro.
In addition to managing the IT Pro Panel and working with the community of IT leaders that make it up, he co-hosts the IT Pro Podcast, where you can hear him ranting about his love of strange gadgets, his disdain for Windows Mobile, and everything in between.
You can find Adam tweeting about enterprise technology (or more often bad jokes) @AdamShepherUK, or you can email him at adam.shepherd@futurenet.com.
Stay up to date with the latest Channel industry news and analysis with our twice-weekly newsletter
Thank you for signing up to Channel Pro. You will receive a verification email shortly.
There was a problem. Please refresh the page and try again.