EMC mounts challenge to Amazon and Google with Elastic Storage
EMC World 2014: EMC claims ECS appliance offers up to 28% lower TCO than public cloud alternatives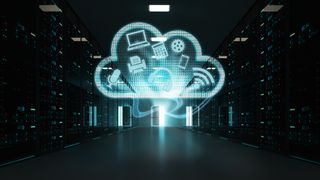 EMC (NYSE:EMC) kicked off its annual EMC World event in Las Vegas today by unveiling its new Elastic Cloud Storage (ECS) appliance, which it claims offers up to 28 percent lower TCO than public cloud alternatives from Amazon and Google.
Formerly known as Project Nile, ECS includes block, object and HDFS capabilities in one appliance. It offers up to 2.9 Petabytes of storage in a single rack, and can be clustered to achieve Exabyte scale — a requirement for the 'Third Platform of IT', a concept relating to the mega trends of cloud, mobile, social and Big Data.
EMC says ECS provides customers with a solution which "eliminates the tradeoffs inherent within the public cloud" citing system outages, the costs of moving their data in and out of the public cloud environment and compliance issues.
"It is a complete, cloud scale storage system," says EMC president of products and marketing, Jeremy Burton. "There are systems out there that deliver object, or block; this is one unified system that can serve up those different access vehicles."
Burton says EMC it's not just eyeing the enterprise as potential customers – it also envisions take-up among service providers who can use ECS to offer storage as a service. "It is an appliance; it is not an appliance service," he says. "Think an Amazon S3 or an Amazon EBS in a box, up and running in minutes," he explains.
"Our research tells us that mid-sized to large organisations are increasingly looking to leverage the cost and scale benefits of public cloud models, but on their own terms," comments Simon Robinson, research vice president at 451 Research.
"With the announcement of the ECS appliance, EMC is providing an alternative approach that promises to bring hyper-scale efficiencies to on-premise and hybrid cloud deployments. We believe this kind of approach represents the future of enterprise storage infrastructure for cloud-based applications and workloads."
So how does ECS stack up against the big public cloud providers? EMC reckons that despite the falling cost of cloud capacity, ECS delivers nine and 18 percent lower TCO in mainstream-sized (1.4 PB raw/740 TB utilised) customer implementations against Google and Amazon respectively; and 23 and 28 percent lower TCO in large-scale (11.5 PB raw/5.7 PB utilised) customer implementations.
The vendor says it is also planning to introduce new architecture and design services for the appliance. The services will help customers identify which of their current application workloads will drive the greatest business return with ECS, and will architect and design a system configuration accordingly. The services will be available with the general release of the ECS Appliance in the second quarter of 2014.
Elsewhere at the event EMC introduced a new version of the ViPR software platform it launched a year ago, providing additional block data services and geographic replication and distribution. It also provides support for commodity drives and additional third-party arrays through OpenStack.
It also announced it was bolstering its flash storage line with the acquisition of secretive Silcon Valley start-up DSSD, which specialises in server-based flash, although EMC is yet to provide much detail on the coupling as yet.
Stay up to date with the latest Channel industry news and analysis with our twice-weekly newsletter
Christine has been a tech journalist for over 20 years, 10 of which she spent exclusively covering the IT Channel. From 2006-2009 she worked as the editor of Channel Business, before moving on to ChannelPro where she was editor and, latterly, senior editor.
Since 2016, she has been a freelance writer, editor, and copywriter and continues to cover the channel in addition to broader IT themes. Additionally, she provides media training explaining what the channel is and why it's important to businesses.
Stay up to date with the latest Channel industry news and analysis with our twice-weekly newsletter
Thank you for signing up to Channel Pro. You will receive a verification email shortly.
There was a problem. Please refresh the page and try again.