Salesforce takes partners on a rocket ride
The ride is an exciting one though, rather than something to be fearful, Salesforce channel exec stresses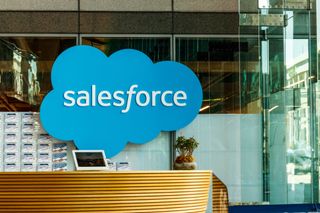 Salesforce's ambitious growth plans are more of an opportunity than a challenge for its ecosystem of partners and the cloud giant has vowed to support them as they face the certain and uncertain challenges of the future.
That was the message conveyed by Neeracha Taychakhoonavudh, senior vice president, partner and industry Innovation at Salesforce on the second day of its annual Dreamforce conference in San Francisco.
"There's anxiety about talent and workforce and how to get the skills to meet the demand. But, I think, in general when I spend some time with partners, they're just excited about the growth," she told Channel Pro.
"Honestly, they're not seeing growth in a lot of other areas, so that's the part of the rocket ride they love. Obviously we have to deliver on that growth and it's a services business. They have to find the workforce and that's where the anxiety lies."
But this anxiety absolutely can be overcome as the horizon is filled with growth opportunities for partners to ramp up their own revenue streams as part of the Salesfore community.
The cloud giant has already made bold plans to get its annual revenue run rate up from $10 billion to $20 billion and all signs so far are good, with CEO and founder Marc Benioff confirming during his keynote yesterday that it's on track to hit $12.5 billion next year.
Salesforce's own Trailhead learning platform and the recent announcement of a more personalised version, in the form of myTrailhead, will also act as a support mechanism for partners, according to Taychakhoonavudh.
"We use Trailhead tremendously today for partners. We have some partner-specific trails and then we add on to that. Trailhead is our global learning platform and as we get to myTrailhead we haven't created a specific Trailhead for just gated for partners, but that's what we'd do in the future," she added.
"In general, if you look at Trailhead as a broad platform and the Salesforce cultural themes of openness and transparency, it just makes sense to use the same platform as everyone else. We invest a lot in partners around best practices, around implementation. There's info around all the ways we train our internal people that we train our partners on and that's not quite as public.
"It's an excellent rocket ride. That's what I hear from partners all the time. They're excited about the opportunity, they just want to keep up."
One such partner excited about what the future holds is KONE, the global leader in lifts and escalators.
"We want to find the best partners, such as Salesfore - IBM is another important part for us - and we then apply the tech they have for our industry, for the benefits of our customers," said Henrik Ehrnrooth, KONE's president and CEO.
"You focus on the outcomes, then you find the best partners to work with to apply these technologies."
Talking about the power of innovation, Ehrnrooth added: "It is amazing what we can do with these new technologies. The technology itself is not important. We are not there to sell technologies to our customers, we are there to sell outcomes.
"We are able to serve our customers in exactly the way they wish to be serviced. This creates better experience not only for our customers but the huge amount of people who use our customer buildings every day."
Stay up to date with the latest Channel industry news and analysis with our twice-weekly newsletter
Maggie has been a journalist since 1999, starting her career as an editorial assistant on then-weekly magazine Computing, before working her way up to senior reporter level. In 2006, just weeks before ITPro was launched, Maggie joined Dennis Publishing as a reporter. Having worked her way up to editor of ITPro, she was appointed group editor of CloudPro and ITPro in April 2012. She became the editorial director and took responsibility for ChannelPro, in 2016.
Her areas of particular interest, aside from cloud, include management and C-level issues, the business value of technology, green and environmental issues and careers to name but a few.
Stay up to date with the latest Channel industry news and analysis with our twice-weekly newsletter
Thank you for signing up to Channel Pro. You will receive a verification email shortly.
There was a problem. Please refresh the page and try again.