What to expect from Oracle CloudWorld 2022
Larry Ellison and co are heading to Las Vegas for a rebranded cloud-centric show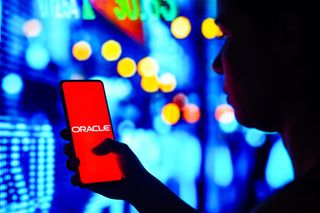 (Image credit: Getty Images)
The technology conference season is in full swing and IT Pro is heading to Las Vegas for Oracle CloudWorld 2022. 'CloudWorld' is a simple refresh of Oracle's traditional 'OpenWorld' event – rebranded with a new name and location, ditching its former home in San Francisco for the Nevada desert.
Why the name change? Without an official explanation, we're left to assume it's related to the shifts we experienced during and after the COVID-19 pandemic, and the mass movement in favour of cloud-based technologies. Although Oracle has always been a massive cloud player, branding its flagship conference 'CloudWorld' might signal its attempt to explicitly position itself as one. As such, we expect Oracle to showcase its latest cloud capabilities throughout our week in Vegas.
Oracle wins ITV cloud contract
Despite the rebrand, this event is still very much 'open', with participants able to view all the keynotes and conference content from wherever they reside. Free 'Digital Discovery' passes are available on the conference website, as well as a more inclusive 'Digital All-Access' option, although this is the first in-person event hosted by Oracle since February 2020.
In that time, against the backdrop of a sharply falling share price, Oracle has made some heavy investments into new industries and has struck some pretty seismic partnerships. These include an agreement with Microsoft to have Oracle Database services on Azure and now it's become a paying AWS customer. That's right, Oracle's strategy is to have its databases available on as many cloud platforms as possible – including those of its most bitter rivals.
Those partnerships may be raised once more at CloudWorld, along with plenty of talk around healthcare, particularly after its $28.3 billion acquisition of Cerner last year. There might also possibly be more details around plans to further expand its cloud regions across Europe. Lately, meanwhile, the company has won a lucrative ITV contract, with the media giant using Oracle Cloud Fusion to streamline its business, only a couple of months after Oracle announced $1 billion in staffing cuts.
As expected, the company's biggest names will front its keynotes, with CEO Safra Catz, as well as co-founder and CTO Larry Ellison, hosting headline sessions. Catz will be up first to invite a selection of Oracle's partners and customers on stage to discuss various Oracle use cases. Ellison will likely host the most exciting session, as he's set to reveal the company's major news and announcements. This session will likely span the last 12 months of Oracle's business dealings, while recapping how its cloud business has faired and also featuring new product announcements and updates for databases and cloud services.
RELATED RESOURCE
Ten critical factors for cloud analytics success
Cloud-native, intelligent, and automated data management strategies to accelerate time to value and ROI
Fellow executives will follow later in the week, including Oracle's executive vice president (EVP) of analytics, TK Anand, who is expected to dive deep into artificial intelligence, particularly focusing on how the industry is exploring new machine learning and natural language technologies. He'll be followed by executive vice president of Oracle Cloud Infrastructure, Clay Magouyrk to walk us through updates to cloud products, alongside more customer demonstrations and use cases. For more specific cloud technology, VP Steve Miranda will be holding a session on Oracle Fusion Cloud Applications with partners and customers.
As far as external speakers go, we'll be keeping an eye out for talks by Nvidia's CEO Jensen Huang, Vodafone's chief digital and IT officer Scott Petty, and CEO of the Red Bull F1 team, Christian Horner.
Despite ditching 'OpenWorld' for the 'CloudWorld' rebrand, Oracle is very much running an open approach to business, working with other tech giants to offer its services to more and more customers. I expect to see an event brimming with interesting partner stories, and ones that showcase the sheer breadth of capabilities and industries Oracle works with.
Stay up to date with the latest Channel industry news and analysis with our twice-weekly newsletter
Bobby Hellard is ITPro's Reviews Editor and has worked on CloudPro and ChannelPro since 2018. In his time at ITPro, Bobby has covered stories for all the major technology companies, such as Apple, Microsoft, Amazon and Facebook, and regularly attends industry-leading events such as AWS Re:Invent and Google Cloud Next.
Bobby mainly covers hardware reviews, but you will also recognise him as the face of many of our video reviews of laptops and smartphones.