Software as a service: a quick guide
How the channel can get up to speed with the global Software as a Service (SaaS) market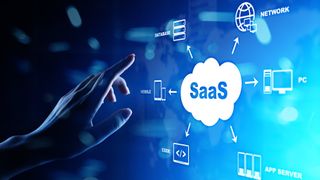 (Image credit: Shutterstock)
With projections stating that the SaaS market will reach $185.8 billion by 2024, and almost three-quarters of organisations saying that nearly all their apps will be SaaS by 2020, software as a service is a trend that's here to stay. As such, this provides a golden opportunity for the channel to expand their offering to meet growing customer demands.
So just what is SaaS, how does it impact the channel and what can be done to get up to speed with the implications of this growing trend?
What is SaaS?
The term software as a service (SaaS) refers to software packages and applications that are delivered as a service instead of having users buy them outright, which is the traditional route. With continuous improvements to hardware and connectivity, it's become a popular method of offering software that often involves pricing tiers and subscriptions depending on the level of service customers require.
End users choose SaaS for its convenience, whilst manufacturers enjoy the greater usage controls offered by this method. Although not a new concept, SaaS is now fairly commonplace across the IT and internet industries, with examples including Salesforce, Office 365, Gmail, as well as entertainment services such as Spotify and Netflix.
Essentially, SaaS products are remotely managed, owned and delivered by the service provider, often allowing end users to subscribe to a plan that meets their needs or to pay for only what they use. With this central control, the support and administrative side of things is usually carried out by the provider – resulting in less maintenance work for the end user.
SaaS also forms one of three key cloud service models alongside infrastructure as a service (IaaS) – which includes products such as cloud servers or storage – and platform as a service (PaaS), which includes products such as cloud-based software development platforms.
Who is it aimed at?
Many organisations that would have previously been forced to buy, own, maintain and manage numerous software packages obviously already favour SaaS. So do many consumers, so applicability runs the gamut from small home office user, to SMB, to business on the go, to public sector body or large enterprise.
Some users may not be aware they're consuming SaaS – for example those who confuse it with software pushed to them over the internet but which they're still responsible for updating and "keeping the lights on" for.
Installed applications remain the preferred option in certain scenarios, however. For example, some organisations may fear a loss of control over their information or systems. Also, if internet connectivity is unreliable, fixes and updates may not be done in a timely manner, risking a breach of those all-important SLAs.
On-premise systems can also potentially be configured and customised exactly the way the customer wants, and may enable organisations to develop the most productive, efficient processes and policies for them.
How does SaaS affect the market?
Once upon a time, the end user had clearer choices when it came to software provision. Today, things are far less clear cut. As cloud services advance into every corner of the computing world, the lines between software as a service and in-house have blurred.
But more organisations are selecting SaaS, choosing from a wider range of options, not least because the possibility of making further cost reductions to boost margins is impossible for most to ignore.
While public investor interest in SaaS companies has ebbed and flowed over the last couple of years, this is not an omen of disaster—just a correction. The evidence in the market for the channel is that SaaS is very much here to stay, with little to no chance of turning back the clock.
By 2020, 60-70% of all software, services and technology spending and 60% of IT infrastructure will be cloud-based. Meanwhile the rise of cloud services brokerages is further streamlining the way end user organisations consume software and perhaps expanding a niche for the channel.
SaaS is ideal if your customer is targeting horizontal functions – such as office productivity suites, customer relationship management (CRM), payroll processing, human resource management, invoicing, enterprise resource planning (ERP), and more. Of course, there's no need to stop there – any kind of software has the potential to be developed or adapted to be offered as a service.
Channel Pro opinion
Although SaaS has been around for a while, it is time for the IT channel to step up its game when it comes to realigning itself and marketing this option – not least in the way that channel sales staff are managed and rewarded.
SaaS can help increase individual employee productivity, improve work/life balance and help hard-pressed organisations accelerate the mobilisation of the workforce, as well as cut back on non-core activities, and enable organisations to streamline in-house IT.
This is ultimately a vision for a more adaptable, agile way of doing business – although, as mentioned, SaaS should not be considered a panacea.
While a number of companies have started addressing the possibility of using SaaS as a disaster recovery option, it's something that hasn't become the norm for the channel to sell into their customers.
More education of the market is needed, with business benefits made clearer to customers and prospects throughout the sales process.
Channel companies also need to ramp up their efforts to demonstrate how they have and can continue to transform to add genuine, long-lasting value in a SaaS-oriented world.
Stay up to date with the latest Channel industry news and analysis with our twice-weekly newsletter
Fleur Doidge is a journalist with more than twenty years of experience, mainly writing features and news for B2B technology or business magazines and websites. She writes on a shifting assortment of topics, including the IT reseller channel, manufacturing, datacentre, cloud computing and communications. You can follow Fleur on Twitter.