The dangers of nighttime Slacking
Although you're no longer restricted to a nine to five day, you're still entitled to sleep at night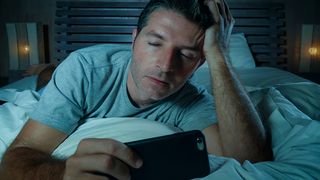 Back in 1980, Dolly Parton stumbled out of bed and tumbled into the kitchen to pour herself a cup of ambition, in preparation for her nine to five job an iconic song about traditional hours of work.
29-years later and things have changed; I don't mean the song, that's still as catchy as ever (it's in your head now, isn't it?) but flexible working, which has enabled employees in most professions to spread the nine to five across the day for a better work/life balance.
In today's internet-connected world, Dolly's character would now have the option to tumble back into bed and crack on with her work via some workplace apps on her laptop and smartphone.
One such app is Slack, a communications platform where you can keep abreast of work matters, or the latest office gossip, without ever going into the building. It allows the user to quickly communicate minor work matters or more time-sensitive information via instant messaging rather than the comparatively more long-winded email.
While there's room for sharing funny memes and arranging after-hours activities with workmates, at its core Slack is a business tool one that's relatively new but has been quickly adopted by startups and established companies alike, not to mention me. Slack has been in my life for just over a year and has become one of the most used apps on my phone. I love its simplicity for sharing content, notices, or office-based quips instantly. It's both a fluid working tool and a great platform for bonding. I got to know my workmates quicker than any job I'd had before.
The only thing quicker is the growth of Slack itself, which is now on the verge of becoming a public company via a direct listing. While it gets ready for a big payday, however, many organisations and users that have so readily taken it up are now questioning its impact, particularly its 'always-on' nature. The app is available not only on desktop but also on mobile devices and can even ping notifications to smartwatches, meaning you can be reached by work colleagues 24-hours a day.
Additionally, while many people now work flexible hours, messaging services like Slack aren't bound by the same rules; the colleague messaging you in the afternoon may be doing so during their working hours, but you may be receiving them when you have already finished for the day.
Slack, in particular, has come in for serious criticism recently as a growing problem at startup companies, where the 'always-on' culture is causing more stress than necessary.
"I was getting slacked at 12 at night, then five o'clock in the morning. You think, if they're working these hours, then they're expecting that of me. And if I'm not replying, then they think I'm being lazy, or I don't care," says an unnamed employee of a property startup quoted in Sifted. "I feel emotionally disconnected in my own personal relationship because I'm always being slacked."
The reason the source is unnamed, according to Sifted, is because Slack is so ingrained in startup life, that to criticise the app is "to criticise their company's culture". This poor soul could do with learning about the 'mute notifications' button - a friend on most messenger apps - but they do highlight where workplace apps and other technology can be misused by those that implement it: employers.
Info-Obesity
The French get it. In 2015, labour minister Myriam El Khomri commissioned a report into the health impact of 'info-obesity' on the workplace. The report found that while new technologies opened opportunities for flexible working, there was a surge in unpaid overtime, burnout, disrupted sleep and even relationship problems. Based on these findings, a new law was introduced in 2016 that meant that companies with more than 50 employees had to offer them the right to disconnect from technology.
Under this law, companies are obliged to negotiate with employees to agree on their rights to switch off and ways they can reduce the intrusion of work into their private lives. If a deal could not be reached, the company must publish a charter that would make explicit the demands on, and rights of, employees out-of-hours - c'est magnifique.
In the UK we're not quite so lucky and a 2018 study from enterprise mobility firm B2M Solutions found this 'always-on' culture led to 40% of remote workers taking time off for stress and anxiety, costing UK businesses an estimated 1.18 billion a year. B2M said it was because businesses hadn't managed to offer their employees the resources they need to switch off, which came back at these businesses financially.
Phone addiction
What are these resources? Do people need anti-Slack software? Or is our use of smartphones the problem? Last year, an Ofcom study suggested our mobile phone usage added up to 24 hours per week - a whole day of mostly using internet services and apps. This issue has even been noticed by the companies partly responsible; at last year's developer conference, Apple announced features in iOS 12 to help people monitor their usage.
Here there is perhaps a case of people needing to be saved from themselves. According to a study by the Association of Accounting Technicians (AAT), employees tend to put in extra time when working remotely with a quarter of participants saying they were doing more than six hours of extra work per week. Match this with phone use and Slack, an app that inadvertently makes your job more like social media, and there's plenty of evidence to suggest phones are enabling the 'always-on' issue.
Add to that the boss all too keen to use apps like Slack to send a work issue in the small hours and you have a recipe for burnout. But if they're willing to message you in the night, there are more ways than Slack they can reach you. WhatsApp, social media, text messages, emails, anything that can come up as a notification on your phone.
Those who put up with this are the ones probably inspiring Alibaba co-founder Jack Ma's idea that we can all work 12-hour shifts, six days a week. That leaves just enough time to commute, eat and sleep and then one free day to see family and friends - how you fit binge-watching into that, only Ma would know (I bet he's not seen Game of Thrones). Most normal people on this schedule would be broken after a month. As Dolly put it in the song, "It's enough to drive you crazy, if you let it."
Get the ITPro. daily newsletter
Receive our latest news, industry updates, featured resources and more. Sign up today to receive our FREE report on AI cyber crime & security - newly updated for 2023.
Bobby Hellard is ITPro's Reviews Editor and has worked on CloudPro and ChannelPro since 2018. In his time at ITPro, Bobby has covered stories for all the major technology companies, such as Apple, Microsoft, Amazon and Facebook, and regularly attends industry-leading events such as AWS Re:Invent and Google Cloud Next.
Bobby mainly covers hardware reviews, but you will also recognise him as the face of many of our video reviews of laptops and smartphones.