Nvidia announces Arm-based Grace CPU "Superchip"
The 144-core processor is destined for AI infrastructure and high performance computing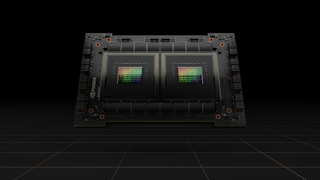 (Image credit: Nvidia)
Nvidia has released new chips, servers, and a supercomputer to bolster the AI and high-performance computing (HPC) capabilities of its offerings.
The company unveiled the new technologies - which includes a new data centre "Superchip" 0 at a conference this week, where the new silicon and data centre scale systems were introduced to the public.
What is the Nvidia Grace CPU Superchip?
The company announced the Nvidia Grace CPU "Superchip", consisting of two CPU chips connected over NVLink-C2C, a new high-speed, low-latency, chip-to-chip interconnect.
This data centre CPU has been designed for AI infrastructure and HPC, providing the highest performance and twice the memory bandwidth and energy efficiency compared to today's leading server chips, stated the company.
It packs 144 Arm cores in a single socket and has a memory subsystem of LPDDR5x memory with Error Correction Code for the best balance of speed and power consumption. The memory subsystem offers double the bandwidth of traditional DDR5 designs at 1 terabyte a second while consuming less power as the CPU consumes 500 watts.
"A new type of data centre has emerged — AI factories that process and refine mountains of data to produce intelligence," said Jensen Huang, founder and CEO of Nvidia. "The Grace CPU Superchip offers the highest performance, memory bandwidth and NVIDIA software platforms in one chip and will shine as the CPU of the world's AI infrastructure."
The Grace Superchip is based on the latest data centre architecture, Arm v9, and will run all of Nvidia's computing software stacks. Nvidia said it will excel at the most demanding HPC, AI, data analytics, scientific computing, and hyperscale computing applications. It is expected to be available in the first half of 2023.
What is the NVIDIA H100 GPU?
The company has also announced its first Hopper-based GPU, the Nvidia H100, which the company claims is the world's largest and most powerful accelerator. The Hopper architecture is Nvidia's new next-generation accelerated computing platform, replacing the Nvidia Ampere architecture launched two years ago.
Nvidia said that the H100 features major advances to accelerate AI, HPC, memory bandwidth, interconnect, and communication, including 5 terabytes per second of external connectivity. It's the first GPU to support PCIe Gen5 and the first to use HBM3, enabling 3 TB/s of memory bandwidth.
The company underlined that twenty H100 GPUs can sustain the equivalent of the entire world's internet traffic, making it possible for its customers to deliver advanced recommender systems and large language models running inference on data in real-time.
It also has second-generation secure multi-instance GPU (MIG), meaning a single GPU can be partitioned into seven smaller, fully isolated instances, to handle different types of jobs. The Hopper architecture extends MIG capabilities by up to 7x over the previous generation by offering secure multi-tenant configurations in cloud environments across each GPU instance.
"Data centres are becoming AI factories -- processing and refining mountains of data to produce intelligence," said Huang. "NVIDIA H100 is the engine of the world's AI infrastructure that enterprises use to accelerate their AI-driven businesses."
Nvidia added that H100 is the world's first accelerator with confidential computing capabilities to protect AI models and customer data while they are being processed. Its customers will be able to apply confidential computing to federated learning for privacy-sensitive industries like healthcare and financial services, as well as on shared cloud infrastructures.
The Nvidia H100 will be available starting in the third quarter, added the company.
What is the Eos Supercomputer?
The chipmaker also announced its fourth-generation DGX system, which is its first AI platform to be built with the new H100 GPUs. Nvidia said that the system will deliver the scale demanded to meet the massive compute requirements of large language models, recommender systems, healthcare research, and climate science.
It highlighted that by packing eight H100 GPUs per system, each will provide 32 petaflops of AI performance, 6x more than the prior generation.
RELATED RESOURCE
AI-augmented HPC from Dell drives customers successes
Solve large data problems faster
Linked to this, Nvidia is also building the Nvidia Eos, which it says is expected to be the world's fastest AI supercomputer after it begins operations later this year. It will feature a total of 576 DGX H100 systems with 4,608 H100 GPUs.
"AI has fundamentally changed what software can do and how it is produced. Companies revolutionising their industries with AI realise the importance of their AI infrastructure," said Huang. "Our new DGX H100 systems will power enterprise AI factories to refine data into our most valuable resource — intelligence."
It's anticipated to provide 18.4 exaflops of AI computing performance, 4x faster AI processing than the Fugaku supercomputer in Japan, the world's fastest system. Nvidia said that Eos will serve as a blueprint for advanced AI infrastructure from Nvidia, as well as its OEM and cloud partners.
Get the ITPro. daily newsletter
Receive our latest news, industry updates, featured resources and more. Sign up today to receive our FREE report on AI cyber crime & security - newly updated for 2023.
Zach Marzouk is a former ITPro, CloudPro, and ChannelPro staff writer, covering topics like security, privacy, worker rights, and startups, primarily in the Asia Pacific and the US regions. Zach joined ITPro in 2017 where he was introduced to the world of B2B technology as a junior staff writer, before he returned to Argentina in 2018, working in communications and as a copywriter. In 2021, he made his way back to ITPro as a staff writer during the pandemic, before joining the world of freelance in 2022.