AAG delivers super sized deal to Slimming World
AAG Systems doubles turnover in world's largest deal of its kind for Slimming World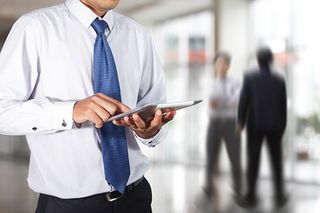 Sheffield-based IT services company, AAG systems, has secured the contract to deliver 5000 tablets and 4000 laptops for Slimming World in a deal that Microsoft have said is the largest of its kind worldwide.
AAG and Slimming World have signed off on the contract following a two and a half year project to research, design and manufacture a bespoke tablet and laptop combination that was fully integrated with the Slimming World brand.
The tablets, sourced and developed by AAG in conjunction with Birmingham-based Box Ltd, will be used by consultants in all of Slimming World's 12,000weekly group support sessions, across the UK and Ireland.
"With the volume of equipment involved, we were able to go direct to the manufacturers in China and have the tablets produced precisely to the specification Slimming World needed, rather than that of a hardware supplier," explains Joey Hemingbrough, AAG Systems' director of sales, technology and innovation.
"An added bonus was that Microsoft has indicated that they believe this to be the largest ODM deal of its kind. This news has attracted significant interest from many other organisations for whom a complete ODM solution is an attractive option."
The 3000 custom-built 10" tablets are equipped with 4GB RAM, 64GB hard drive, 4G, and according to AAG, are entirely comparable with those from mainstream brands, built to the same Intel reference design, but will be exclusively branded as Slimming World devices.
The firm will now commence distribution of the tablets to consultants in their local communities, as well as a further 4000 custom built laptops and all supporting equipment including tablet stands and other peripherals and accessories.
"The process of developing the tablets has involved identifying and testing many different hardware options, visits to the manufacturing plant and extensive due diligence exercises. We are now confident that the new tablets will ensure that the Slimming World franchisees and members have the very best hardware," says Hemingbrough.
AAG Systems also delivered an order of 2000 HP tablets to Slimming World in 2014.
Liz Bullimore, IT manager for Slimming World, adds: "We are delighted to have worked with AAG systems to develop this bespoke tablet... This latest innovation will enable Consultants to provide even more personalised effective support to members."
Stay up to date with the latest Channel industry news and analysis with our twice-weekly newsletter
Stay up to date with the latest Channel industry news and analysis with our twice-weekly newsletter
Thank you for signing up to Channel Pro. You will receive a verification email shortly.
There was a problem. Please refresh the page and try again.