UK leads European tablet sales
Tablet sales trump notebooks for first time, but growth slows, says Context research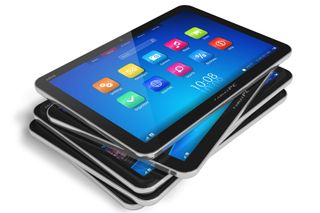 Tablet sales reached a record high in excess of 4.5m units via distribution across Europe during the busy pre-Christmas holiday period, surpassing sales of traditional notebooks and netbooks for the first time, according to Context.
The market watcher's latest stats for distribution across Western Europe shows the UK leading the way in Q4 2013 with almost 1.5m tablet units sold, followed by Germany with 950,000.
However, tablet growth actually slumped over the year from 204.5 percent in Q1 to just 39.1 percent in the fourth quarter, as the installed base continues to grow, especially in mature markets.
Tablets (4.56m) now account for 57 percent of sales in the notebook/netbook/tablet segment, surpassing the traditional form factors for the first time in Q4 last year.
This was mainly due to uptake in the consumer space, with demand for business-targeted notebooks not greatly affected over the year.
"Although tablets are expected to move into commercial environments too, this is expected to happen slowly and would for the time being represent an addition to, rather than a replacement of, the traditional clamshell systems," explains Marie-Christine Pygott, senior analyst at Context.
"Also, recent efforts by vendors to provide ultraportable solutions such as thin and light clamshell laptops and hybrid solutions will also increasingly find their way into the commercial space and successfully compete with tablets."
While netbooks are virtually extinct in the consumer space, there's still hope for notebooks, which may yet be replaced with newer models as they come to the (albeit extended) end of their product lifecycles. In this scenario, tablets would be used as secondary systems.
In the tablet space it was Android which saw the majority of sales, growing 82.2 percent to reach a share of 69.8 percent versus the iPad which grew just 2.7 percent to reach a share of 28.9 percent.
The UK is the biggest fan of Apple tablets, recording a 45.7 percent rise in sales that offset declines in other countries through distribution.
Within Android, budget 7in devices performed strongest, doubling year-on-year to reach 1.59m units in Q4. However, 10.1in tablets (+38.7 percent) and 8in tablets (+578 percent) also did well, the latter growing from a small base of less than 50,000 units from Q4 2012.
It was continued bad news for Microsoft, with market share for Windows 8 tablets remaining at 0.9 percent during the fourth quarter, although rising interest from the business segment could see it grow slowly this year, according to Context.
Stay up to date with the latest Channel industry news and analysis with our twice-weekly newsletter
ITPro is a global business technology website providing the latest news, analysis, and business insight for IT decision-makers. Whether it's cyber security, cloud computing, IT infrastructure, or business strategy, we aim to equip leaders with the data they need to make informed IT investments.
For regular updates delivered to your inbox and social feeds, be sure to sign up to our daily newsletter and follow on us LinkedIn and Twitter.