Juniper Networks CEO Rami Rahim sets out roadmap
Juniper Networks' CEO Rami Rahim promises innovation and pursuit of top line growth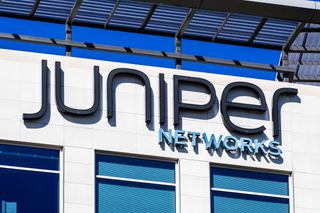 (Image credit: Shutterstock)
After a turbulent 2014, Juniper Networks' (NYSE:JNPR) CEO Rami Rahim has promised "no more transformations" at the networking vendor, and will instead focus on innovation and driving top line growth.
Last year the networking vendor was forced to exit the application delivery controller business, cut six percent of its workforce and offload its mobile security division, Junos Pulse, to a private equity firm in June, enabling it to hone its cloud and 'High IQ' networks concept.
CEO Shaygan Kheradpir also parted ways with the vendor after less than a year in the role, to be replaced by 18-year Juniper veteran Rahim in November 2014.
Now, Rahim (pictured) maintains that the upheaval has been replaced with pursuing a goal of being "a worldwide leader in network innovation".
Speaking at Juniper's Innovation Showcase at the vendor's Sunnyvale HQ, he explained: "Last year was a year of very significant change for the company, and it wasn't easy. It was a year of aligning our strategy, of restructuring, of extracting inefficiencies that existed in the company. But we've merged from that and...I feel extremely good about our position right now."
He continued: "Because I was part of the leadership team, I was very much involved in the massive transformations this company underwent last year. I don't want to go through another set of massive transformations; we've already restructured, we've realigned our strategy, I'm very happy with all of that.
"Last year was around cost efficiencies and streamlining the company...Now it's about executing on that strategy and achieving top line growth."
Rahim also admitted the firm has struggled to tell its story around emerging technologies. However, the firm used the event this week to lift the curtain on a number of new high performance switches, routers and security products that it claims deliver "unprecedented levels of network performance, automation and scale".
"We want to stay simplified in how we build products and also we enable the channel can address a broad a market as possible with a common and consistent portfolio," said Juniper's head of development and innovation, Jonathan Davidson.
Rahim too, sees the channel as instrumental in delivering the solutions. "We have a highly-focused strategy, we must rely on our partners to complete our solutions and help us deliver those solutions to a wider set of customers around the world. They are an integral part of what we do here at Juniper."
The CEO said he is excited about the direction of the company, telling attendees at the event this week: "After 18 years here, Juniper isn't start-up anymore, but it certainly feels like that right now. It feels like we are as innovative as a start-up."
Stay up to date with the latest Channel industry news and analysis with our twice-weekly newsletter
Christine has been a tech journalist for over 20 years, 10 of which she spent exclusively covering the IT Channel. From 2006-2009 she worked as the editor of Channel Business, before moving on to ChannelPro where she was editor and, latterly, senior editor.
Since 2016, she has been a freelance writer, editor, and copywriter and continues to cover the channel in addition to broader IT themes. Additionally, she provides media training explaining what the channel is and why it's important to businesses.
Stay up to date with the latest Channel industry news and analysis with our twice-weekly newsletter
Thank you for signing up to Channel Pro. You will receive a verification email shortly.
There was a problem. Please refresh the page and try again.