Surface Pro 5: Alien Covenant teaser reveals possible AMD Ryzen-powered Surface Pro 5
Rumours indicate Microsoft may include AMD chips in its new flagship device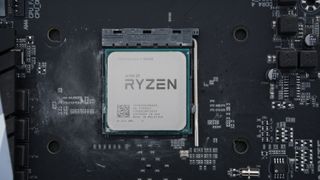 A new trailer for Alien: Covenant has sparked rumours that the Surface Pro 5 might ship with AMD's new Rzyen family of processors, in addition to Intel's Kaby Lake chips.
Details about the as-yet unconfirmed successor to Microsoft's critically-acclaimed Surface Pro 4 are currently thin on the ground, but a new theory has suggested that the company may release an AMD-based variant as well as the expected Intel versions.
The rumour stems from a promotional video released for upcoming sci-fi thriller Alien: Covenant. The video, sponsored by AMD, shows the creation of 'Walter', an android played by Michael Fassbender.
It features a prominently-branded AMD chip being used as his brain, with one of the doctors using a device that looks suspiciously like a thinner, sleeker Surface Pro model. The video and campaign carry the tagline "intelligence powered by AMD".
While it is possible that Microsoft and AMD are simply providing separate sponsorship, fans have speculated that this could mean that the forthcoming Surface Pro devices could feature both Intel and AMD chips.
Microsoft's first-party devices have previously carried exclusively Intel chips, but this could be about to change. The company's new Ryzen line has thus far undercut Intel's equivalent chips in terms of price, and although they lag slightly behind in single-core performance, their multi-core efficiency actually outstrips Intel's competing models. Given that the Surface Pro line is specifically geared towards multi-tasking and productivity, this could prove a very attractive proposition for Microsoft.
Microsoft is widely expected to unveil the Surface Pro 5, potentially alongside other Surface-branded devices, in April this year. This would coincide with the release of the Windows 10 Creators Update. Tying the two launches together would allow Microsoft to use the Surface Pro 5 to showcase the latest version of its operating system - a tactic the company has used in the past.
A daily dose of IT news, reviews, features and insights, straight to your inbox!
Adam Shepherd has been a technology journalist since 2015, covering everything from cloud storage and security, to smartphones and servers. Over the course of his career, he's seen the spread of 5G, the growing ubiquity of wireless devices, and the start of the connected revolution. He's also been to more trade shows and technology conferences than he cares to count.
As reviews and community editor, he's responsible for leading IT Pro's wide-ranging product coverage, and is an avid follower of the latest hardware innovations. He's never happier than when tinkering with complex network configurations, or exploring a new Linux distro.
In addition to managing the IT Pro Panel and working with the community of IT leaders that make it up, he co-hosts the IT Pro Podcast, where you can hear him ranting about his love of strange gadgets, his disdain for Windows Mobile, and everything in between.
You can find Adam tweeting about enterprise technology (or more often bad jokes) @AdamShepherUK, or you can email him at adam.shepherd@futurenet.com.
A daily dose of IT news, reviews, features and insights, straight to your inbox!
Thank you for signing up to ITPro. You will receive a verification email shortly.
There was a problem. Please refresh the page and try again.