Gigaset aims for SMB
Portfolio expands following Siemens separation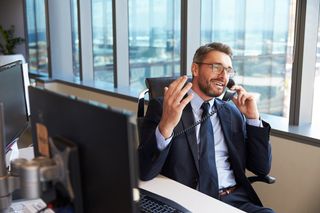 Gigaset, formally a brand of Siemens (NYSE:SI), has launched into the SMB sector with a range of low cost SIP-based telephony platforms.
Gigaset, a pioneer in the SoHo market for SIP DECT handsets, is aiming its new PRO range at the five to 30 user market that are keen to exploit VoIP without resorting to a full scale Cisco or Avaya solution. The range consists of upmarket handsets with PBX functionality and three standalone gateway units that scale up to 100 users including support for fax, ISDN and PSTN fall-back.
Siemens divested its last share holding in Gigaset at the end of last year. "They wanted to make sure they didn't have another BenQ situation," comments Peter Walshe, account manager distribution sales for Gigaset UK. His reference is to the 2006 débâcle of the joint venture between Siemens Mobile and BenQ which saw the Taiwanese firm pull out of Germany after acquiring its valuable patents and closing down its German manufacturing base.
"Were not a Snom or a Yealink," comments Walshe. "We have seen other Chinese manufacturers bring a product into the market and then sideline it – that is not us."
Gigaset is very proud of its German-based manufacturing which produces around 1.3 million units a month and the firm has included a number of innovations into the portfolio including the ability to link mobiles into its phone system via Bluetooth or SIP applets.
The PRO range is being targeted via traditional resellers and VoIP service providers, and Gigaset already has distribution with DSG, Tesco and Nimans for its existing DECT range. However, it is an extended agreement with ProVu for its PRO range that offers a particularly good fit for targeting the hosted telephony market.
Gigaset claims it will offer "strong" margin, probably around the 20 percent mark on hardware. It will also offer the channel the opportunity to start migrating SMB customers from on-premise to a managed or hosted telephony service model. The firm is bullish about its prospects; it aims is to be at least number two in a market dominated by the likes of Panasonic and NEC, with Walshe believing a least a one percent market share by the end of the year is achievable.
Stay up to date with the latest Channel industry news and analysis with our twice-weekly newsletter
Stay up to date with the latest Channel industry news and analysis with our twice-weekly newsletter
Thank you for signing up to Channel Pro. You will receive a verification email shortly.
There was a problem. Please refresh the page and try again.