Kaseya DattoCon Europe 2023: All the day-one announcements
Live coverage of the keynote from the first day of Kaseya DattoCon Europe 2023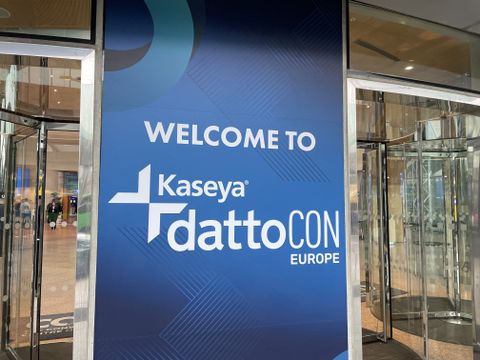 (Image: © Future)
Hello everyone and welcome to Kaseya DattoCon Europe 2023. We're reporting live from Dublin today, bringing you all the major announcements from the opening day's keynote.
We'll shortly be hearing from larger-than-life CEO Fred Voccola about all things strategy at Kaseya, kicking off the companies' first combined European conference. Expect a big focus on the relationship between MSPs and SMBs, and how this impacts the MSP platform provider's business.
A little birdie also told me yesterday there may or not be some tasty product announcements too. More on that soon...
Refresh
We'll be starting in just a few minutes.
Who knew having just one escalator for more than 1,000 delegates would create a bottleneck?
T-minus two minutes! Seems like nearly everyone has found their seats now.
Everyone now just watching the countdown timer on the big screen as the smoke machine's vapor continues to cloud the air above us.
The introduction video is quick to highlight how Kaseya and Datto are now "100% integrated" and how nice it is to once again be networking together in person.
I wonder how many more years post-COVID it will be until we stop hearing references to how great it is to get back in the same room.
Voccola has just walked on stage.
You'll hear a lot about the company's communication over the next few days. It was a core theme of the interviews I had yesterday and it forms part of his opening message. More on that in our coverage throughout this week.
Now, for some talk on SMBs...
Around half of the world's GDP comes from SMBs, says Voccola, a trend expected the grow in the next few years.
SMBs are also in the middle of massive digital transformation.
"Clearly we're in the right market."
In the 1990s and 2000s we saw the enterprise spend on technology at a rate 4x the growth of the world's GDP, he says.
"We've seen digital transformation before," he adds, and we're seeing that exact same trend happening with SMBs around the world.
We're now seeing SMB tech spend 4.5x the growth rate of the world's GDP, he says, "and we're only a third of the through".
It's a "massive transformation and it's impacting just about every SMB".
Kaseya is predicting a continuation of the challenging economic climate over the next year, echoing the beliefs of SMBs.
74% of SMBs expect to be spending more on tech, even if the economy worsens, according to the company's research.
"It seems counter-intuitive, but in a tough economy technology often represents the best investment."
Companies need to get more efficient and tech helps to create efficiencies, he says.
There's a disconnect between what customers want to invest to get what they want and the reality of the cost of running vital services, Voccola says.
'We're in a world where we have to do more with less.'
The CEO is now spending a lot of time illustrating just how multi-faceted an IT role is today and how many hats IT workers have to wear daily.
I smell an 'all-in-one platform' update coming soon...
Now he's on about integrations. I'm told Kaseya supports more than 1,000 integrations between its platforms and other software.
He explains the difference between cosmetic and workflow integrations. The former 'doesn't go very deep', but workflow integrations go as far as the application layer - "they're very deep, they're meaningful, and they're permanent".
"They're much, much more meanginful."
Most of the time, these types of integrations can only be made when one company owns both products, he says.
I'm guessing Kaseyans can expect to hear about a load more integrations in a few minutes.
Here we go - it all comes back to Kaseya's IT Complete platform. The 'all-in-one platform' talk starts.
Unlike others like it, Voccola says it's perfect for SMBs. It delivers lower costs than other products, most of which are built for the enterprise.
Voccola is now spending time highlighting all the different parts of IT Complete (Unified RMM, Datto RMM, Datto Networking, security suite) and how they're better suited for SMBs.
"Cisco is a great company," he says, "but they don't really think about [the SMB] market."
Kaseya also believes that most cyber criminal campaigns are targeting SMBs. They're a lucrative, lower-risk target, making them more attractive.
"Security can never be complete," Voccola says.
Regardless, the ambition of the company is to offer the most comprehensive suite of security tools, that are effective, all for the lowest price possible.
The rundown of IT Complete is over, I think the new stuff is coming now.
"Being complete means staying complete."
Kaseya recently acquired Vonahi security, an automated network penetration testing firm.
The best practice for IT teams is to run continuous pentesting, but they don't because it's expensive. The license allows businesses to run tests for hundreds of Euros rather than thousands.
Annual pentesting is an industry-standard requirement in order to qualify for cyber insurance policies. They're expensive, but they're necessary, and generally speaking the more a company completes the more secure it is.
Also introducing Ransomware Rollback. Launched today, it offers the capability to detect and revert ransomware-encrypted files back to their previous state with just one click.
On the audIT acquisition, the automated sales proposal and QBR system, Kaseya says it's now giving five licenses to all of its customers free of charge.
There's also a new RITSM global certification for IT Complete - a 40-hour program on remote IT and security management (RITSM).
Program available to both prequalified students or members of the existing team. Kaseya thinks this can be used as a bootcamp for new technicians.
It expects 5,000 graduates by the end of the year and to help get trained staff int. he business quicker.
Coming in about seven weeks in the US at first, Kaseya's cyber insurance fast track program means MSPs paying for Kaseya's security suite means they're automatically eligible for 1.5 million euro cyber protection policies.
"they're about half the cost of what your customers are paying for cyber insurane... it's super super exciting."
More integration, more automation.
Kaseya said it's is adding about 150-200 more integrations every quarter, including commercial and workflow integrations.
Voccola spends time addressing concerns over billing, saying he's aware and these will be ironed out in the next few weeks, he says.
Keep your eyes peeled on our coverage for the rest of the week because we spoke about this at length during our interview with the CEO yesterday.
Now a little about the Cooper intelligence engine - the platform's AI engine, which was named after Voccola's dog.
Pretty cute move. I'd probably do the same. I want a Cooper :(
"I assure you there is no way this is Clippy, Cooper's much smarter than that Clippy thing," Voccola says.
Cooper runs and woofs around the IT platform and provides Cooper Insights - around 24 recommendations per customer.
It means customers become aware and then use many of the features in the software suites that often go unused or overlooked - around 70% go unused according to the company. It allows customers to more easily consume modules within the IT Complete platform, and provides better value for customers.
"We'll make money with it, but we'll make money by charging you a lot less."
Kaseya believes that its offerings cost less and provide greater efficiencies, so MSPs ultimately pay less using its platform than a competitor's suite. So, you pay them more but end up saving more and offering more.
Profit Fuel was teased in our interview with Voccola back in November 2022.
"It saves MSPs hard dollars," Voccola told me yesterday.
These will take the form of a few meetings between Kaseya and customers, and is essentially an audit of how MSPs are doing things. Kaseya has delivered 179 of these so fast and believes this directly leads to efficiency gains between 30-40%.
Again, more on this later this week as our interview yesterday went into much greater detail on this.
Closing the session, Voccola highlights the 8 billion euro investment into its platform, and apologizes for all the issues that MSPs have complained about for the past year.
He holds his hands up and owns the mistakes the company has made, and commits to addressing them and learning from them.
He invites feedback so the company can improve.
And that's a wrap for the opening keynote!
We're back in about 20 minutes to hear from Ranjan Singh, chief product officer at Kaseya, about the IT Complete roadmap and various other Kaseya and Datto product innovations.
Back soon...
We're back in the game.
Singh has just made his entrance, and we're ready to hear all about IT Complete 2.0.
He kicks things off by reiterating Voccola's comments from earlier about the ambition for complete integration, offering the most complete, all-in-one platform with all the necessary modules an MSP could need.
He's just announced Microsoft 365 Management in Datto RMM - a new feature that combines user management and device management.
Kaseya says that technicians can now diagnose and solve the most common user issues across all their M365 tenants, like resetting user passwords, directly in RMM.
It's an M365 management console directly in Datto RMM, complete with all the tenants in one view.
Within each tenant, you can see all the users in the tenancy, all the licenses, and other details like sign-in logs and make adjustments such as prohibiting sign-ins from certain locations.
It evolves Unified RMM from just covering endpoints to end users too, Singh says.
It's set to launch in two weeks globally, currently in controlled release.
Kaseya will also be going GA with VSA version 10 in roughly two weeks.
New: Unified monitoring, alerting, and management, and loads more.
VSA 10 now comes with a user-friendly automation builder, complete with a visual editor rather than having to be an expert scripter. It also comes with pre-built automations to get you started.
Many more improvements to existing features and components too, such as UI/UX and Live Connect (Device Cards).
Also announced is Datto Endpoint Backup for Servers, which Kaseya says is a highly-anticipated solution giving MSPs the option to protect servers directly to the secure Datto Cloud.
Launching this week, it comes with hourly backups and allows MSPs to store backups in the cloud with 6TB of capacity.
On the security side of things, Kaseya has launched a new 'live search' feature to its dark web monitoring product, DarkWebID, plus greater details of details that have been leaked online such as personally identifiable information.
Eight new phishing kits and seven new training courses are now added to BullPhishID - phishing remains the number-one initial access method for cyber attacks.
Richer end-user training reports are also now available for better insights into the performance in training courses of any given user.
Datto EDR updates: new executive reports for a more lay view of executive technical reports; better threat notifications too.
Ransomware Protection is now available over Datto EDR, VSA, and RocketCyber not just Datto RMM.
Singh also reiterates Fred's announcement of Ransomware Rollback.
Customers can dedicate up to 10% of their disk space to offer more minutes of leeway - the time window in which they can save files that would previously be lost forever.
I'm curious to see how this helps victims in the long term, sounds like a huge product if it works as well as Kaseya says it will.
Now for updates to the networking suite.
Singh repeats the theme of the day - that Kaseya's products are built for SMBs and MSPs.
He says Datto Networking is between 33-50% cheaper than competitors too. It's also offering same-day shipping whereas competitors are taking 6 months and more, he says.
New network switches offer improved uplink and backlane capability, multi-GB capability, and more.
Secure edge routers are now being relaunched globally. These haven't been available in Europe before - the US has had them for the past two years.
On the IT Operations Suite side of things, which includes ITGlue, NetworkGlue, Autotask, BMA, and Datto Commerce, Singh highlights recent improvements such as offline mode for passwords and AD password auto-rotation.
Coming soon to Autotask is streamlined contract management, more comprehensive rundown of a business' contracts, and revenue trends from each contract, and which contracts are about to expire.
Coming in September in early access is Autotask's next-gen client portal, too.
Following the acquisition last year, ConnectBooster is coming to Europe (only come countries - UK, Ireland, Finland are included, among others). It's available now and brings one of the most trusted MSP automated billing solutions.
Kaseya One has a new integrated store, no more dedicated stores for both Datto and Kaseya.
A new subscription management page is also coming, where customers can cancel month-to-month subs, opt out of auto-renew, and merge accounts after M&As.
Improvements to Unified Login: Third-party Identity Providers, including being able to use SSO from third-party platforms. Coming in Q3. Centralized user management coming in Q3-Q4 too.
Continuing Fred's talk on integrations, we're walked through what it means to have a deep integration using the example of Datto RMM and IT Glue.
Coming soon is Autotask Web Remote Companion, offering 'simple workflows' which will do away with swapping between browser tabs. It will also support easy logging of time entries so value can be shown to partners too.
This has been a whirlwind of a talk, going by a blistering pace and rammed with new announcements, things that are coming soon, and various improvements too.
For those of you following along, I'll go back and update this as much as I can later today.
We're wrapping up now.
The morning has shown that Kaseya is innovating across its product portfolio at pretty impressive scale. So much to wrap your heads around.
The key takeaways here are that the company continues to try and build the most complete platform it can, while saving customers as much money as possible.
That's it for the main sessions of the morning, but we'll be back later for the final keynote looking at all the new things coming to Kaseya One.
I'm off to carry out some more executive interviews today and write up stories based on the talks I had with Voccola and Greg Jones, VP business development EMEA.
Keep an eye out on ChannelPro and ITPro for all our coverage of the conference this week.
Hello to everyone still following our coverage from today.
The final session of today will be delivered by Nadir Merchant, GM and CTO of MSP and IT Operations Suite at Kaseya, looking at all the updates to KaseyaOne.
We're kicking off very soon, stay tuned!
We start by looking at some of the biggest platforms in tech - they all have a home base, deep worflow integrations (remember that from earlier?), and a frictionless experience.
Microsoft.com, AWS, and Adobe CC all used as top-class examples.
"IT Complete is no different," he says.
KaseyaOne is the place to go to uncover new pieces of IT Complete. It acts as the company's platform's 'home base' - where you go to get anything done simply.
Technician s can just log into KaseyaOne once per day and they get access to everything they need. Log in once, get access to everything.
It improves security too by letting admins
Kaseya announced it will be adding complete centralized user management for KaseyaOne, and push MFA to make the MFA experience even better than it is today - all managed form one place for the entire organization.
Users will also be able to use third-party identity platforms to log into KaseyaOne too.
Centralized billing invoice platform also highlighted - all the top line info supplied at first, then you can dig deeper if needed.
Invoice details by client is coming soon, Merchant says.
The talk so far is flicking between highlighting the best parts of KaseyaOne and announcing things that are coming soon.
Liked any/alll of the new features announced this morning? KaseyaOne is where you go and get your hands on it for IT Complete.
Applying for the new cyber insurance program, applying for the new MDF program, the RITSM program, and managing the global partner program is all done through KaseyaOne.
Exemplifying deep workflow integrations, he points to putting a table inside Microsoft PowerPoint.
When doing this, you're actually using Excel, but it's bringing that capability seamlessly into a different app. It doesn't feel like a workflow integration...
"IT Complete is exactly the same," he says. It has more than 350 of these types of integrations to make technicians more efficient.
Troubleshooting a ticket? Kaseya says this takes too long. Workflow integrations are built into IT Complete, saving technicians around 39,000 EUR every year, by the company's calculations.
Spending a lot of time bigging up IT Complete, rather than looking at new stuff...
Roadmap time - lots of new stuff coming...
Push MFA is coming in July.
Third-party identity provider support also coming in late July. Any SAML 2.0-compliant provider can be used to access IT Complete.
Integrated customer billing is partially available, fully automated stuff coming by Q4 2023.
RMM Agent Manager is launching fully by Q4 2023 - again, something that's partially available now. Current support is for BCDR and this will be coming for the rest of the agents across the entire suite by EOY.
And that's a wrap!
That's everything from day one of Kaseya DattoCon Europe. Stay tuned on ChannelPro and ITPro for all the exclusive interviews we ran with Kaseya's executives.