Ipswitch reveals channel growth plans
Ipswitch grows channel ahead of possible security vendor rebrand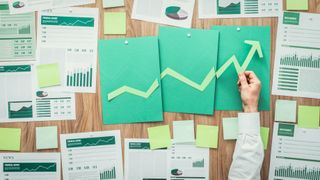 (Image credit: Shutterstock)
Ipswitch has announced plans to double its EMEA business over the next three years and grow its channel by 40 percent, including more expansion in the Nordics and Eastern Europe.
The company has changed its discount strategy to offer margin based on partner tiers instead of volume discounts through distribution, backed up by a strengthened deal registration mechanism adding five percent uplift.
As part of its expansion plans, the firm has hired Michael Hack as senior vice president EMEA operations to oversee the existing business and drive further expansion of the strategic partner network. Hack is joined by Roland Renner as the new senior director DACH/Eastern Europe.
This follows the appointment earlier this year of Robert Farmer as sales director for UK, Northern Europe and MEA.
With 60 percent of the vendor's revenue coming from its secure file transfer product, both Hack and Farmer describe Ipswitch as a "security company" although acknowledging that "not everybody may see us that way…but that is changing."
The description implies that the growth of the vendor's secure file transfer business in line with from trends such as BYOD and teleworking, will see its network management business will be less of a focus, and suggests a brand repositioning is imminent.
Hack also states that the firm may well need to "strengthen" distribution in areas not currently served by existing agreement.
Ipswitch says Infinigate, one of its distributors will acquire VAD status for both file transfer and network management products in seven European countries to include UK, France, Sweden, Germany, Austria, Norway and Denmark. Arrow ECS is another Ipswitch distributor in the UK and Ireland.
The vendor claims it is now "100 percent" channel with "double digit growth" against year-on-year sales targets with its 400 strong EMEA channel community growing by 45 percent during 2015.
Stay up to date with the latest Channel industry news and analysis with our twice-weekly newsletter
Stay up to date with the latest Channel industry news and analysis with our twice-weekly newsletter
Thank you for signing up to Channel Pro. You will receive a verification email shortly.
There was a problem. Please refresh the page and try again.