Cloudflare expands zero trust controls to protect against generative AI data leaks
Cloudflare One now offers organizations better protections against sending sensitive data to large AI firms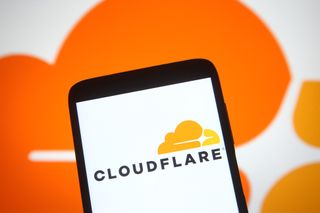 (Image credit: Getty Images)
Cloudflare has unveiled its new Cloudflare One for AI suite of zero trust security controls, designed to help businesses leverage the latest generative AI tools without endangering intellectual property or customer data.
The provider said the additions aim to provide organizations with a "simple, fast, and secure way" to use the latest generative AI technologies without compromising security or performance.
The offering serves up features that provide visibility and measurement of AI tool usage, as well as data loss prevention and integration management.
Among these, Cloudflare Gateway is designed to help companies observe how many employees are experimenting with AI services and delivers context for budget planning and enterprise licensing.
Service tokens provide administrators with a clear log of API requests and control over the specific services that can access AI training data.
That includes the ability to revoke tokens with a single click when building ChatGPT plugins for both internal and external use.
Cloudflare Tunnel also offers an encrypted, outbound-only connection to Cloudflare's network, while the suite's data loss prevention (DLP) service provides a safeguard to close the human gap in how employees may share data, the firm says.
Additionally, the cloud access security broker (CASB) service adds visibility and control over SaaS apps and will soon be able to scan the AI tools that teams use to detect misconfiguration and misuse.
RELATED RESOURCE
The board's evolving perceptions of cyber risk
Cybersecurity has entered the boardroom
In an announcement, Matthew Prince, co-founder and CEO at Cloudflare, said that AI, despite its promise, can create "significant risks for businesses" without the proper guardrails in place.
"It is far too easy, by default, to upload sensitive internal or customer data to AI tools," he said. "Once the data is used for training AI, it is virtually impossible to get it out.
"If you were going to let a class of university students rummage around in your internal data, you'd of course put clear rules in place on what data they can access and how it can be used in their education."
The safety of generative AI has been called into question repeatedly since it took off in late 2022.
Several major companies have already banned the use of popular AI chat apps due to sensitive data leaks, with Italy even issuing a temporary ban on generative AI tools for having inadequate user data protections.
According to a survey conducted by professional services network KPMG, the majority of US executives are currently "years away" from implementing AI, with cyber security (81%) and data privacy (78%) the biggest concerns.
However, as generative AI evolves and new tools and plugins are developed, Cloudflare said its approach to security will enable organizations to embrace the technology without creating bottlenecks, as well as ensure compliance with the latest regulations.
"Cloudflare's zero trust products are the first to provide the guard rails for AI tools, so businesses can take advantage of the opportunity AI unlocks while ensuring only the data you want to expose gets shared," Prince added.
Stay up to date with the latest Channel industry news and analysis with our twice-weekly newsletter
Dan is a freelance writer and regular contributor to ChannelPro, covering the latest news stories across the IT, technology, and channel landscapes. Topics regularly cover cloud technologies, cyber security, software and operating system guides, and the latest mergers and acquisitions.
A journalism graduate from Leeds Beckett University, he combines a passion for the written word with a keen interest in the latest technology and its influence in an increasingly connected world.
He started writing for ChannelPro back in 2016, focusing on a mixture of news and technology guides, before becoming a regular contributor to ITPro. Elsewhere, he has previously written news and features across a range of other topics, including sport, music, and general news.
Stay up to date with the latest Channel industry news and analysis with our twice-weekly newsletter
Thank you for signing up to Channel Pro. You will receive a verification email shortly.
There was a problem. Please refresh the page and try again.