The reality of mass AI-linked job cuts is here
The trickle of AI-related job losses will inevitably lead to a torrent, and we've been naive to the dangers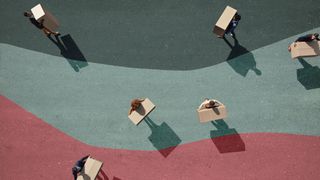 (Image credit: Getty Images)
The prospect of mass job cuts linked with artificial intelligence (AI) has been a looming specter in the wake of the recent generative AI boom.
Concerning Goldman Sachs research published in March warned that up to 300 million jobs could be lost due to the rise of generative AI platforms in the years to come. The study predicted roughly 18% of work could become computerized and that workers in 'advanced economies' would bear the brunt of AI-linked job losses.
Society has long feared AI will pose a threat to jobs and livelihoods; it's a fear that goes back several decades. But the prophecies never came to pass, and the reality of AI – at least over the last ten years – has been relatively dull.
The recent wave of job losses, however, shows this simply isn't any longer the case. The threat we've shrugged off for being too abstract is finally here, with organizations capitalizing on the power of generative AI tools to deliver cost-savings and "streamline operations".
Death by a thousand cuts
BT showcased this latter goal – which roughly translates to "why hire human workers when we can automate tasks" – perfectly when it announced plans to lay off tens of thousands of workers and automate a myriad of roles.
These brutal workforce cuts will see the telecoms giant lay off up to 40% of its workforce by the end of the decade to become a "leaner business", and focus heavily on integrating AI within key organizational processes.
RELATED RESOURCE
Making the switch
Realise the benefits of IP technology ahead of the digital 'switch-on'
Anywhere up to 10,000 of these positions set for the chopping block could be replaced by AI, the Telegraph reported. That's a serious chunk of the workforce automation will render obsolete.
BT framed this shift as a direct response to sluggish growth; it recorded a 1% year-on-year decline in revenue while profits dipped 12%. But it's naive to take this rationale at face value.
In reality, the penny has dropped for businesses. Operating amid a period of tightening purse strings and a possible recession, AI offers a get-out-of-jail-free card for businesses already salivating at the prospect of cutting staff costs – only this time they can limit the operational pressure these cuts might create.
BT isn't alone here. IBM, last month, revealed it would pause hiring for non-customer-facing roles and eventually replace these with AI, according to CEO Arvind Krishna. He told Bloomberg the hiring freeze includes for back-office departments like HR, with the tech giant expecting thousands of jobs to be automated in the years to come.
Around 7,800 non-customer-facing roles could be replaced due to AI, Krishna noted, which equates to around 30% of staff currently occupying these roles. Kudos to IBM: at least they're being upfront in warning staff they'll eventually be consigned to the scrap heap – but this will come as little consolation.
We've been blind to the AI warning signs
Sam Altman, CEO at OpenAI, the organization behind ChatGPT, has made no secret of the potential risk to human workers, especially in recent months. Altman told ABC News in March he was a "little bit scared" of the detrimental impact of generative AI on the global labor market.
He said "it's going to eliminate a lot of current jobs", but then added "we can make much better ones". With Altman concerned, yet still pouring money into the field, it's safe to say workers should be anxious, and angry, about the future. Industry leaders have also failed to clarify exactly how businesses plan to make "better" jobs following AI-induced workforce cuts.
The expectation that an individual who, for example, has worked in HR for decades will suddenly be presented with a raft of new, exciting opportunities after losing their job is ridiculous, and ignores reality. Re-skilling is hard enough as it is, and changing careers is a luxury few can afford.
AI was once feared as a tool that would eventually replace human jobs. But these fears gave way to optimism that it could instead augment roles. What we refer to as AI – largely machine learning – has developed into tools that can relieve the burden of repetitive tasks in favor of more fulfilling ones.
Businesses, however, will embrace mass automation in the calculated manner we've come to expect over the years. Many workers will rightfully peer over their shoulder and wonder what cost saving plans the c-suite is plotting. With HR, customer-facing roles, and even jobs in software development potentially at risk due to generative AI, there will be no reprieve for roles in the crosshairs. This trend has been a trickle for months, but it'll inevitably become a torrent that sweeps up thousands, if not millions, more roles across the labor market.
A daily dose of IT news, reviews, features and insights, straight to your inbox!
Ross Kelly is a staff writer at IT Pro, Channel Pro, and Cloud Pro, with a keen interest in cyber security, business leadership and emerging technologies.
He graduated from Edinburgh Napier University in 2016 with a BA (Hons) in Journalism, and joined IT Pro in 2022 after four years working in technology conference research.
In his spare time, Ross enjoys cycling, walking and is an avid reader of history and non-fiction.
You can contact Ross at ross.kelly@futurenet.com or on Twitter and LinkedIn.
A daily dose of IT news, reviews, features and insights, straight to your inbox!
Thank you for signing up to ITPro. You will receive a verification email shortly.
There was a problem. Please refresh the page and try again.