BT to slash 55k jobs by 2030 in "brutal" cost-saving plan
The telco aims to become more lightweight through layoffs and digitization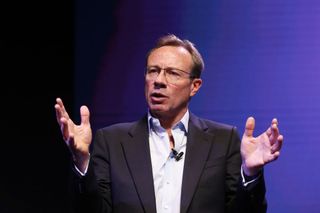 (Image credit: Getty Images)
BT has announced plans to axe up to 40% of its workforce by 2030 as it looks to become a "leaner business" and rely more heavily on digitization and AI to cut costs.
The telco giant currently employs around 130,000 people worldwide, around 80,000 of whom are UK-based, but will seek to reduce this to between 75,000-90,000 between FY28-30.
The news came alongside poor results, with revenue of £20.7 billion ($25.75 billion) down 1% year-on-year and profit down 12% across the same period due to "increased depreciation from network build and specific items".
The Telegraph reported that up to 10,000 jobs, roughly a fifth of the slashed roles, could be directly replaced with automation technologies such as AI.
BT told ITPro that 10,000 roles will cease as a result of automation and improvements to its digital channel, with customers expected to rely more on online self-service.
"By continuing to build and connect like fury, digitize the way we work and simplify our structure, by the end of the 2020s BT Group will rely on a much smaller workforce and a significantly reduced cost base," said Philip Jansen, CEO at BT.
"New BT Group will be a leaner business with a brighter future."
Its shares fell by more than 10% in early trading.
RELATED RESOURCE
Making the switch
Realise the benefits of IP technology ahead of the digital 'switch-on'
Kester Mann, director of consumer and connectivity at analyst firm CCS Insight, to ITPro that major cuts were expected given BT's annual cost savings target of £3 billion ($3.73 billion) by 2025.
He added that the scale of these redundancies has nevertheless come as a shock to the telecoms sector.
"This brutal decision – just two days after Vodafone confirmed 11,000 job losses – reflects consistent underperformance of the telecoms sector despite continued strong demand for its services," said Mann
"BT has struggled as much as anyone: its share price is down around 40% since Philip Jansen took the helm in February 2019. The CEO – whose own position has reportedly been under threat – will expect the cull to hasten BT's migration to a much more lean, simple, and efficient organization."
Mann also said that greater use of automation and artificial intelligence will make up many of the roles, while the completion of BT's fiber rollout in 2026 would also lead to job cuts.
BT stated that some 15,000 roles would end as fiber investment is dialed down.
In its results, BT stated that it has hit 41% of its target 25 million premises connected with full-fiber, FTTP broadband.
Network engineers are also expected to lose jobs as BT completes its 5G rollout, with the firm's network now covering 68% of the UK population and connections up 62% over the financial period.
The Communications Workers Union (CWU), which represents tens of thousands of workers at BT and Openreach, stated that the announcement was unsurprising given new technologies and the fiber completion target.
"However, we have made it categorically clear to BT that we want to retain as many direct labor jobs as possible and that any reduction should come from sub-contractors in the first instance and natural attrition," a spokesperson said.
"We have also stated that it's imperative that we should be in the room discussing and shaping the new skills required of the workforce as they move to a more digital network to ensure our members have a stable, secure career within BT well into the future; to which the company has agreed ongoing discussions with the CWU on these matters."
This article was updated to include additional context from BT.
A daily dose of IT news, reviews, features and insights, straight to your inbox!
Rory Bathgate is a staff writer at ITPro covering the latest news on UK networking and data protection, privacy and compliance. He can sometimes be found on the ITPro Podcast, swapping a keyboard for a microphone to discuss the latest in tech trends.
In his free time, Rory enjoys photography, video editing and graphic design alongside good science fiction. After graduating from the University of Kent with BA in English and American Literature, Rory took an MA in Eighteenth-Century Studies at King's College London. He joined ITPro in 2022 as a graduate, after four years in student journalism. You can contact Rory at rory.bathgate@futurenet.com or on LinkedIn.
A daily dose of IT news, reviews, features and insights, straight to your inbox!
Thank you for signing up to ITPro. You will receive a verification email shortly.
There was a problem. Please refresh the page and try again.