What is SSID?
We look at what SSID is and how it is used to connect devices to the internet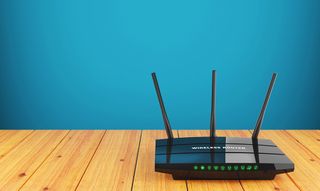 Just like people, wireless networks also have their own unique names so that others can differentiate between the ones they want to connect with and the ones they don't. However, we don't refer to them as 'names', instead they're called 'set identifiers' or "SSID", for short.
Most people, regardless of their tech proficiency, will have encountered SSIDs when attempting to connect to a network. Corporate networks are usually set by a default network admin, often with a business-unique identifier. Opting for a bespoke SSID can help to differentiate the purpose of a certain network or have it used by a set group of people. You could have a network for guests and another for the IT team, for example.
Due to the reliance on technical know-how, default SSIDs, set by the manufacturer, are more commonly used. These usually follow a uniform format with a specific set of letters, sometimes the manufacturer's full name, and a string of integers. To change these, users need to access their router's admin settings, via a web browser, with the credentials supplied by their internet service provider (ISP).
Key features of an SSID
No matter what type of router you have, or if you've still got the manufacturer's SSIDs, it will typically be a mix of up to 32 case-sensitive letters, numbers and special characters - including underscores and dashes. Thankfully, you can do with SSIDs as you please because there's no minimum limit. You could, for example, name it after yourself, though IT Pro doesn't recommend it. The best practice is to simply make it as uniques as can be so that it is easy to identify.
That's if you decide to even change the SSID in the first place, as routers will typically come with sensible monikers that relate to the manufacturer or ISP – these are printed on the side of the router, or provided separately on a sticker. It's here you'll also find the password to access the Wi-Fi, as well as the username and password for accessing the admin console, which grants access to the router's configuration settings and SSID options.
How devices use SSID to connect to the internet
The first port of call when setting up a device nowadays is to connect to a network and configure internet settings for the device for the first time. The device's UI will present you with a list of nearby network names - or SSIDs, usually accompanied by a small symbol indicating the signal strength which in itself can sometimes reveal the network to which you want to connect without having to look at the SSID.
Networks will either appear as open or locked. Open networks are free of immediate authentication checks and will let you connect without issue, although these will usually then ask you for registration information in a browser window. Locked networks, indicated by the padlock symbol next to the SSID, will require you to input a password as you try to connect.
However, this list of available networks will only show those that have been configured to publicly display their SSID or personalised name. To access any hidden networks you will need to input their SSID or name manually, alongside the password if necessary. To prevent a network from displaying on the list of available connections, you will need to choose 'hidden' or 'disable SSID' in the router's settings.
Once your device is connected to a network, you can save its details and connect automatically each time you enable Wi-Fi.
SSID security
SSID is commonly used by most wireless networks globally. However, that doesn't mean that it's safe. It's considered to be one of the least secure ways of connecting to a network. One common problem with SSID is that even if you select the option to have it hidden from other Wi-Fi users, modern software and apps make it possible for their users to discover any networks available – including yours.
RELATED RESOURCE
The Forrester Wave: Top security analytics platforms
The 11 providers that matter most and how they stack up
Unfortunately, SSID can also contribute to falling victim to a cyber attack. In 2016, TalkTalk customers had their Wi-Fi passwords stolen by hackers in a Mirai malware attack that took down TalkTalk and the Post Office's broadband networks. Hackers managed to reveal the routers' SSID code, which in turn provided them with the information on where they were being used. Cyber criminals can also take advantage of data packets that have travelled through your device. If intercepted, they can use traces of the SSID to obtain personal information, including the name of the network you use.
Apart from being a potential security issue, an SSID can also be the source of aggravation and even neighbourly disputes, especially if multiple other people in your apartment building or street use the same ISP – which is quite common, as sometimes one specific ISP is recommended in a given area. This could mean that multiple networks nearby will have similar default SSIDs, especially if the network names are left unchanged. If unprotected, this could lead to devices connecting to networks belonging to someone else. Whether accidental or on purpose, the owner of the network could be left with having to cover the costs of someone else exceeding the download limits.
Get the ITPro. daily newsletter
Receive our latest news, industry updates, featured resources and more. Sign up today to receive our FREE report on AI cyber crime & security - newly updated for 2023.
Dale Walker is the Managing Editor of ITPro, and its sibling sites CloudPro and ChannelPro. Dale has a keen interest in IT regulations, data protection, and cyber security. He spent a number of years reporting for ITPro from numerous domestic and international events, including IBM, Red Hat, Google, and has been a regular reporter for Microsoft's various yearly showcases, including Ignite.