Managed Service Providers: A quick guide
With more resellers adopting a managed services model, how can they stand out in a crowd?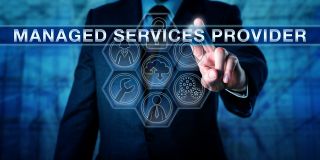 More than a third (37 percent) of midmarket firms plan to outsource their IT environments to managed service providers (MSPs) in the next five years, according to a new report.
What is an MSP?
The move to managed services has been the single greatest transition for the IT reseller community over the last decade.
The rationale is absolutely clear; with traditional sales of hardware and software constrained by direct vendors and SaaS alternatives, the dwindling margins from resale and basic break fix maintenance contracts have seen resellers look for alternatives.
In 2005, analysts quoted the MSP market as worth a poultry $44bn due to the lack of cheap and deep internet connectivity and applications build for on-site local access. By 2013 however, the market was worth £288bn and as the distinction between MSP, SaaS and cloud blurs, by 2020 the space could top half a trillion dollars.
The concept
The managed services model is predicated on three key concepts.
The first is economies of scale. A well-trained IT support desk or multi-tenanted application can serve a single SME or ten SME – the costs are basically the same. The second is that a dedicated managed service provider (MSP) can invest in that datacentre capacity and training that an SME would rather not. The last is that an MSP, in theory, is simple and flexible. The claim is that in turning to an MSP, a customer can turn the horrible complexity that is IT delivery into a neat and tidy per-month cost with an SLA that is able to scale as the business grows.
The rise and rise of the MSP has been assisted by vendors making its incredibly easy for channel partners to become pop-up MSPs. Everything from networking, storage, backup and even harder areas like security can be sold as an MSP service with a modicum of training. Big vendors like IBM, HP and Microsoft are joined by distributors that have jumped on the wagon like Arrow ECS with its Alvea platform, and specialists like AVG with its Cloudcare platform aimed at equipping resellers to become Managed Security Service Providers.
The same trio of economies of scale, sunk CAPEX and flexibility are in the minds of the vendors but with another caveat; Brand loyalty. If as a SME, you are happy with a service but not happy with your local reseller, in most cases you can switch resellers but keep the effectively the same vendor product. Microsoft cares not a jot if you buy your SaaS licences for Office 365 from vendor A or B, as long as you keep on using its products.
In the MSP world, everybody wins it seems. Customers get lower CAPEX, OPEX and neat SLAs. Resellers gain recurring revenue with slightly higher overall margins and better stickiness with customers. And vendors protect customer base, brand and, as a by-product, hopefully produce better software that can be easily updated and managed through SaaS and cloud. Right?
Challenges
In reality IT is not a one-hat-fits all model and many of the vendor-led MSP services are cookie cutter. This means that adapting them to unusual customer environments is not easy. Unless the feature is built into the platform, then by and large the customer is out of luck.
This vanilla buffet also makes it hard for MSPs to differentiate themselves. In areas like managed backup and DR, when you peel away the silver paper of a shiny solution, you will often find core technology identical to a rival MSP that although may be cheaper is perceived as inferior due to a crappy website or lack of marketing savvy.
Also, hiring strategies need to change for IT support companies to successfully evolve into MSPs.
But resellers can't just rely on having great technical people, a good solution and competent management; you need to market and sell harder than the accident of geography that encouraged relationships in the old days.
There is also a fine balancing act between vendor-based MSP offerings and the more gutsy self-built MSPs which decide to create their own portfolio by combining a number of point solutions to form a unique service, which takes a great deal of skill and technical expertise. There is also always the danger that a vendor "partner" that often supplied some of the tools is planning to launch a rival product designed for MSPs that will undercut its channel which has already built a successful MSP model.
Advice
Irrespective of whether you buy or build an MSP portfolio, there are a number of additional considerations. The reseller needs to maintain tighter financial reigns of the business as more customers move to paying smaller mounts each month than chasing the big deal; both the compensation model for sales teams and ongoing customer acquisition and retention costs must be factored into the operating model.
In addition, creating and executing a consistent upsell strategy is critical. So if you are offering data storage-as-a-service, is a DR/BC as a managed service a viable add-on option? And does your current technology direction allow this to be added on at a later date? If managed security is your bag, how about running penetration testing as a value added professional service? McDonalds as if you would like add fries and a drink to your meal because these two items have the single largest margin of anything on the menu – a successful MSP model will often lead you down the same route.
Channel Pro opinion
The single biggest piece of advice for anybody without an MSP strategy or who thinks they don't need one is "please reconsider".
Yes, some smaller pure resellers, especially with deeply embedded customers or specialist markets can survive and even thrive without an MSP component but these are the low single digits of the IT industry. The reality is that MSP and cloud is going to allow VARs to serve more customers with the same amount of staff and there will be consolidation.
However, for many, the playing field is pretty level and where VARs would spend virtually nothing on lead generation, the new MSP model is as predicated on brand, marketing and customer retention as it is on technology. If you want to really excel, then find a niche and invest in differentiating at a technical and/or go to market business model. The niche may be a vertical market or public sector bias or even innovative new product, to avoid the MSP homogenisation; standing out is a key ingredient to success.
UPDATE:
June 2015: The global Cloud Managed Services market is expected to grow from $52.23bn in 2015 to $118.43bn by 2020 due to increased application in BFSI, energy and utilities, healthcare, government and public sectors, claims a new report from MarketsandMarkets.
In March 2015, cloud backup vendor CloudBerry Lab surveyed 434 US-based IT resellers and MSPs to determine the impact cloud backup solutions have on their businesses.
It found:
· Demand for cloud backup shows no signs of slowing: 79 percent of respondents indicated that they expect the demand for managed cloud backup services to increase during the next 12 months.
· Managed cloud backup solutions are vital to profitability: 51 percent said they could not compete, or that it would be very difficult for them to compete, without cloud backup solutions in their portfolios. Just 29 percent said that cloud backup accounted for a very small or insignificant percentage of revenues.
· Reliability the key consideration, but cost also important: When asked what they require from backup solutions, resellers said reliability was the most important factor, followed closely by price.
· Cost not the only determining factor when selecting cloud providers: Despite the fact that major cloud providers are in a price war, resellers and MSPs are more concerned with reliability of service, security and ease of file restore when selecting a cloud for their customers' data.
· SMBs concerned with data access in the cloud: For SMBs that still have not adopted cloud backup, location of data backups, or the need to keep certain sensitive data on site, was identified as a major factor, followed closely by unavailable or slow backup due to a poor internet connection.
· Managed cloud backup a gateway to upselling services: The number of resellers who use managed cloud backup to sell higher margin services outnumbered those who sell cloud backup as a one-off service by a three-to-one margin.
Top tips to help automate your managed services offering
Stay up to date with the latest Channel industry news and analysis with our twice-weekly newsletter